Official Master's Degree in Fashion and Beauty Communication Telva & Yo Dona (XI Edition)
Home ›
Master ›
Official Master's Degree in Fashion and Beauty Communication Telva & Yo Dona (XI Edition)
Program Description
If you are passionate about fashion and beauty and also communication this is your Master
Only Official Master in Fashion and Beauty Telva & Yo Dona
With a degree from CEU San Pablo University
Guaranteed practices for all students in the fashion and beauty sector
The Official Master in Fashion and Beauty Communication (Telva & Yo Dona) is a valid title in more than 40 European countries. His degree is also homologated as a master's degree in Latin American countries. The master's schedule is from Monday to Thursday, in the afternoon. The program of this official Master is eminently practical. The student receives 450 teaching hours and is guaranteed a minimum of 3 months of practices in specialized media, agencies or brands of the sector.
In the last three editions, students have completed internships in companies such as L'Oréal, Loewe, Armani, Atresmedia, Mary Kay, LVMH, Showroomprive, TVE or TELVA and YO DONA magazines, to name just a few. In addition, to complete their training, students attend a series of activities related to the fashion and beauty sectors.
What are you going to learn
Learn about the most advanced communication strategies in fashion and beauty, as they are currently applied in reference brands.
Learn the secrets of the trade from the best active professionals, responsible for marketing, communication, specialized journalists, designers, and other professional profiles.
Do not stay in theory, practice everything learned in the Official Master's Degree in Fashion Communication in prestigious companies or media.
Acquire the necessary knowledge to work in companies in the sector or media specialized in fashion and beauty.
Attend relevant events and activities in the world of fashion, product presentations, campaign launches, showroom visits, to complete the training you receive in the classroom.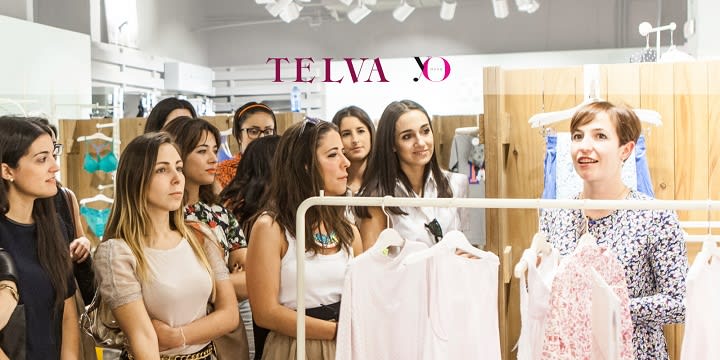 Learn with great professionals
The professors of the Master in Fashion and Beauty Communication are professionals in the exercise of fashion and beauty communication and managers of the main firms of these sectors in our country, as well as professors from the CEU-San Pablo University. On Thursday, professional experience sessions are held, in which a manager gives a conference, followed by a talk with the students. Among others, they have participated: Jesús Echevarría (INDITEX), Juan Pedro Abeniacar (LVMH), Beatriz González-Cristobal (Tous) and the designers Alvarno, Ursula Mascaró, Lorenzo Caprile, Ana Locking, Modesto Lomba, Juanjo Oliva or Nacho Aguayo, for Quote only a few.
GUARANTEED Practices
The students of the Master make a minimum of three months of practices (more than 360 hours) in companies, agencies or magazines of the sector. In most cases, students extend their internships beyond 5 or 6 months. The practices are curricular. If any student is working while developing the master's degree, they can request the validation of their internship credits from the program management. Companies with LVMH, Cartier, Loewe, Adolfo Domínguez, Ketchum Agency, Singular Team or Showroomprive, among many others, have received internship students throughout the last years of the Master
9 ETCS credits
Scholarships and grants
Scholarships of the organizing entities
The organizing entities of the Master have created an assistance fund for students who need it. For the 2020-2021 academic year, within the tuBeca program, grants of up to 50% of the tuition fee are planned, in addition to other 25% scholarships. Scholarships are awarded taking into account the following aspects:
Academic record
Result of the admission process
Financial needs of the applicants
In order to access a scholarship, you must be admitted to the program and have paid the place reservation. The deadline for submitting a scholarship application ends on July 15, 2020 . The resolution of the scholarships will be communicated to the candidates on July 24, 2020 . This program meets the requirements to be rewarded through the State Foundation for Employment Training .
Testimonials
Last updated Mar 2020
About the School
La Escuela de Periodismo y Comunicación de Unidad Editorial es un centro de alto rendimiento educativo con más de 10 años de experiencia en el sector. Nuestra diferenciación se basa en que tenemos a n ... Read More
La Escuela de Periodismo y Comunicación de Unidad Editorial es un centro de alto rendimiento educativo con más de 10 años de experiencia en el sector. Nuestra diferenciación se basa en que tenemos a nuestra disposición los profesionales más destacados y un entorno 100% auténtico que permite desarrollar con éxito nuestra actividad.
Read less