Official master - sports management / sport management
Home ›
Master ›
Official master - sports management / sport management
Program Description
The main objective of Master's Degree in Sports Management It is to accompany you in your development as a comprehensive professional sports management and train you in the use of management tools to recognize business opportunities, develop strategies, anticipate changes, optimizing resources and analyzing information with discretion.
Competencies
Understand and implement strategic, comprehensive and objective view of the sports industry from a business perspective.
Create new market opportunities using entrepreneurship and innovation prone to sports organizations culture.
Using the most innovative practices of sports marketing and be more effective in carrying branding and sponsorship.
Detect the key to lead professional teams and get the best results factors.
Interpret financial statements of a sports organization and create financing strategies for new projects and businesses.
Optimize the management of a sports facility and a sports event.
The Master's Degree in Sports Management from Johan Cruyff Institute is right for you if:
You (ex) -deportista and looking for training and sports management degree to give a boost to your career.
You're working in the business field and want to specialize in the sports industry.
You want to complete your training with a master's degree specializing in sports management and management.
You are a working professional and want to focus your career in the industry linked to sport.

Career prospects
Sports competition (professional sports clubs and events organization).
Governance (sports federations and associations).
Facilities and sporting events (championships organizers, sports clubs).
Community Sports (foundations, municipalities).
Sports consultancy (own business initiatives).
Sports journalism (media).
Marketing and sponsorship (private and public companies)
CURRICULUM
Description Master
The Master's Degree in Sports Management is structured in nine Mandatory modules, one of which is External Practices and one Final Module with the subject of Master's Degree Work ("TFM").
Structure of the curriculum

Modalitat d'Impartició On-site
Modalitat d'Impartició Virtual

OB: Obligatoris
Competencies
Admission Profile
It is recommended for access to the Master's Degree in Sports Management that the student has the following skills:
Leadership and leadership skills
Organization and responsibility
Ability to impart instructions
Ease of oral and written expression
Dynamism and creativity
Interest in new technologies, Internet and web 2.0.
Experience in online communication
Know how to listen, how to respond
Interest in the environment and personal relationships
Knowledge and respect for social minorities
The Master program is mainly addressed to the university graduates of Administration and Management of Companies, Economy, Marketing, Tourism or their equivalents.
They will also be able to access university graduates in the field of Physical Activity and Sport Sciences, Journalism, Advertising and Public Relations, and Audiovisual Communication, or equivalent. In these cases, the coordination will assess each dossier individually in order to determine the need to carry out additional training in the area of ​​the company, which are detailed in the corresponding section. They will also be able to have graduates in other areas, as long as they demonstrate training in the business environment equivalent to studies of management and business administration (MBA).
A level of English corresponding to level B.2 of the Common European Framework of Reference for Languages ​​(CEFR) will be required as a requirement for admission to the Master for the English language group. Likewise, a level of Spanish corresponding to level B.2 of the Common European Framework of Reference for Languages ​​(CEFR) will be required as a requirement for admission to the Master for the Spanish language group.
In the case of students with special or special needs associated with the disability, their admission shall be made in accordance with the twenty-fourth additional Provision of Organic Law 4/2007, of April 12, on the inclusion of persons with disabilities in Universities. Positive action measures will be contemplated to ensure these students' access to the Master, provided they meet the conditions established by current regulations.
Basic skills
Knowledge and understanding that provide a basis or opportunity for originality in developing and / or applying ideas, often in a research context
That the students know how to transfer the acquired knowledge and their ability to solve problems in new or little known sports environments within broader (or multidisciplinary) contexts related to their area of ​​study
Students are able to integrate knowledge and handle complexity, and formulate judgments based on information that was incomplete or limited, include reflecting on social and ethical responsibilities linked to the application of their knowledge and judgments
Students can communicate their conclusions and the knowledge and rationale underpinning to specialists and non-specialists in a clear and unambiguous
Students must possess the learning skills that enable them to continue studying in a way that will be largely self-directed or autonomous
Specific skills
Describe the socio-economic and legal framework in which sports companies are to carry out strategic management.
Recognize, negotiate and use the financial resources available to sustainably manage a sports entity.
Identify indicators that allow to develop the potential of the people who make up a sports company.
Design the commercial management of sports products and services through strategies and marketing plans.
Economically manage infrastructures and sports facilities.
Plan and manage sports events.
Apply knowledge and skills learned in a professional environment in the field of sports management.
Elaborate a Business Plan or a project related to sports management.
transversal competences
Have autonomous and critical reasoning on issues or issues of business and application in sports environments
Apply tools and methodologies that facilitate creative and innovative thinking in everyday situations linked in the sports business environment
Leading a team and working in multidisciplinary teams, actively participating in the tasks and negotiating with dissenting opinions until reaching consensus positions
Recognize the diversity of points of view, understand multiculturalism and be able to make one's own opinions known while respecting divergent opinions
Master Thesis work
The Final Master's Work (TFM) is conceived as the culmination by the student of a process of development of the skills of the methodology of intellectual work, specialized reading, comprehensive application of different areas of knowledge and expressive domain of discourse Oral and written academic. For its correct follow-up, a protocol of individual tutorials, group methodological sessions and some criteria for the final evaluation will be established.
The TFM can be a scientifically based work or a project to create an innovative company or business. Depending on whether one option or another is chosen, the final memory of the TFM will have to have one or the other content in accordance with the regulations in this regard that are determined at the time.
Its evaluation will be carried out through a continuous evaluation consisting of a portfolio, planned methodological tutorials, tutorials with the project tutor, report of the project tutor and oral defense in public. In the case of online teaching, the same procedure will be followed, although in this case both the tutorials and the final presentation of the TFM will be in non-presential form within the timetable and schedules fixed for this purpose.
Last updated Mar 2020
About the School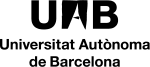 La Fundación Universidad Autónoma de Barcelona (FUAB) es una institución creada en el seno de la Universidad Autónoma de Barcelona para colaborar con la Universidad en el desarrollo y en la realizació ... Read More
La Fundación Universidad Autónoma de Barcelona (FUAB) es una institución creada en el seno de la Universidad Autónoma de Barcelona para colaborar con la Universidad en el desarrollo y en la realización de proyectos docentes complementarios a su oferta académica e impulsar nuevos sistemas de gestión en colaboración con diversas instituciones y empresas, y para la prestación de servicios vinculados a la universidad y la implementación de nuevos proyectos académicos, de investigación, de asesoramiento, de consultoría y de servicios.
Read less