Official master - remote sensing and geographic information systems
Home ›
Master ›
Official master - remote sensing and geographic information systems
Program Description
Remote sensing techniques and Geographical Information Systems (GIS) are essential to study the Earth and manage its resources. This central role is not only present in the academic world but we perceive it in multiple fields. Indeed, we found signs of increased presence and interest in areas such as the (new and improved satellite Earth observation, aerial vehicles or UAVs, European boost to GPS systems like Galileo, etc.) tools, geographic information (the success of Google Earth or Google Maps, the quality excellent ICC mapping, etc.), its metadata (increased presence and consolidation of standards), cataloging Special data Infrastructures (IDEC, IDEE, etc.) or software (such as the current gratuity of Miramon programms for administrations and students that has driven the Generalitat de Catalunya and the different alternatives of free software).
In this context there is a need for well-trained professionals in these disciplines, who know the basics, but also the latest trends as standardization promoted by the Open Geospatial Consortium (OGC).
The objective of this master is to provide solid scientific training in techniques of Earth observation, and the generation and analysis of information for the study of the territory and the management of their resources through GIS. It is a 60 ECTS Master is structured in 4 compulsory modules, an optional module for advanced training (to choose between two possible) and finally Work Master's Thesis. All classes are conducted with computer. The course is complemented by practical tutoring sessions, seminars and possible visits to organizations in the sector.

Career prospects
The contents of the master are designed to give students scientific and technical training. Focusing on in-depth knowledge and establishing a solid foundation for the natural continuity of training of students. This mixed approach of the studies makes them ideal for both developing subsequent research career through a PhD program, to perform tasks more applied where specialized technical personnel to address the issues with the maximum guarantees of success required.
Thus, the main career of the master are:
As a technician in remote sensing and GIS in private companies (both aerospace and environmental consulting, for example) or government (in departments dedicated to environmental management, spatial planning, etc.) where the use of GIS it is widespread and staff with advanced knowledge required for the daily management of geospatial data.
As a researcher in methods and applications in remote sensing and GIS in universities and public and private research.
CURRICULUM
Description Master
The Master in Remote Sensing and Geographic Information Systems is a master of 60 ECTS to be performed during one academic year. This Master has a mixed profile and is aimed at students who want to pursue a scientific career later through doctoral programs, and those students who desire a formation of professionalizing type both.
The structure of the course includes 7 modules, of which 4 are required (a module of 15 ECTS, June 2 and September 1 respectively), 2 electives (9 ECTS each) and the remaining corresponds to Work Master's Thesis (15 ECTS).
Mandatory modules are characterized by an emphasis on some of these areas: (a) Geographic Information Science: Remote sensing and GIS.
(B) Remote Sensing Image Processing.
(C) Spatial Analysis
(D) Methods of obtaining geographic information settings optional subjects aims to provide the training offer master advanced knowledge in the areas of Geographic Information Systems and Remote Sensing as well as offering an approach to possible applications these techniques of spatial analysis and remote observation.
Structure of the curriculum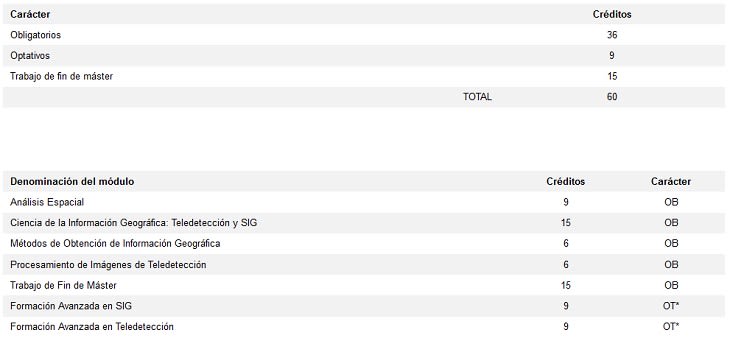 * Optional, you must take 9 credits
OB: Compulsory
OT: Optional
Competencies
Admission Profile
The MU in Remote Sensing and GIS is aimed at graduates, graduates and graduates interested in the fundamentals and applications of Remote Sensing and Geographic Information Systems (GIS).
Ideally students from university courses such as Geography, Biology, Environmental Sciences, Geology, Geodesy, Topography, Agricultural Engineering or other disciplines related to environmental management and planning, as well as Physics, Mathematics, Statistics, Telecomms, or degrees are expected equivalents.
Student motivation and desire for knowledge and organizational skills and planning work is expected.
It is advisable some knowledge of English (level B1) for the proper operation of library resources during the course.
Basic skills
Knowledge and understanding that provide a basis or opportunity for originality in developing and / or applying ideas, often in a research context.
That the students can apply their knowledge and their ability to solve problems in new or unfamiliar environments within broader (or multidisciplinary) contexts related to their field of study.
That students are able to integrate knowledge and handle complexity, and formulate judgments based on information that was incomplete or limited, includes reflections on social and ethical responsibilities linked to the application of their knowledge and judgments.
Students can communicate their conclusions and the knowledge and rationale underpinning to specialists and non-specialists in a clear and unambiguous manner.
Students must possess the learning skills that enable them to continue studying in a way that will be largely self-directed or autonomous.
Specific skills
Using various specialized GIS and Remote Sensing software and other related software.
Choose the best tools and applications for the purposes of a project related to planning or spatial analysis.
Apply knowledge of remote sensing platforms and sensors for the analysis and processing of data in different types of studies.
Apply different methodologies for primary processing of images obtained by remote for subsequent extraction of geographic information sensors.
Manage the different techniques used to obtain information from remote images.
Using different techniques and concepts for generating useful information in spatial analysis.
Analyze and exploit geographic data from different sources to generate new information from existing data.
properly handle different data formats and metadata and interpret the importance of international standards in the documentation and publication of these online.
Design and implement based on GIS tools for the management and exploitation of natural resources or management information with a spatial component solutions.
transversal competences
Masters titles, UAB treated as equivalent concepts of general competence and cross competition.
Identify and propose innovative and competitive applications based on the knowledge acquired in fields, a priori, not related directly.
Demonstrate an integrated vision of the problems, raising various innovative solutions and taking appropriate based on their knowledge and judgments decisions.
Design and implement a study methodology based on the knowledge acquired for a specific use case.
Write, submit and publicly defend a work individually or in teams in a scientific and professional context.
Study plans
Guides teachers modules
Module 1: Geographic Information Science: Remote sensing and GIS
Module 2: Image Processing Remote Sensing
Module 3: Spatial Analysis
Module 4: Methods of obtaining geographic information
Module 5: Advanced Training in GIS
Module 6: Advanced Training in Remote Sensing
Module 7: Master's Thesis
Last updated Mar 2020
About the School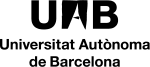 La Fundación Universidad Autónoma de Barcelona (FUAB) es una institución creada en el seno de la Universidad Autónoma de Barcelona para colaborar con la Universidad en el desarrollo y en la realizació ... Read More
La Fundación Universidad Autónoma de Barcelona (FUAB) es una institución creada en el seno de la Universidad Autónoma de Barcelona para colaborar con la Universidad en el desarrollo y en la realización de proyectos docentes complementarios a su oferta académica e impulsar nuevos sistemas de gestión en colaboración con diversas instituciones y empresas, y para la prestación de servicios vinculados a la universidad y la implementación de nuevos proyectos académicos, de investigación, de asesoramiento, de consultoría y de servicios.
Read less