Official master - hotel management companies
Home ›
Master ›
Official master - hotel management companies
Program Description
The Masters in Hotel Management Companies It is the result of the formalization of the MBA in Business Management Hotels with 14 uninterrupted editions has been one of the master's programs on oldest hotel management in Spanish universities.
This is an opportunity to link the professional future to one of the most dynamic and powerful sector of the world economy, tourism. In recent years, forms of tourism, accommodation and hiring have revolutionized the tourism demand increasing in number and variety sector. The hotel sector has to respond to this new demand through new types of accommodation managed by versatile, flexible and knowledge of hotel operations and corporate management professionals advance.
The Master in International Hotel Management Companies covering this gap to managers and senior executives of hotel chains, providing a solid foundation in business management and sector specialization. All this training is given at the university level and teaching quality that carries the seal of the UAB.
The Master combines academic training provided by a university faculty of high recognition and prestige as the UAB, along with executives of leading international hotel chains. There is also a strong internship program with 15 years experience tailored to the needs and profile of each student to.

Career prospects
The career of the master are mainly from the fields of hotel management and consulting.
As regards the hotel management program students can develop professionally in all areas of management: general management, operations, quality, finance, expansion, marketing and marketing and human resources, both at the hotel establishment and corporate of hotel chains.
In the case of hotel consulting, students can participate in projects related to feasibility plans, strategic plans, marketing plans, e-commerce, revenue management, quality management plans or expansion plans among others.
CURRICULUM
Description Master
The Master in management of hotel companies, professional profile, consists of 60 ECTS to be held in two semesters in an academic year. The distribution of these 60 ECTS responds to a structure of 42 compulsory credits, 12 intended for practical work in hotels and businesses 6 to final dissertation, which may consist of a business plan or a project with practical application sector.
Structure of the curriculum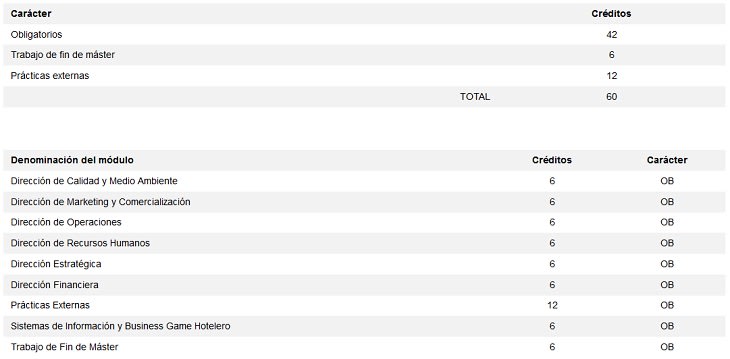 OB: Compulsory
Competencies
Admission Profile
The profile of a student of the master is a person who is in possession of the official degree or similar and is interested in obtaining advanced training in hotel management as an element to improve their working and personal expectations.
It is recommended that graduates have completed basic or introductory fields of tourism, hotel management and / or business economics.
Basic skills
Knowledge and understanding that provide a basis or opportunity for originality in developing and / or applying ideas, often in a research context
That the students can apply the broader (or multidisciplinary) acquired knowledge and ability to solve problems in new or unfamiliar environments within contexts related to their field of study
Students are able to integrate knowledge and handle complexity, and formulate judgments based on information that was incomplete or limited, include reflecting on social and ethical responsibilities linked to the application of their knowledge and judgments
Students can communicate their conclusions and the knowledge and rationale underpinning to specialists and non-specialists in a clear and unambiguous
Students must possess the learning skills that enable them to continue studying in a way that will be largely self-directed or autonomous
Specific skills
Mastering the knowledge and tools advanced hotel management
Manage chains with a comprehensive view of the different business areas
Demonstrate a global and inclusive vision of global socio-economic environment and advancing its implications in hotel management
Analyze the key variables of the sending and receiving markets in order to formulate strategic plans
Make hotel marketing plans accompanied by their consequent economic and financial plans
Set a specific trading strategy (prices and quotas) for each channel marketing hotel
Analyze financial statements and establish control systems activity
Apply ICT in the management and analysis of hotel operations
Set in managing an orientation to quality and corporate social responsibility
Formulate a strategy and its implementation in human resources management
transversal competences
Masters titles, UAB treated as equivalent concepts of general competence and cross competition and therefore, in the section detailing general skills competitions only.
Developing managerial and leadership skills.
Identify and relate indicators to produce reports for decision making
Working in interdisciplinary teams.
Generate ideas and innovative and competitive solutions.
Study plans
Guides teachers modules
Module 1: Strategic Management
Module 2: Human Resources
Module 3: Operations Management
Module 4: Marketing Management and Marketing
Module 5: Financial Management
Module 6: Quality and Environment
Module 7: Information Systems and Business Game
Module 8: Placement
Module 9: Final Master Thesis
Last updated Mar 2020
About the School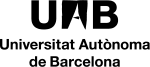 La Fundación Universidad Autónoma de Barcelona (FUAB) es una institución creada en el seno de la Universidad Autónoma de Barcelona para colaborar con la Universidad en el desarrollo y en la realizació ... Read More
La Fundación Universidad Autónoma de Barcelona (FUAB) es una institución creada en el seno de la Universidad Autónoma de Barcelona para colaborar con la Universidad en el desarrollo y en la realización de proyectos docentes complementarios a su oferta académica e impulsar nuevos sistemas de gestión en colaboración con diversas instituciones y empresas, y para la prestación de servicios vinculados a la universidad y la implementación de nuevos proyectos académicos, de investigación, de asesoramiento, de consultoría y de servicios.
Read less