Masters of Science in Electrical Engineering
Home ›
MSc ›
Masters of Science in Electrical Engineering
Program Description
Cal Poly Graduate Education
About the Program
The mission of the Electrical Engineering Department is to educate students to achieve excellence in the discipline of electrical engineering and to teach them to apply their education to solve practical problems in a socially responsible way. Students are prepared for careers of service, leadership, and distinction in a wide range of engineering and other related fields using a participatory, learn-by-doing, and "hands-on" laboratory, project, and design centered approach. Students are encouraged to participate in lifelong learning as essential in the presence of the ever-increasing pace of technological change.
Diversity in the students, faculty, and staff is embraced and enhances the quality and creativity of the campus experience and environment.
The primary educational objectives of the Electrical Engineering program are to prepare graduates to:
Excel in the electrical engineering profession;
Embrace life-long learning as a necessary component to remain current in their profession; and
Pursue graduate degrees for enhanced skills and opportunities.
The Electrical Engineering degree programs prepare graduates for distinguished practice in professional engineering; equipping students for pursuing engineering solutions to urgent problems while being responsibly aware of all implications. To that end, the curriculum provides a sound theoretical background along with current, practical engineering knowledge. Cal Poly's "learn by doing" philosophy is emphasized by integrating design throughout the curriculum in numerous design-centered laboratories that provide students with hands-on experiences in design synthesis, analysis, characterization, and verification.
Students are encouraged to participate in professional organizations and clubs such as: Institute of Electrical and Electronics Engineers (IEEE), IEEE Computer Society (IEEE-CS), IEEE Consumer Electronics Society (IEEE-CES), IEEE Power and Energy Society (IEEE-PES), Audio Engineering Society (AES), Cal Poly Robotics, Electric Vehicle Club, Renewable Energy Club, Society of Women Engineers (SWE), Women involved in Software & Hardware (WISH), Eta Kappa Nu (HKN), Society of Photo-Optical Instrumentation Engineers (SPIE), Student Electrical Engineering Council (SEEC), and the Amateur Radio Cub. The Electric Power Institute, sponsored by the university and underwritten by major utility companies and electrical equipment manufacturers, offers advanced seminars and lectures in the electrical power field and facilitates student and faculty interaction with industry.
Program Learning Objectives
Our goal is to create a graduate degree program and a learning environment that result in graduates who possess the following:
Technical competency in their chosen disciplines;
Effective communication skills;
Awareness of the impacts of technology on society and the environment;
Understanding of ethics and responsible professional conduct;
Strong interpersonal and teamwork skills;
Appreciation of the need for life-long learning;
Leadership/planning/decision-making skills;
Critical thinking/complex problem-solving skills.
Curriculum
Required Courses
EE 525
or EE 513
Stochastic Processes
Control Systems Theory
4
EE 563
Graduate Seminar (1, 1, 1)
3
EE 599
Design Project (Thesis) (or 9 units of approved Technical Electives and
a comprehensive written examination)
9

Additional Electrical Engineering Graduate Courses
Select from the following*: 12 units
EE 502 - Microwave Engineering
EE 509 - Computational Intelligence
EE 511 - Electric Machines Theory
EE 513 - Control Systems Theory
EE 514 - Advanced Topics in Automatic Control
EE 515 - Discrete-Time Filters
EE 518 - Power System Protection
EE 519 - Advanced Analysis of Power Systems
EE 520 - Solar-Photovoltaic Systems Design
EE 521 - Computer Systems
EE 522 - Advanced Real-Time Operating Systems Design
EE 523 - Digital Systems Design
EE 524 - Solid State Electronics
EE 526 - Advanced Digital Communications
EE 527 - Advanced Topics in Power Electronics
EE 528 - Digital Image Processing
EE 529 - Microwave Device Electronics
EE 530 - Fourier Optics
EE 533 - Antennas
EE 541 - Advanced Microwave Laboratory
EE 544 - Solid-state Electronics and VLSI Laboratory
Approved Technical Electives (400-500 level)
May be selected from the course list above and other advisor approved technical electives. 17 units

Total units: 45

*Not all courses listed are offered each academic year. Consult the EE Department for current information on course offerings.
Last updated Nov 2018
About the School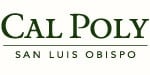 Located in San Luis Obispo, 200 miles north of Los Angeles, Cal Poly maintains a guiding philosophy of "Learn By Doing" that is reflected in the school's comprehensive curriculum combining technical a ... Read More
Located in San Luis Obispo, 200 miles north of Los Angeles, Cal Poly maintains a guiding philosophy of "Learn By Doing" that is reflected in the school's comprehensive curriculum combining technical and professional training with the arts and humanities. This prepares students to become resourceful professionals and innovative leaders from the moment they step foot on campus. As one of the most selective universities in the California State University (CSU) system, Cal Poly consistently ranks "Best in the West" by U.S. News and World Report and is considered one of "The Best Colleges for Your Money" by Money Magazine.
Read less