Masters of Public Administration
Program Description
Masters of Public Administration
The Masters of Public Administration (MPA) program seeks to provide the highest quality graduate education for current and prospective officials in all three areas of public service: government agencies, nonprofit organizations, and private vendors. The program strives to achieve local, state and national prominence through a contemporary curriculum, innovative instruction, scholarly and applied research, and service to key stakeholders. Program activities are designed to develop and enhance technical, ethical and leadership competencies.
About The Program
The University of Miami, situated in one of the most cosmopolitan parts of the country, offers a unique opportunity for the study of public administration. UM is advantageously located in Miami Dade County, the first in the U.S. to adopt two-tier metropolitan government, providing an ideal urban laboratory for the study of government organization and consolidation.
The MPA degree provides career opportunities in local, state and federal government as well as the nonprofit and private sectors. For several decades the political science department has supplied South Florida with leaders through the vehicle of the Bachelor's and Master's degrees. Much of this experience now serves the MPA program in the form of internships and enhanced employment opportunities. There is a growing demand in South Florida and elsewhere for skills developed in the MPA program such as budgeting, manpower management, program planning, health care, and even international management. Graduates of the political science department and MPA program at UM now occupy numerous leadership positions in the local, state, and national government and other sectors.
Our program consists of five core faculty members and more than a dozen other regular, adjunct or part-time faculty in the Political Science Department. We also offer dual degree programs with the Master of Arts in International Administration (MPA/MAIA) and Masters of Public Health (MPA/MPH) at the Miller School of Medicine.
Curriculum
The Department of Political Science offers a Master's degree in Public Administration through the graduate school. The program is intensive, rigorous, and aimed at educating effective public managers. Courses are designed to provide students with the analytical skills and managerial competencies required for planning and implementing public policy at all levels. The objectives of the MPA program are the development of individuals who are able to:
to use educated judgment for decision-making in the context of current theories of management.
to assume leadership and management roles in analyzing, formulating, and executing public policies and programs.
to master a body of knowledge and set of skills which guide the use of management concepts.
to understand the "public" nature of the profession.
All MPA candidates are required to complete 36 to 48 credits at the graduate level, depending on government management experience and academic preparation. (Online MPA students must complete 36 credits). Pre-serviced students are required to complete 30 credits of core courses (includes internship), and 18 specialized track credits, with a minimum grade point average of 3.0 (out of 4.0). Specialization courses are selected in consultation with the student's academic advisor in light of the student's career goals and interests. An option exists for those students who wish to complete their Bachelor's degree and a Master of Public Administration in 5 years.
Core Curriculum
Introduction to Graduate Public Administration POL 622
Budget and Financial Management and Administration POL 601
Political Analysis POL 610
Personnel Administration POL 647
Seminar in Administration POL 606
Public Policy Analysis and Administration POL 646
Political Environment of Business POL 671
Productivity Improvement in Public and Nonprofit Organizations POL 651
Public Service Internship POL 656
Admissions
Deadlines to submit applications are:
On-Campus program
Fall term- June 1st (international) and July 15th (domestic)
Spring term- November 1st (international) and December 1st (domestic)
Summer term- May 15th (international) and April 1st (domestic)
Online program
Fall term- July 8 (early decision), August 12 (financial aid and regular decision)
Spring term- November 11 (early decision), December 16) financial aid and regular decision)
Summer term- March 11 (early decision), April 15 (financial aid and regular decision)
All graduate applicants must:
hold a baccalaureate degree from a college or university of recognized standing,
have demonstrated through their undergraduate record and other qualifications their academic competence to complete a rigorous graduate program,
have achieved minimum combined scores (verbal and quantitative) from the Graduate Record Examination (GRE) of 297 *,
have a minimum grade point average of 3.0. In order to limit class size for maximum teacher-student exchange, the M.P.A. program prefers students with above-average GRE scores, excellent letters of recommendation, and superior writing skills,
submit two (LOR) Letters of Recommendation (LOR Form).
International Students
In addition, international students must achieve a passing score on the Test of English as a Foreign Language (TOEFL), or successfully complete the Intensive English Program of the University prior to starting the M.P.A.
The application fee is $65.
Last updated Jul 2019
About the School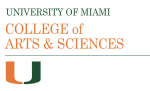 The College of Arts & Sciences is located in suburban Coral Gables, just minutes from downtown Miami, one of the most diverse, dynamic, and global cities in America. A&S students and scholars ... Read More
The College of Arts & Sciences is located in suburban Coral Gables, just minutes from downtown Miami, one of the most diverse, dynamic, and global cities in America. A&S students and scholars live, work, research, and play in Miami, an endless resource for internship and volunteer opportunities, language and cultural immersion, intellectual exploration, and lively entertainment. In turn, the city views the College as its primary brain trust. A&S scholars work closely with government agencies, businesses, and nonprofit organizations across the region to improve the economic output and quality of life of our shared community.
Read less