Masters in Maritime Resources Management
Home ›
MSc ›
Masters in Maritime Resources Management
Read more about this program on the institution's website
Program Description
UQAR closely monitoring the evolution of the risk posed to public health by COVID-19 (coronavirus). It is therefore important to regularly consult this section provided for this purpose on the UQAR .
The Master's in Maritime Resources Management aims to train managers with a global, multidisciplinary and integrated vision of the maritime domain.
It trains professionals who can use management methods, tools and techniques to effectively contribute to decision-making in the maritime sector, both at the operational and strategic levels.
The student has the opportunity to deepen his knowledge in one of the three sectors of the program: fisheries (fishing and aquaculture), management of the coastal and marine environment and maritime transport.
objectives
General objectives
Train stakeholders who will have the ability to rigorously analyze complex issues so that they can contribute effectively to decision-making in the field of marine resource management. Train people who will have developed skills to undertake postgraduate studies, if necessary.
This profile is primarily intended for candidates wishing to pursue a career as a researcher or expert in marine resource management.
Specific objectives
At the end of their studies, the students:
Have acquired the fundamental knowledge necessary for the management of organizations working in the maritime sector;
Have developed a strong capacity for analysis and synthesis;
Conduct research related to marine activities using a rigorous and structured approach;
Have acquired the mastery of management tools in the maritime sector;
Have been made aware of the issues related to the management of maritime activities, both in the public and private sectors;
Will be able to communicate the results of their work orally and in writing.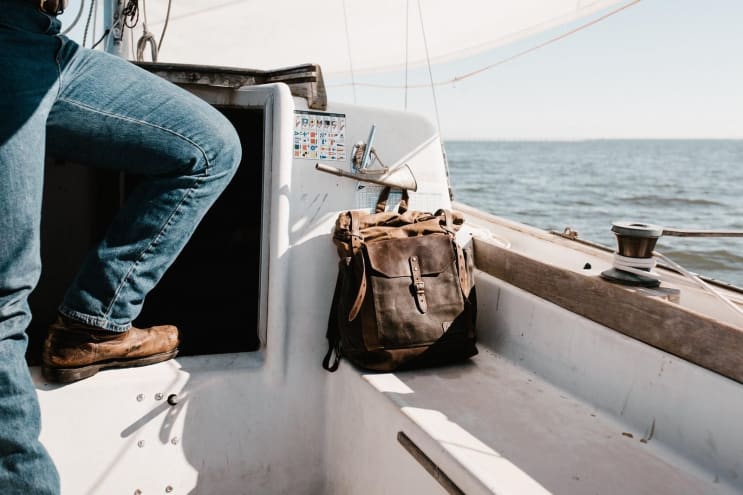 Andrew Neel / Unsplash
Two paths adapted to the training needs of the candidates
Master's degree in marine resources management, professional development (without memory)
This path without research memory allows to deepen its knowledge in one of the three sectors of the program:
Halieutique: Sector focusing on the issues of the fishing and aquaculture sector, the transformation of aquatic products (including product and biomass recovery activities).
Management of the coastal and marine environment: Fillière dealing with issues related to maritime activities and the exploitation of natural resources in a perspective of sustainable development.
Marine transport: sector dealing with management issues related to maritime transport and port activities.
Through his choice of course, the student can direct his training towards private or public management.
Master in Marine Resources Management, Research Path (with memory)
This memory-based program is for candidates wishing to pursue a career as a researcher or expert in marine resource management.
It allows to carry out a research project (memory of 21 credits) allowing to deepen one's knowledge on a particular subject related to the management of marine resources.
This path also helps to develop the skills required to pursue doctoral studies.
Training for graduates from a variety of disciplines
The graduate programs in Marine Resource Management are management science courses that are specifically designed to:
graduates in environmental sciences (biology, chemistry, geography, etc.) who wish to acquire training in management applied to the field of the maritime environment;
graduates in management sciences, economics, law, social sciences or a related field who wish to specialize in the marine sector.
These programs are built around the idea that to contribute to management and the decision-making process, different scientific viewpoints need to be considered. They integrate knowledge in management sciences, natural sciences, social sciences and law and bring together experts in fisheries resource management, maritime transport and environmental studies.
In order to maintain the sustainability of the resources and activities essential to the survival of a large part of the world's population, it is important to have an understanding not only of the natural environments, but also of the social, political, economic and legal systems that affect decision-making processes.
Key Training for Excellent Employment Opportunities in the Maritime Sector
The graduates in marine resource management at UQAR hold positions as managers, researchers or consultants in the public or private domain.
The marine sector is particularly characterized by the presence of a very large number of public, parapublic and private organizations, both in Canada and abroad:
Provincial and federal ministries (fisheries, environment, transportation, etc.);
ZIP committees, watershed organizations;
Cities and municipalities;
Non-governmental organizations (World Bank, Organization for Economic Cooperation and Development (OECD), Nature Conservation Organization, World Wildlife Fund, etc.);
Research centers and universities;
Private companies.
Application for admission
Canadian students
Step 1: Admission Requirements
Choose the admission quarter.
Choose the place of instruction.
Check the conditions of admission and quota.
Check the requirements for fluency in French.
Find a research director, if necessary.
Respect the deadlines for submission of admission applications.
Step 2: Filing the application
Complete the application for admission.
Provide the necessary documents to process the application for admission.
Pay the admission fee.
Step 3: Demand Tracking
Receive the decision on the application for admission.
Register for classes.
Foreign students
Step 1: Choose your training
Choice of study program and campus.
Equivalence of diplomas and admission requirements.
Requirements for fluency in French.
Research Directorate, if necessary (research-type graduate programs).
Step 2: Check your financial capacity
Foreign students must ensure, before leaving their country of origin, to have the necessary financial resources to cover all the expenses of study and stay.
Step 3: Submit your application
Application for admission online.
It is important to send all the required documents for the analysis of the application for admission as soon as possible. The Office of the Registrar of UQAR will not be able to process the application for admission without them.
Step 4: Obtain legal permissions to study in Canada
Foreign students admitted to a study program or exchange program for a period of more than 6 months must obtain the residence permit below.
Students admitted to a program lasting less than six months (a one-term program) are exempt from the CAQ and study permit. However, depending on the nationality of the candidate, a visa or an Electronic Travel Authorization (eTA) may be required to stay in Canada.
Applications for authorization are the responsibility of the candidate. UQAR can not intervene in this process, which is the exclusive responsibility of the ministries concerned.
Students must ensure that they have a valid passport when applying for a residence permit.
If student residence permits are not obtained in time for back to school, contact a foreign student advisor to evaluate options.
Step 5: Prepare to arrive in Canada
Health insurance and hospitalization.
Foreign Student Matching Program.
Reservation of accommodation.
Plan your itinerary to Rimouski or Lévis.
Head to UQAR .
Check out our Tuition Fee Calculator here to determine your tuition rate for this program.
Last updated Aug 2020
About the School
L'UQAR, une université d'excellence en recherche! Riche de la diversité de ses expertises de calibre international, l'UQAR se démarque parmi les meilleures universités en recherche au Canada. La comp ... Read More
L'UQAR, une université d'excellence en recherche! Riche de la diversité de ses expertises de calibre international, l'UQAR se démarque parmi les meilleures universités en recherche au Canada. La composition des axes d'excellence en recherche de l'UQAR- les sciences de la mer, le développement régional et la nordicité- reflète cette réalité distinctive. https://uqar.ca/nouvelles/uqar-info/3088-l-uqar-se-demarque-en-recherche-parmi-les-meilleures-universites-au-canada
Read less