Program Description
ESMT's Master's in Management (MIM) prepares talented minds for careers in global business.
The ESMT Master's in Management combines fieldwork in global companies with applied coursework and research on the latest business and management theories. Admitted students have a variety of academic backgrounds and use the time at ESMT to gain valuable knowledge and interdisciplinary experience to apply their previous expertise to economic and management problems.
The program is divided into two streams with a focus on international management. One stream (Quantitative Business) is designed for quantitative decision analysts and one stream for creative and strategic thinkers (Innovative Management).
Depending on the stream, students can choose among four specializations:
Business Analytics
Finance & Investments
Entrepreneurship & Innovation
Global & Digital Strategy
The ESMT MIM program uses an interdisciplinary approach: students apply analytical models to understand the global economy, product development, and new techniques in technology management within global companies. Students planning to pursue a further academic career also have unique access to research practices and projects with ESMT's faculty.
A Master's degree bridging innovation and applied business
ESMT's Master's in Management is an innovative program designed with input from top German companies. The two-year degree gathers a selected group of talented individuals who can show strategic thinking in their application to the MIM. Courses emphasize how these techniques and research methods can further an organization's global goals in a business context.
Students will complete projects and an internship with global companies before graduation; some of this work should be done abroad. Balanced with soft-skills and career reflection in the classroom, the program will help students become more aware individuals who can make a difference in their organizations. We invite you to learn more about the ESMT MIM below.
MIM program strengths
We've identified four core strengths that make the ESMT Master's in Management unique:
Corporate exposure and experience: ESMT MIM students complete up to 11 months of applied study: an internship, a social impact project, and a thesis project. ESMT has a growing corporate partnership with a variety of global companies who offer internships and projects.
Cutting-edge technology management: Courses integrate qualitative analysis into applied methods for global business management so that graduates can work in a fast-paced business setting and work successfully with technology-based products or innovations and services on a global scale.
International aptitude and social impact: At ESMT, Germany's most international business school, courses are taught by international faculty trained in the world's top institutions. Classes all have an exceptionally diverse student body. MIM candidates are going to study either German or a further foreign language. All students are encouraged to spend time abroad on projects and internships where possible.
Soft skills for high-growth careers: ESMT's small class sizes and applied approach ensures that students gain valuable presentation and teamwork experience. Further seminars focus on conflict management, diplomatic communication, negotiation simulations, and other skills likely to be the difference between a graduate's stagnation or promotion.
Admission requirements
To be considered for the ESMT Master's in Management program, students need:
A previous degree (at least Bachelor's equivalent). Applications will also be accepted from final-year undergraduate students awaiting completion of their degree.
Proof of strong quantitative abilities to enroll in the Quantitative Business stream, either through previous coursework during the bachelor's studies or a GMAT/GRE score.
In order to enroll in the Innovative Management stream, students with a degree in any discipline and excellent grades are welcome to apply.
Ideally no more than 18 months of postgraduate work experience
Proof of English fluency (TOEFL minimum of 95 or equivalent for non-native speakers). Our code is 8707.
Completed application, including essays and recommendations
Final admissions interview via Skype
Financing the ESMT MIM
ESMT's Master's in Management is an excellent investment in your future. Most students fund their studies through a combination of savings, parental support and loans.
ESMT has limited scholarship funds for top applicants, based on merit.
For parents, please see our page here for more information on funding options.
Last updated Jan 2020
About the School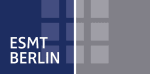 The schools' expertise focuses on the development of entrepreneurial leaders with a global focus on social responsibility and the management of technology. ESMT is one of the top ranked business schoo ... Read More
The schools' expertise focuses on the development of entrepreneurial leaders with a global focus on social responsibility and the management of technology. ESMT is one of the top ranked business schools in Germany with a global network of alumni in over 50 countries.
Read less