Masters in Business Analytics
Program Description
Masters in Business Analytics
The all-new M.Sc. in Business Analytics program, another first in Turkey by Sabancı University, provides a unique opportunity for you to sharpen your skills in Analytics, a trending research and practice area in the world, due to the rise of Big Data. This is a 21-month full-time thesis-based program with scholarship, where you will have a chance to attend classes with top-level peers.
Through our rigorous courses in data analytics, modeling and optimization, decision analysis, collaboration with the industry leaders in business and data analytics, and hands-on thesis work utilizing real-world data available at our Behavioral Analytics & Visualization Lab, you will be well prepared for a business career as a data scientist/analyst, on the way to becoming a Chief Data or Analytics Officer. You may also use your new skill set to pursue Ph.D. in Business Analytics if you have an appetite for research.
With the collaboration of SAS, the analytics partner of our program and our Lab, We encourage you to visit our campus, attend our information sessions, meet our staff and faculty members, and visit the Behavioral Analytics & Visualization Lab to have an understanding of the new and exciting Business Analytics experience.
Curriculum
This 21-month full-time thesis-based M.S. program emphasizes theory, concepts, modeling approaches, modeling and analysis tools in the context of Business Analytics.
The program seeks to achieve the following learning outcomes:
Demonstrated understanding of data-driven decision modeling and analysis concepts and frameworks,
Knowledge of and hands-on experience with fundamentals of business analytics, management information systems, statistical and prediction models,
Ability to transform complex data into valuable insight and resulting value-adding actions,
Skills in hands-on data-mining tools and techniques thereby leading to graduates that are competitive in the Analytics job market,
Deeper expertise in a selected line of research using real data.
Course Requirements
The required number of courses is 8, which is equivalent to 24 SU credits. After completing the 8-course, students will conduct thesis-based research over the Fall and Spring semesters of their second year.
Fall Semester 1
BAN 500 Introduction to Business Analytics
BAN 502 Introduction to Decision Making
ENS 505 Methods of Statistical Inference
ENS 511 Engineering Optimization
Spring Semester 2
Elective Course 1
Elective Course 2
Elective Course 3
Elective Course 4
Fall Semester 3
BAN 599 Graduate Seminars Course
BAN 600 Master Thesis
Spring Semester
Elective Courses
BAN 503 Management Information Systems
BAN 504 Data Mining with SAS Enterprise Miner
BAN 521/OPIM 523 Decision Models
BAN 522 Revenue Management
BAN 523 Group Decision Making under Multiple Criteria
BAN 524/OPIM 506 CRM using Location Intelligence
BAN 526/OPIM 526 Business Intelligence and Decision Support Systems
BAN 525/ECON 501 Microeconomics I
BAN 528/ECON 502 Microeconomics II
BAN 529/ECON 506 Econometrics
BAN 533/IE 503 Stochastic Processes
BAN 531/IE 523 System Simulation
BAN 537/IE 527 System Dynamics
BAN 535/CS 515 Neural Networks
BAN 532/CS 512 Machine Learning
BAN 539/CS 525 Data Mining
Admissions
A complete application includes the following documents:
On-Line Application Form.
Official Transcript: One official transcript is required from each post-secondary institution attended. The transcripts must be in their original sealed envelopes.
Two Letters of Recommendation: Two sealed letters of recommendation, written by individuals who can assess the applicant's professional potential, motivation and commitment to attend and successfully complete this demanding program are required.
One Photograph.
Official GMAT/GRE/GAT and ALES scores: Turkish citizens are required to submit GMAT and GRE scores as well as ALES scores. Non-Turkish applicants are only required to submit GMAT or GRE scores.
English Proficiency Certificate: TOEFL IBT 83; KPDS 69; ÜDS 69; YDS 69; After the test date, TOEFL scores are valid for two years and YDS, KPDS, and ÜDS scores are valid for three years.
Statement of personal and professional purpose: Applicants should provide a maximum 3-page essay describing their reasons for deciding to pursue doctoral studies in their chosen area, their research interests, and their goals and plans for the future.
Curriculum Vitae: Applicants should include their education and work experience, awards and distinctions and any other information they feel would support their application. The applicant's mailing and e-mail addresses and phone and fax numbers should be provided on the first page.
All applicants should send the hard copy documents in order to complete the application process.
Last updated Jan 2018
About the School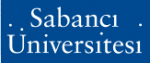 Sabanci University is a leading university in Turkey which provides a fully English education backed by a world class faculty. One of the top research universities in the region, SU is the place to be ... Read More
Sabanci University is a leading university in Turkey which provides a fully English education backed by a world class faculty. One of the top research universities in the region, SU is the place to be with its strong scholarships, extensive exchange opportunities across the world, and innovative model of education that gives students full freedom in choosing their area of study after enrollment.
Read less