Masters in Archaeological Materials Science (ARCHMAT)
Home ›
Master ›
Masters in Archaeological Materials Science (ARCHMAT)
Program Description
ARCHMAT is a 2-years Erasmus Mundus Master Course (120 European Credit Transfer Scheme - ECTS) within a consortium of 3 HEI (Evora-UE, Rome-UNIROMA1, Thessaloniki-AUTH) as full partners, 7 HEI (Avignon-UA, Palermo-UNIPA, Zaragoza-UNIZAR-ICMA, Fez-UF, Rio de Janeiro-UERJ, Polytechnic University of Turin - POLITO and Universidad de Burgos - UBU) and 3 non HEI Research centres (Laboratorio Jose Figueiredo/Instituto dos Museus e da Conservacao-IMC, Scientific Laboratory Musei Vaticani-MV, Archaeological Museum of AIANI) as associated members, providing students with specialized skills in archaeology and analytical charaterization of materials from prehistory (megalithic) to classical times (Greek and Roman)
WHY?
The study and conservation of Cultural Heritage materials is a research area with a strong multidisciplinary connotation and requires skills that span across the Humanities and Science research fields. ARCHMAT provides a common, integrated platform for high-quality students coming from different educational backgrounds (Science and Humanities) to understand the advanced scientific methods used to investigate archaeological materials and aims to form highly specialized professional experts in the emerging field of Archaeometry, i.e Physical Sciences applied to the study of Archaeological and Cultural Heritage materials
HOW?
Classes will be delivered at Evora (coordinator), Rome and Thessaloniki. Associated members will give seminars/practical and field classes on Archaeometry specialized aspects and case studies. Occasionally, seminars by invited scholars will complement the curriculum
WHEN?
Call for online applications for each edition of ARCHMAT are published on the dedicated website in October each year with a deadline in January of the following year. The start of each edition of ARCHMAT Master Course is scheduled in September of the same year
ADDED VALUE
The relevance of ARCHMAT for its prospective students relies on its international, multidisciplinary and wide-ranging dimension
LEARNING OUTCOMES
At the end of the course, the successful ARCHMAT student will have acquired a specialized knowledge in the multi-analytical characterization of a wide range of archaeological and Cultural Heritage materials (stone, glass, earth, ceramics, bricks, textile, metals) drawn from case studies across Europe and the Mediterranean and learn skills that will enable able him to independently plan an Archaeometry project. Indeed the theoretical, practical and field-based wide-ranging knowledge on advanced scientific analytical methods applied to the study of Archaeological materials provided by ARCHMAT is at the basis of any correct project management plan aimed at the conservation of those objects and of archaeological sites as a whole
CAREER OPPORTUNITIES/ACADEMIA
The ARCHMAT Master Diploma holder will be fully qualified and in the ideal position to successfully embark in doctorate courses in Archaeometry and/or Science applied to Conservation/Cultural Heritage research fields either at ARCHMAT partner Institutions or elsewhere
CAREER OPPORTUNITIES/PROFESSIONAL SECTOR
The ARCHMAT Master Diploma holder should find himself in a privileged position to apply for job opportunities in the private sector (Restoration SMEs, private profession) and/or Scientific Laboratories of Museums, or other Governmental Institutions (Ministry of Culture, Regional and National local authorities) but also at several International Organizations devoted to the Protection of Cultural Heritage objects and sites such as ICCROM and UNESCO.
Last but not least, the participation as associate partners of non academic Institutions with high level national/international reputation in ARCHMAT and with strong contacts/affiliations with Governmental agencies and Industry such as the Instituto dos Museus e da Conservacao (IMC) in Lisbon, the Instituto de Ciencia de Materiales de Aragon (ICMA) in Zaragoza, the Scientific Laboratory of the Musei Vaticani (MV) in the Vatican State, the Museum of Aiani (MA) in Greece will prove extremely useful to ARCHMAT students in their post-Master search for job opportunities worldwide
ADVANCED TRAINING FOR PROFESSIONALS
Furthermore, the ARCHMAT will be addressed not only to students pursuing their academic training but also to professionals and/or public functionaries already employed in Cultural Heritage and Archaeologically related institutions such as Museums, Ministry of Culture and other governmental cultural heritage agencies. In these cases, the ARCHMAT course will act as an updating-upgrading training course. The need for high-quality qualification/requalification of staff in the highly specialized ARCHMAT research field is indeed presently highly felt in the Archaeometry/Cultural Heritage/Conservation sector
Last updated May 2020
About the School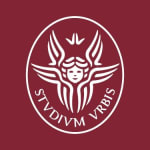 Since its founding over 700 years ago, Sapienza has played an important role in Italian history and has been directly involved in key changes and developments in society, economics and politics. It ha ... Read More
Since its founding over 700 years ago, Sapienza has played an important role in Italian history and has been directly involved in key changes and developments in society, economics and politics. It has contributed to the development of Italian and European science and culture in all areas of knowledge.
Read less