Master's Programme in Sustainable Chemical and Process Engineering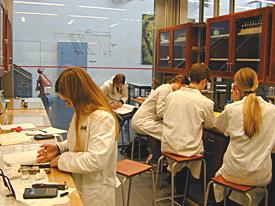 Degree awarded: Master of Science in Technology
Annual intake: 20
Contact: chemeng@abo.fi
Website: www.abo.fi/en/study-programme/masters-degree-programme-in-chemical-engineering/
Chemical engineering covers many scientific and technological areas essential for human well-being, a clean environment and the sustainable use of natural resources. Studies at the department provide a broad basis for specialization in sustainable, environmentally friendly processes and products, including waste minimization, biofuels, energy efficiency and chemicals from nature. In the program students gain a deeper knowledge of chemical engineering and have a unique opportunity to take part in future developments in this field. Students gain top-level expertise for work in the chemical and process industries as well as in scientific research. A Master of Science Degree in Technology is awarded upon successful completion of the program. The two-year program consists of 12 months of courses and six months of thesis work. There is a three-month summer break between the first and second academic year.
Study Environment
In the degree program, theoretical studies, through lectures with individual or group assignments, are combined with practical and applied work in adequately equipped laboratories. The studies are done under close personal guidance of teachers and professors. The students study in an international atmosphere together with domestic students as well as international exchange students from many countries.
Admission Requirements
The program is designed for students with a Bachelor's degree in chemical engineering or a corresponding degree. Eligible applicants are selected on the basis of how well the bachelor's degree corresponds to the program and on the study merits of the student. No entrance examination. Admission granted on the basis of the application. Applicants to the Master's degree programs taught in English must always prove their knowledge of the English language. For more detailed information on admission requirements, please check admission requirements and application procedures.
How to apply?
For more information on the application requirements and procedures, tuition fee and scholarships, please see www.abo.fi/en/study/apply/international-master-programmes/
This school offers programs in:
Last updated November 16, 2018