Master's Degree in Management (English or Spanish)
Home ›
Master ›
Master's Degree in Management (English or Spanish)
Program Description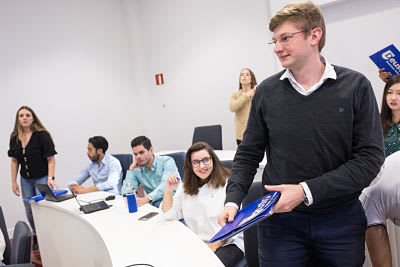 Key information about the Master's
Duration: September to June + period of internship
Number of credits:

90 ECTS

Dedication: Full-time, attendance

Number of places

:

40 places for both language groups
Language: English or Spanish
Company internships: Obligatory (24 ECTS)
Final Master's Thesis:

Obligatory (6 ECTS)

Qualification awarded: Máster Universitario en Dirección de Empresas by the University of Deusto (Official Diploma).
Location: University of Deusto, San Sebastian campus
What should you know about this Master?
Designed for people with training in other disciplines than management
The Master's is specially designed so that people with training in disciplines other than management can get the most out of the program.
The content approaches, and methodologies are designed to provide the profile of skills and abilities that the business world is looking for, especially when it is combined with experience and skills in other areas.
A global and integrated vision combined with previous experience
The Master's program presents a global vision of the company so that participants can perceive the inter-relationships between different areas of the company and are able to design solutions that can be efficiently integrated.
Emphasis on entrepreneurship
Special attention is given to promoting specific entrepreneurial skills (innovation, creativity, decision-making, and decision-implementation) as elements necessary for both developing business ideas and individual projects as well as for their growing importance in the business world where professionals need these skills to cope with the ever-changing global environment.
Practical and professional approach
The ultimate goal of the program is to train professionals to achieve success in their professional careers. The semester devoted to professional practice involves prolonged contact with the business world so that students can start to put into practice the knowledge, skills, and abilities that they have acquired in the classroom.
Outstanding results
The Master's has been in existence since 1971, and over these years has undergone successive changes in order to ensure that it is always up-to-date. This long experience and the hundreds of alumni in managerial positions in national and international is a demonstration of the success of the program.
The Overall Objective of the Master's
The University Master's in Management provides comprehensive training both at the level of knowledge as well as in terms of personal development and the acquisition of skills, abilities, and attitudes related to management.
Its goal is to train professionals who can work in managerial positions in distinct areas of national and international companies and in any sector of activity.
Furthermore, special attention is paid to fostering the specific entrepreneurial skills (innovation, creativity, the making of decisions and their implementation) that are necessary for developing business ideas and particular projects, and which are of increasing importance in today's business world where there is a growing demand for skilled professionals to deal with the ever more rapidly changing global environment.
Who is the Master's aimed at?
Admission requirements
Applicants require an official university degree that entitles the holder to access to postgraduate studies in the country of origin. Those who are studying the final year of a degree may also request access to the Master's, in which case any definitive offer will be conditional upon the successful completion of their undergraduate studies.
The Master's is intended for people who have not previously completed a degree in business management and administration. The admission of those with prior degrees in business management will only be considered in specific cases and after a solidly argued request by the candidate that sets out the reasons why they are interested in studying the Master's and what benefits they believe it will bring. An example of this situation would be a person who has studied in educational systems outside Spain.
Participants whose mother tongue is other than Spanish will be required to have at least a B2 Spanish level, although a higher level is recommended to achieve good performance on the master's course.
Students' profile
The Master's in Management is aimed at:
Graduates who do not possess previous professional experience; and especially those whose training has been in disciplines other than business management and administration.
The Master's is also suitable for people whose training has taken place in countries other than Spain, or that meet conditions making their admission to the program advisable.
These will usually be people who are found in any one of the following circumstances:
Needing training in business management in order to qualify for positions unrelated to their previous training or to extend their range of careers choices;
Have experience in the business world, but feel the need to obtain tools, criteria, and an overview of current business and to rejoin the labor market better equipped to take on more responsibility.
Career Opportunities
Participation in the Master's offers magnificent access to the labor market by expanding access to a range of professional careers and contributing to our students' reputation of distinction. For the majority of our graduates, the waiting period before being hired is between 2 and 4 months.
Deusto Business Alumni
Taking part in this Master's program means gaining the opportunity to belong to a large group that comprises thousands of individuals who have pursued a training program at Deusto Business School.
This is a network made up of over 15,000 professionals who hold major company posts in all sectors both in Spain and overseas. Belonging to this group provides access to a whole range of services related to the management of professional tenders, continued training, contacts between members, and advice and orientation regarding opportunities on the job market, and many others.
Program
Subjects
Gestión de Procesos y Toma de Decisiones

6 ECTS

Dirección de Marketing II

3

ECTS

Gestión de Personas II

3

ECTS

Advanced Financial Management

3

ECTS

Advanced Management

6

ECTS

Dirección Avanzada de Marketing

3

ECTS

Dirección Estratégica Avanzada

3

ECTS

Contabilidad y Control de Gestión I

3

ECTS
Contexto Socioeconómico y Jurídico en la Creación de Empresas

6

ECTS
Dirección de Márketing I

3

ECTS
Financial Management I

4

ECTS
Gestión de Personas I

3

ECTS
Inmersión Profesional I

6

ECTS
Proyecto de Mejora I

6

ECTS
Strategic Planning

5

ECTS

Contabilidad y Control de Gestión II

3

ECTS

Financial Management II

3

ECTS

Inmersión Profesional I

6

ECTS

Proyecto de Mejora I

6

ECTS

Sostenibilidad e innovación responsable en un mundo interconectado

6

ECTS

Inmersión Profesional II

12

ECTS
Proyecto de Mejora II

12

ECTS
Práctica Profesional

12

ECTS
Master's Final Project

6

ECTS

Inmersión Profesional II

12

ECTS

Proyecto de Mejora II

12

ECTS
Methodology
The Master's is characterized by a practical approach that affords the participants with a realistic view of the world of business and excellent preparation for exercising management responsibilities.
Teamwork is essential in the Master. Participants work in groups containing great variety in terms of the origin, nationality, education, and personal characteristics of its members.
Included among the teaching methods are:
Case studies illustrating real business situations. These situations are first analyzed individually, then by the working group, and finally discussed in class.
Interaction in the simulation model, in which each working group acts as the management team of a company in competition with others.
Contact with managers and entrepreneurs through seminars, conferences, and symposiums, as well as company visits.
Active participation in sessions as a means to enhance the acquisition of knowledge and the development of communication skills.
Internships
The overall aim of the internship is to allow participants to experience professional activity and to implement the skills acquired in the classroom to respond to any task or problem that they may encounter.
Internships may be selected by the faculty or may be proposed by students themselves, always provided that their realization will contribute to reinforcing and developing the specific and generic skills appropriate to the course profile.
This professional experience can be achieved by completing a long-term internship (30 ECTS), or by completing various short-term work experiences of a lesser duration in the offices of one or more companies, working on a variety of concrete professional activities, projects, or tasks.
Amongst the various modes of internships, there exists the possibility of working professionally under the contract; this signifies that the internship can be converted into one's first job after completing the Master's program.
Internees have the support of a tutor who ensures that students take maximum advantage of the work experience and helps them to orientate the preparation of their report on the work experience.
Final Master´s Thesis
The Final Master's Thesis (FMT) should have a multidisciplinary character and incorporate the different skills acquired during the program.
The student must produce practical work, applicable to the business world and orient towards entrepreneurship in its broadest sense.
The specific content will be related to start-up projects, development projects for existing businesses (in new geographic areas, other sectors...), transformation projects, intrapreneurship, spin-offs. The thesis should reflect
analysis related to aspects of an enterprise, country, and business sector.
The Thesis is supervised by a tutor and will result in a final report that is publically presented and defended.
Choose your language and specialization - New!
Choose your language: English or Spanish
Beginning in fall 2021, students will have the option to course the Master in Management program entirely in English or in Spanish.

Students will be required to demonstrate an advanced level of fluency in the language of instruction in order to be admitted to the program.
Level of Spanish: C1
Accredited level of English. The following accreditations may be submitted:
Certificate in Advanced English - CAE
BEC Higher
TOEFL (above 85 points)
IELTS (above 6.5 points)
Failing such accreditations, candidates also have the possibility to take an internal level test organized by the Language Institute of Deusto University or to take and pass the Institute's C1 level English course.
In the event that the candidate can only provide proof of a B2 level in English when applying to the Master's degree, he/she may be admitted provisionally on the condition that proof of having reached the advanced level is provided in September when enrolling. These candidates are explicitly required to improve their level of English between application and enrolment.
Choose your Specialisation
Having completed the initial Fundamentals phase, students will be able to choose one of the following specialization itineraries:
Digital Business
Competitiveness and Innovation
This specialization allows students to further their studies in an area of interest and modern relevancy, to shape their academic profile according to future professional interests.
Last updated Dec 2020
About the School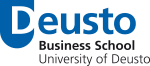 Deusto Business School is the 1st business school in Spain, with over one hundred years of history as a global reference for well-rounded management education. It has pioneered the training of busines ... Read More
Deusto Business School is the 1st business school in Spain, with over one hundred years of history as a global reference for well-rounded management education. It has pioneered the training of business leaders at its two previous faculty departments: La Comercial, part of the Bilbao campus since 1916; and ESTE, created in 1956 at the San Sebastian campus.
Read less