Master's Degree in Human Resources
Home ›
Master ›
Master's Degree in Human Resources
Read more about this program on the institution's website
Program Description
What is the Master's Degree in Human Resources?
The Master's Degree in Human Resources is organized by the Faculty of Economic and Business Sciences and the Faculty of Human and Social Sciences of the Universidad Pontificia Comillas (ICADE), through the ICADE business school .
The program responds to a growing demand from the majority of organizations and companies that consider their human capital as their most valuable component and, on many occasions, irreplaceable. People management thus becomes a strategic and crucial issue, directly linked to business results.
Career development and management from start to finish
The master's degree enables the development of professional skills in human resource management, both in the detection, attraction and development of talent as well as in compensation / benefits systems and in the legal and labor relations fields, as well as facilitating a broad knowledge of the main functions of a company and the technologies applied to Human Resources Management. Therefore, it promotes access to job opportunities in Human Resources departments, Human Resources consultancies, Communication departments, Company Social Responsibility departments, Labor departments and Compensation and Benefits departments. Training in data processing and analytics can be complemented with the completion of the Executive Program in Business Analytics.
Our students think
Many people like you have already completed a Master at ICADE business school . Know their experience.
"It has allowed me to specialize in a booming sector with many job opportunities." Paula Rabbits

"Studies that allow you to express yourself to the fullest and that perfectly respond to the needs of the market given its international perspective." Giorgo Bertelli

"An excellent training that provides the basis for developing a successful professional career in a sector demanded by companies." Guillermo Sanchez
Admission profile
The Master's Degree in Human Resources is aimed at university graduates with little or no work experience who, regardless of the studies carried out, wish to make the management and direction of people their main professional activity.


To take advantage of the Master it is necessary to have previous university training.

Students who are interested in this career orientation should show a preference for cultivating the following skills and interests, among others:
Interest in the other
Interpersonal relationships are the core element of human resources departments. Knowing how to understand the needs and interests of employees is the cornerstone of human capital management.
Social skills
Effective communication with the other must be one of the basic skills with which to work: active listening, respect for dignity, persuasion, the ability to transmit information both orally and in writing are some of these skills. .
Interest in the world of business and company
The context in which the above skills will be developed in a very specific context in which the business or customer satisfaction objectives must guide all work with people.
Interest in management, leadership and team building
The fundamental tasks of workers in Human Resources departments is to make others do. From this perspective, the phenomena that occur in work teams and especially in their leadership are one of the most relevant nuclei of interest in this profession.
Interpretation and analysis capacity
The activity of human resources management requires the integration of technological tools that support the most common decision-making processes. The interpretation and analysis of the data provided by these tools is an added value to the activity of any company.
Requirements
It is an essential requirement to be in possession or justify the immediate obtaining of a bachelor's degree, diploma, degree, engineering, technical engineering, architecture, technical architecture or foreign equivalent (in the latter case, if it is in another language, it must be translated into Spanish by sworn translator).
Professional and academic outings
Egress Profile
The Master's Degree in Human Resources provides the appropriate competencies so that the student can develop tasks in the fields of human capital management, both in the areas of evaluation and selection of personnel, training, development and career management; as in the most legal areas of labor relations. Therefore, they have job opportunities in Human Resources departments, Human Resources Consulting, Communication Departments, Corporate Social Responsibility Departments, Labor Departments, and Compensation and Benefits Departments.
For more information regarding which companies our trainees hire, go to the internship. The companies in which the students who completed their studies in the last two years are working are: Elecnor, Carrefour, Ineco, Page Personnel, Ferrovial, Santalucía Seguros, Deloitte, Simumak, Lee Hecht Harrison Spain, Kipking, Quirónsalud, Mango, Accenture , Tarami SL, UST Global España, Heineken, Fundación Siembra, AstraZeneca, Llorente & Cuenca, La Liga, Grupo Norte, Celicioso, Hay Group, Bridgestone, Vodafone, Carlson Wagonlit, Electrolux, People Expert, MV Executive Searchm, Grupo Valor, Visma , Pagegroup, Catenon, Leroy Merlin, Inteligencia Sistémica 4, Spencer Stuart, Michael Page, Amaris, Uría Menéndez, Grupo CIMD, Hays, Scania, BBVA, Minsait, Activa Advice, Aplica EST, Ikos Consulting and El Ganso.
Likewise, the Master's Degree in Human Resources allows access to an official doctorate program in accordance with the provisions of Royal Decree 99/2011, of January 28, which regulates official doctoral studies.
Last updated Aug 2020
About the School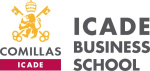 ICADE Business School, as an integral part of the Faculty of Economics and Business Administration at Comillas Pontifical University, benefits from a long history of training business professionals.
ICADE Business School, as an integral part of the Faculty of Economics and Business Administration at Comillas Pontifical University, benefits from a long history of training business professionals.
Read less