Master's Degree in Hispanic-American Literature
Home ›
Master ›
Master's Degree in Hispanic-American Literature
Read more about this program on the school's website
Program Description
Name of the program: Master's in Hispanic-American Literature
DGP Code: 221550
Normal period to graduate: 4 semesters
Credits: 100
Degree that confers: Master in Hispanic American Literature
Campus where it is offered: Hermosillo
Program description
General purpose
To train human resources of the highest quality so that they deepen their knowledge of Spanish-American literature and that this forged knowledge affects the regional and national environment. In this way it will be possible to develop, analyze, transform and promote the advances of literary studies in the educational, scientific and social sectors.
Specific objectives
To train teachers, researchers and professionals of high level, specialized in the historical knowledge of Latin American literature and with the capacity to reflect on the theoretical and methodological problems involved in literary research.
Train people with solid knowledge to participate more actively and effectively in the development of research and its dissemination in the area of Humanities, in a society urgently in need of a critical and deep understanding of culture, art and literature.
Prepare human resources with the necessary ability to analyze, adapt, and incorporate scientific and disciplinary advances in the field of literary studies.
What Will Your Competencies Be When You Finish The Program?
Egress Profile
The graduate will have sufficient knowledge to locate the main problems that the study of Hispanic American literature poses; for that reason, it will be able to solve those to which it directs its concrete interest: be of historical, critical or theoretical type; he will also be aware of the limits of his knowledge, which may be transcended by the acquired ability to manage sources of information.
The graduate of this master's degree will have acquired a high level academic preparation through the appropriation of theoretical and methodological knowledge for the study of Latin American literature.
The graduate of the program will have acquired knowledge related to the methodologies and specific techniques for their performance in literary research.
The academic preparation given in this Master's program will allow the graduate to develop specialized research, teaching and dissemination functions in the area of Spanish-American literature. The graduate must also be able to provide advice on the area in the educational, social, private and governmental sectors.
The graduate of the program will have developed the following skills and knowledge:
Systematization in the review of specialized bibliography.
Critical sense to choose instruments appropriate to your research.
Ability to analyze literary texts.
Dominance in the knowledge of Hispanic American literature.
To these skills, the graduate of the Master in Hispanic American Literature will add another referred to the management of a second language other than the one accredited at the time of entry to the graduate.
Curriculum
Curricular map

List of subjects
Literary Theory I
Literary Theory II
Literary Theory III
Hispano-American Literature I (XVI-XVIII Centuries)
Hispano-American Literature II (19th Century)
Hispanic-American Literature III (XX Century)
Optional I
Optional II
Introduction to Literary Research
Research and thesis seminar I
Optional assignatures
Theory of literary theory
Literatures of oral tradition
Mexican Literature I (regional literatures)
Mexican Literature II (border literature)
Contemporary Hispano-American Literature
Subjects of Spanish American literature
Themes of peninsular literature
Literary methodology (didactics of literature)
Lines of generation and / or application of knowledge of the program.
Analysis of the Hispano-American literary process. It consists of critical studies that take into account the literary tradition and the sociocultural context of the textual corpus that is studied, which can range from particular and poetic works of author, to currents and literary periods; it is intended that these studies directly or indirectly affect the construction of a complex vision of Hispanic American literature as a historical process.
Studies of literary hermeneutics. It includes analytical and interpretative works in which the organization of meaning in the text itself is taken as a starting point, but always assuming that this sense is constructed as part of a broader dialogue in which the different social discourses participate. line includes research on the theoretical and methodological issues involved in the understanding and interpretation of the literary text.
Academic Core
| | |
| --- | --- |
| First name | Mail |
| Dr. César Avilés Icedo | caviles@capomo.uson.mx |
| Dr. Gerardo Francisco Bobadilla Encinas | gbobadil@capomo.uson.mx |
| Dr. Rosa María Burrola Encinas | rosamar@capomo.uson.mx |
| Dr. R. Fortino Corral Rodríguez | fortino.corral@unison.mx |
| Dr. Francisco González Gaxiola | francisco.gonzalez@unison.mx |
| Dr. Jesús Abad Navarro Gálvez | anavarro@capomo.uson.mx |
| Dr. Gabriel Osuna Osuna | gozuna@capomo.uson.mx |
| Dr. María Rita Plancarte Martínez | rita.plancarte@unison.mx |
| Dr. Patricia Guerrero de la Llata | pguerrero@correom.uson.mx |
How to enter this postgraduate course?
Entry requirements
Bachelor of Hispanic Literature or related areas.
450 minimum points of TOEFL or ITP.
1000 EXANI-III points (Mexican applicants).
Commitment to be a full-time student.
Application for admission accompanied by the curriculum vitae with supporting documents.
Copy of bachelor's degree.
Copy of the certificate of studies of degree, indicating the total of credits covered.
Proof of minimum average of 85 or its equivalent in the bachelor's degree.
Original or certified copy of birth certificate.
Curriculum vitae.
TOEFL voucher with a minimum score of 450 points.
Copy of the Single Registry of Population Registry (CURP).
Letter of reasons for requesting admission to the master's degree: objectives pursued, correspondence with their academic background, expected benefits.
Two letters of recommendation from academics who know their background and experience. It will be the same academics who will send the letters mentioned by e-mail, either by delivering them personally or by courier service in the offices of the master's degree.
Two copies of works produced by the applicant or, where appropriate, a copy of his thesis.
Admission profile
Applicants to the Master's in Hispanic American Literature must be graduates and graduates of any degree in literature or related career.
They must demonstrate a critical and responsible attitude to language and, in particular, to artistic language; They must also have the following skills:
Vocation for research work.
Knowledge of the Hispano-American literary tradition.
Capacity for reflection and analysis.
Sensibility to analyze the literary text.
Awareness of the historical character of cultural phenomena.
What do you need to get the degree?
Qualification requirements
To obtain a master's degree, you must:
Approve the total of the credits
Proof of understanding a language other than Spanish
Pass the examination of grade in the written phase and in the oral phase before a jury named ex profeso.
Comply with the provisions and requirements demanded by the School Services Office for the issuance of the degree.
Titration options
To pass the examination of degree in the written and oral phase, in the terms indicated in articles 61 and 62 of the Regulation of Postgraduate Studies of the Universidad de Sonora . The written phase of the master's degree-level examination will consist of the preparation of the individual thesis. Present and defend the corresponding thesis, before the designated thesis committee, based on the project developed with the advice of its thesis supervisor and the tutors of its committee.
How much does it cost to study this postgraduate course?
Cost of the EXANI-III
The registration cost of applicants to enter the Universidad de Sonora is announced annually along with the first entry notice.
Registration and tuition fees
Students, when enrolling in any of the graduate programs, must cover the corresponding fees as follows: Registration: 5 days of minimum wage, and Tuition: 30 days of minimum wage for each course or subject, according to the current minimum wage in the city of Hermosillo.
Conacyt Scholarship
The program coordinator may apply to accepted candidates for a national Conacyt scholarship, as long as they meet the requirements established by this body. The number of scholarships that will be awarded will be subject to the budget availability of Conacyt.
More reports
Dr. Daniel Avechuco Cabrera
Program coordinator
Building 3 A, Calle Rosales and Blvd. Luis Encinas CP 83000. Hermosillo, Sonora.
maeslite@capomo.uson.mx
Tel: +52 (662) 2125529
href = "http://www.maestriaenliteratura.uson.mx/
Last updated Mar 2020
About the School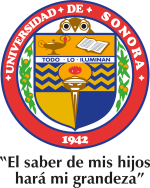 La Universidad de Sonora es una institución pública autónoma que tiene como misión formar, en programas educativos de calidad y pertinencia, profesionales integrales y competentes a nivel nacional e i ... Read More
La Universidad de Sonora es una institución pública autónoma que tiene como misión formar, en programas educativos de calidad y pertinencia, profesionales integrales y competentes a nivel nacional e internacional, articulando la docencia con la generación, aplicación y transferencia del conocimiento y la tecnología, así como con la vinculación con los sectores productivo y social, para contribuir al desarrollo sostenible de la sociedad.
Read less