Master's Degree Programme in Sustainable Chemical and Process Engineering
Home ›
Master ›
Master's Degree Programme in Sustainable Chemical and Process Engineering
Program Description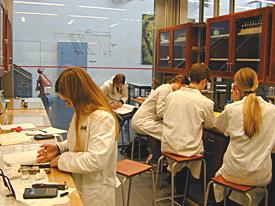 Degree awarded: Master of Science in Technology
Annual intake: 20
Contact: chemeng@abo.fi
Website: www.abo.fi/en/study-programme/masters-degree-programme-in-chemical-engineering/
Chemical engineering covers many scientific and technological areas essential for human well-being, a clean environment and the sustainable use of natural resources. Studies at the department provide a broad basis for specialization in sustainable, environmentally friendly processes and products, including waste minimization, biofuels, energy efficiency and chemicals from nature. In the program students gain a deeper knowledge of chemical engineering and have a unique opportunity to take part in future developments in this field. Students gain top-level expertise for work in the chemical and process industries as well as in scientific research. A Master of Science Degree in Technology is awarded upon successful completion of the program. The two-year program consists of 12 months of courses and six months of thesis work. There is a three-month summer break between the first and second academic year.
Study Environment
In the degree program, theoretical studies, through lectures with individual or group assignments, are combined with practical and applied work in adequately equipped laboratories. The studies are done under close personal guidance of teachers and professors. The students study in an international atmosphere together with domestic students as well as international exchange students from many countries.
Admission Requirements
The program is designed for students with a Bachelor's degree in chemical engineering or a corresponding degree. Eligible applicants are selected on the basis of how well the bachelor's degree corresponds to the program and on the study merits of the student. No entrance examination. Admission granted on the basis of the application. Applicants to the Master's degree programs taught in English must always prove their knowledge of the English language. Most applicants need to prove their level of English through one of the following language tests: TOEFL, IELTS or PTE Academic. This regardless previous studies in English. For language requirements, please see www.abo.fi/en/study/apply/language-requirements/
Tuition fee and scholarships
Finland has, from the beginning of 2017, introduced tuition fees for all master's programmes taught in English. The fees have been introduced for non-EU/EEA students starting their studies at an international master's programme from autumn 2017 onwards.
The tuition fees for the Master's Degree Programme in Sustainable Chemical and Process Engineering is 12 000€/ year.
For more information please see www.abo.fi/en/study/tuition-fees/
In addition studying at Åbo Akademi University requires a Student Union fee (at the moment 121 € per year). This fee provides low cost health care for students, including medical care, dental care, and mental counseling. The fee also allows students reduced prices for domestic traveling. Insurance and funds to cover your stay are required by the Migration officials.
Scholarships are available for students applying to our master's degree programmes and liable for tuition fee. There are two categories:
Tuition Fee Scholarship, covering 100 % of the tuition fee, awarded for 2 years (second year conditional)
Tuition Fee Scholarship, covering 50 % of the tuition fee, awarded for 2 years (second year conditional)
The decision to grant a scholarship is based on:
the academic performance of the student in his/her previous studies,
how well the applicant meets the programme requirements
the answers the applicants have given in the application form
The application to our scholarships is included in online application form to our master's degree programmes.
Other
For more information about
the international master's degree programmes in general, tuition fees and scholarships please see https://www.abo.fi/en/study/apply/international-master-programmes/
the Migration Officials requirements please see https://migri.fi/en/study-place
living in Finland and Turku (cost of life, education, working), please see https://www.infopankki.fi/en/frontpage
For further information regarding the application processes please contact admission@abo.fi, questions regarding specifically the programme can be sent to chemeng@abo.fi
How to apply?
For more information on the application requirements and procedures, tuition fee and scholarships, please see www.abo.fi/en/study/apply/international-master-programmes/
Last updated October 2019