Home ›
Master ›
Master's Degree Programme in Information Technology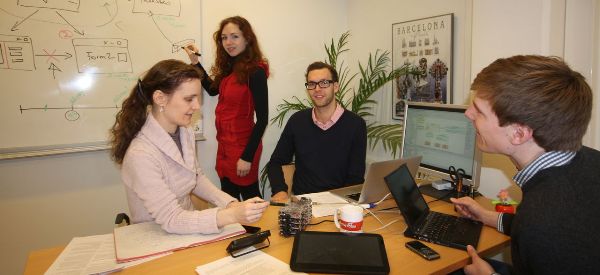 Degree awarded: Master of Science (Technology) or Master of Science
Annual intake: 30
Contact: mit@abo.fi
Website: www.abo.fi/mit
Facebook: www.facebook.com/groups/aamasterit/
The programme gives you a broad education covering several different fields within computer science and computer engineering. You will obtain the necessary knowledge and experience which is needed in different types of careers within the software industry(for example supercomputing, e-health, IT security, formal methods, embedded systems and software engineering), in the biotechnology industry (for example, bioinformatics, computer modeling), in the data analysis industry (for example, machine learning, customer segmentation, data-driven business).
Admission to the master's programme in Information Technology gives you the right to graduate with a Master of Science degree in Computer Science or a Master of Science (Technology) degree in Computer Engineering with a specialization in Software Engineering.
Computer Science has a special emphasis on computational modelling, distributed systems, and computational data analytics, while Software Engineering focuses on the development of software services and applications.
Students applying to the Master's Programme in Information Technology will be able to rank the two available tracks (Computer Science and Software Engineering) in order of preference in the application form. The second preference can be optionally added.
Study environment
We are located in the recently renovated Agora building, where research groups and academic programmes from both Åbo Akademi University and the University of Turku, meet, interact, and collaborate. The study facilities are brand-new and equipped with the latest technology.
The programme is affiliated with the Turku Center for Computer Science (TUCS) graduate school, which coordinates all research and education in IT in both universities in Turku (University of Turku and Åbo Akademi University). Through TUCS, the students can take advantage of advanced-level courses offered by both universities.
Admission requirements
A completed university-level Bachelor's degree in Computer Science or Computer Engineering or in a closely related field is required for admission.
Eligible applicants are selected on the basis of how well the bachelor's degree corresponds to the programme and on the study merits of the student.
We expect the applicant to have passed courses in several of these areas:
Mathematics.
Basic computer science courses ( e.g. algorithms and data structures, operating systems, computer networks and protocols, compiler construction).
Basic courses in computer architecture, computer network or system design.
Programming courses (e.g. courses in C/C++ or Java programming).
Applicants to the Master's degree programmes taught in English must always prove their knowledge of the English language. Most applicants need to prove their level of English through one of the following language tests: TOEFL, IELTS or PTE Academic. This regardless previous studies in English. For language requirements, please see www.abo.fi/en/study/apply/language-requirements/
No entrance examination. Admission is granted on the basis of the application. Applicants are ranked according to the following assessment criteria:
Overall quality of the application.
Quality of the major (grades and alignment with the specialization offered by the programme).
Quality of supporting studies /minors (grades and degree of support to the specialization offered by the programme).
Tuition fee and scholarships
Finland has, from the beginning of 2017, introduced tuition fees for all master's programmes taught in English. The fees have been introduced for non-EU/EEA students starting their studies at an international master's programme from autumn 2017 onwards.
The tuition fees for the Master's Degree Programme in Information Technology is 12 000€/ year.
For more information please see www.abo.fi/en/study/tuition-fees/
In addition studying at Åbo Akademi University requires a Student Union fee (at the moment 121 € per year). This fee provides low cost health care for students, including medical care, dental care, and mental counseling. The fee also allows students reduced prices for domestic traveling. Insurance and funds to cover your stay are required by the Migration officials.
Scholarships are available for students applying to our master's degree programmes and liable for tuition fee. There are two categories:
Tuition Fee Scholarship, covering 100 % of the tuition fee, awarded for 2 years (second year conditional)
Tuition Fee Scholarship, covering 50 % of the tuition fee, awarded for 2 years (second year conditional)
The decision to grant a scholarship is based on:
the academic performance of the student in his/her previous studies,
how well the applicant meets the programme requirements
the answers the applicants have given in the application form
The application to our scholarships is included in online application form to our master's degree programmes.
Other
For more information about
the international master's degree programmes in general, tuition fees and scholarships please see https://www.abo.fi/en/study/apply/international-master-programmes/
the Migration Officials requirements please see https://migri.fi/en/study-place
living in Finland and Turku (cost of life, education, working), please see https://www.infopankki.fi/en/frontpage
For further information regarding the application processes please contact admission@abo.fi, questions regarding specifically the programme can be sent to mit@abo.fi
How to apply?
For more information on the application requirements and procedures, tuition fee and scholarships, please see www.abo.fi/en/study/apply/international-master-programmes/
This course is Campus based
Price
Free
12000 €/year for non-EU/EEA students
Deadline
Jan 22, 2020
at 3:00 pm (Helsinki time).