Master's degree in marketing and communication - blended
Home ›
Master ›
Master's degree in marketing and communication - blended
Program Description
General information
Modality : mixed
Beginning : October
Duration : 1 academic year
ECTS Credits : 60
Director : María Concepción Parra Meroño
Presentación
The marketing area has now been configured as one of the most important in the business world. Any company, regardless of its size, must pay attention to relations with its customers, creating or marketing goods and services that allow it to differentiate itself from its competitors, making them available to consumers and users, where they need them, In the shortest time possible.
In addition, it must communicate the benefits and needs that satisfies the service and product that is marketed, as well as the identity and differentiation of the company that supports it. In these terms they are in which the Master in Marketing and Communication is presented, paying special attention to the new means and formulas of communication.
From the academic point of view, the Master in Marketing and Communication focuses on Marketing Management and Management, with the Marketing Department's own variables, although it places a special emphasis on communication in the company, both from the point of view In view of the Directorate of Communication in the Company and in the new digital and multi-platform media, which are increasing their presence at an accelerated pace in today's society, both for consumers and business organizations.
GOALS
The aim of the Master in Marketing and Communication is that the student acquire the necessary knowledge to develop the required analytical and managerial skills in this new environment, detect new business opportunities, access emerging markets and innovate customer services.
Recipients
This master's degree is aimed at all university graduates who want to expand their knowledge in this branch, and professionals who carry out their functions in the Administration, in unions, non-governmental organizations, foundations and other entities involved in the area of ​​marketing and communication.
Related Titles:
Degree in Law
Degree in Economics
Graduates in ADE
Degree in Tourism
Degree in Labor Relations
Degree in Political Science
Degree in Sociology
Degree in Public Communication
Degree in Journalism
Degree in Audiovisual Communication
Degree in Advertising and Public Relations
Career prospects
Graduated in the Master in Marketing and Communication after having acquired the advanced training that offers of a specialized and multidisciplinary character, it is possible to adapt his professional specialization to the commercial management of companies, facilitating the planning, management control and organization of the commercial activities of Any organization.
The graduates in the Master in Marketing and Communication are trained to develop their professional work in various positions among which stand out:
Marketing Manager
Creative Planner
Community Manager
Product Manager
Social Media Manager
digital Manager
Head of Advertising
Strategic planner
Brand Content Manager
Media Planner
CURRICULUM
I. Strategic Marketing
II. Marketing direction in the new globalized economy
III. Operational Marketing
IV. Business Management and Marketing
V. Communication direction in the company
SAW. Marketing and digital communication
VII. Prospecting and analysis of demand
VIII. Marketing and digital multiplatform communication
IX. Internships in companies
X. Work End of Master
Last updated Mar 2020
About the School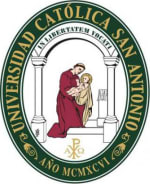 La Universidad Católica San Antonio - UCAM, como universidad católica, se caracteriza por ofrecer a sus alumnos una formación integral, basada en los conocimientos teóricos y técnicos específicos de c ... Read More
La Universidad Católica San Antonio - UCAM, como universidad católica, se caracteriza por ofrecer a sus alumnos una formación integral, basada en los conocimientos teóricos y técnicos específicos de cada titulación más la formación humana anclada en los principios del humanismo cristiano, a esta labor se dedican un claustro docente de reconocido prestigio y un equipo de tutores personales,
Read less