Master's degree in aquaculture
Program Description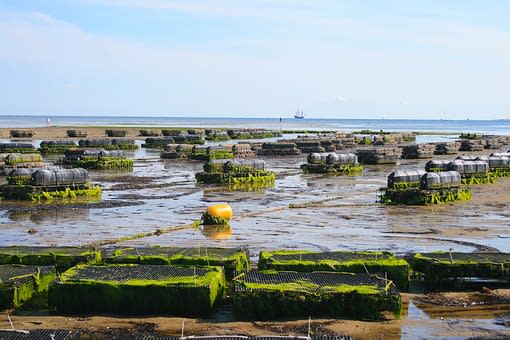 Introduction
This Master has been designed to provide the student with advanced, specific and multidisciplinary training geared towards academic training, research and professionalization in Aquaculture. It will provide students with the basic knowledge, skills and skills that will enable them to design and carry out research in the field of aquaculture, design, manage and control marine and continental facilities, assess their environmental impact and respond to R & D & I of the sector, implementing strategies that allow the future development of the aquaculture industry.
Why study the degree
Aquaculture is a strategic sector of economic development for Galicia that needs more and more day-to-day human resources of high level of training. There are already organizations such as the Galician Institute for Training in Aquaculture (IGAFA) that feed the labor market of excellent aquaculture technicians to different degrees, but both the industry and the administration need higher graduates that can mainly be incorporated both in companies and in Different public institutions (technological centers, research centers, universities, etc.) to perform R + D + i tasks in Aquaculture.
What is learned
This Official Master has been designed to meet the professional and research needs in all areas related to Aquaculture. To ensure its success, the Master's degree combines the academic, professional and researcher approaches. This is why not only the three Universities of the Galician University System (SUG) participate, but also all the social entities that in Galicia are involved in any area related to Aquaculture, including training centers (Galician Institute of Training in Aquaculture, IGAFA) , Research Centers (Spanish Institute of Oceanography, IEO, Vigo and Coruña, CSIC Marine Research Institute, Vigo, Marine Research Centers, CIMA, Corón and Ribadeo), as well as associations and clusters of companies such as the Aquaculture Cluster Of Galicia and the Organization of Producers of Mejillón de Galicia (OPMEGA).
Theoretical teaching is taught, through video conference, from the Faculties of Biology and Sciences of the three Universities, and in person at the non-university centers participating. The practical teaching will always be imparted via the classroom.
Structure of the Study
Basic
Biology of cultivable aquaculture animals
Biology of arable algae
Physiology of cultivable aquaculture animals
Genetics applied to aquaculture
Immunology
Pathology; Prevention and control
Water quality and facilities
Feeding and animal nutrition
Economic, legal and environmental management in aquaculture
Aquaculture production
Cultivation of macroalgae
Cultivation of microalgae and zooplankton
Fish farming
Cultivation of bivalve molluscs
Cultivation of other invertebrates
Toxic tides
Diseases in invertebrates
Diseases in fish
Biotechnology in aquaculture
Population's genetics
Genomics and genetic improvement
Biotechnological Applications in Aquaculture
Development of prevention and control tools
Development of diagnostic tools and epidemiological analysis
Quality, improvement and processing of products derived from aquaculture
Statistical applications to experimental design and data analysis
Phylogenetic analysis
Master's degree job
Master's Degree Specialization
Placements
Initiation to research
New development project
Professional and academic outputs
Aquaculture is one of the food producing sectors with the greatest potential for growth; According to the FAO, is the only possibility of maintaining the adequate proportion of fish in the diet, since the extractive fishery maintains its productive capacity stable without prospects of significant increases of the same.
Currently, Spain has a healthy and fast growing aquaculture industry that needs highly qualified professionals. Therefore, the need arises to offer to the students official programs of masters where to be able to specialize in this discipline.
In addition, this master promotes the students' relationship with the companies of the Sector through the Collaboration Agreements (formally signed between the 3 participating universities and the companies - Conventional Centers) with 10 Big companies and Fish breeding centers, which offer About twenty jobs in business to attend the third quarter.
Recommended profile
The preferred degrees of access are those of a graduate or graduate in Biology, Marine Sciences or Veterinary, although this master is also open to other degrees related to the experimental and health sciences.
Common access requirements
Degree of Access:
Preferred:
biology
sea ​​science
veterinary
Second level:
Chemistry
Pharmacy
Agroforestry Engineering
Third level:
Other bachelor's degrees in experimental sciences
Specific selection criteria:
Academic file (weighting 30%)
Have previously studied the following subjects (5% weighting): biochemistry, physiology, genetics, microbiology, zoology, botany
Demonstrated knowledge of English (10%)
Full Curriculum (25%)
Professional experience (15%)
Research experience (15%)
Last updated Mar 2020
About the School
The University of A Coruña is a public institution whose primary objective is the generation, management and dissemination of culture and scientific, technological and professional knowledge through t ... Read More
The University of A Coruña is a public institution whose primary objective is the generation, management and dissemination of culture and scientific, technological and professional knowledge through the development of research and teaching.
Read less
A Coruña ,
A Coruña ,
A Coruña ,
A Coruña ,
A Coruña ,
A Coruña ,
A Coruña ,
A Coruña ,
Ferrol ,
Ferrol
+ 9 More
Less