Program Description
The program is aimed at the integral formation of human resources at the graduate level, to engage in generation, validation and / or transfer of knowledge and training of professionals, are responsive to innovative proposals and supported knowledge to demands solution to the problem of animal production systems, sustainable use and exploitation of natural resources in Chihuahua, Mexico and even beyond. To do this, the program develops in the student different generic and specialty skills in four areas of expertise: Animal Nutrition, Animal Breeding and Genetics, Natural Resources Management and Technology of Animal Products.
Mission and Vision
MISSION
To train specialized human resources with comprehensive skills to contribute to sustainable development through the generation, application, dissemination and transfer of knowledge to problem solving and innovation in animal production systems and care and responsible use of natural resources, for a better quality of life in the regional and national context.
VISION 2018
The program Master of Science in Animal Production and Natural Resources is a national and international reference, with high social relevance, recognized by the academic productivity impact of its results and the quality in the training of human resources committed to the generation and application responsible and innovative knowledge to solve problems of the food industry, natural resources and the environment. It has high-level academic bodies, able to analyze and design solutions from various technological, economic, social and environmental dimensions through projects articulated in collaborative networks that contribute to the strengthening of the Faculty and the University.
ADMISSION PROFILE
Aspiring to enter the Master of Science program must have a solid academic background related to animal science and management of natural resources and capacity to carry out scientific research, therefore must have:
Knowledge of biology, chemistry, mathematics, statistics, ecology, computer science, research methods and basic knowledge of animal production systems, as well as English language proficiency at the intermediate level.
Skills to express themselves in oral and written form.
Capacity for independent and team work, as well as animal handling, equipment, tools and laboratory reagents.
Ability to work outdoors.
Scientific interest in the livestock problems and natural resources.
Vocation of service, willingness to acquire knowledge,
competencies, skills and desire for self-improvement.
Values ​​such as ethics, discipline, responsibility, honesty, dignity, humility and respect for oneself, people, institutions and nature.
GRADUATE PROFILE
The Master of Science is a professional ethical sense and social commitment, which owns and integrates knowledge, skills and attitudes to perform efficiently and effectively in scientific research, application, dissemination and transfer of knowledge to the comprehensive solution of problems complex national livestock industry and natural resources.
In general, to exit the program has competencies domains:
The identification of relevant problems
The synthesis and effective communication of knowledge
The development of supervised research
The design, implementation and evaluation of knowledge-based strategies for solving problems in their specialty area
The generation and analysis of relevant information
The group and multidisciplinary work
The implementation of group dynamics to identify relevant issues and strategic actions proposed solution
Effective communication of meaningful content in formal teaching and learning environments
Management of research and technological development
According to their specialty area has domains:
The implementation of reproductive management programs with the implementation of strategies and / or techniques appropriate
The development of strategies, processes and / or innovative products for intervention or manipulation of the reproductive processes
The proposal, implementation and evaluation of conservation plans and / or genetic improvement with the application of appropriate tools and technologies
The proposal, implementation and evaluation of practices, techniques and plans for sustainable use, monitoring and conservation of natural resources
Sustainable management of pastures for animal production and comprehensive utilization
The selection and production of indicators for assessing the state of the environment, sustainability of production systems and its relation to human activities
The implementation of mitigation and adaptation to environmental impact
Implementation and evaluation of nutritional management plans with the use of processes and / or biotechnological products
The application of the principles of digestive physiology and metabolism to develop and evaluate strategies and products for animal feed to improve the production efficiency and product quality
The design meal plans for the optimization of biological response of the animal and production costs, minimizing the impact on the environment
The design and / or implementation of schemes valuation and classification of animals and meat and dairy products for quality and performance
Development and / or evaluation of processes and technologies for handling and processing to ensure the quality and safety of food of animal origin (meat and milk)
The development of new dairy and meat products based on scientific knowledge to incorporate elements that will improve their nutritional content and / or contribution to consumer health
ENTRY REQUIREMENTS, retention and graduation
ENTRY REQUIREMENTS
Fill out the application available in www.posgrado.fzye.uach.mx.
Possessing bachelor's degree in a related area that seeks to enter.
The application and approval of EXANI examination - III, whose score will be evaluated by the evaluation committee Aspirants to enter the area of ​​interest, must obtain a minimum of 980 points.
And pass the knowledge test applied by the Ministry of Research and Graduate Studies.
Accredit TOEFL 400 points or corresponding level Language Learning Center of the Autonomous University of Chihuahua.
minimum GPA of 8.0 in previous studies.
Conduct interview with the Admissions Committee.
Curriculum vitae (including corroborating documents).
Submit all documentation requested administrative
Three letters of recommendation from academic professionals with graduate level.
Institutional acceptance letter, endorsed by the Evaluation Committee selected area of ​​specialization.
RETENTION REQUIREMENTS
Full dedication to the program.
Comply with the regulations UACH and the Faculty of Animal Science and Ecology.
Establish, in accordance with the Regulation of Postgraduate Studies, with a minimum grade of 8.0 on a scale of 0.0 to 10.0, committed courses during the semester.
Maintain a minimum GPA of 8.0 and not fail two courses, or one on two occasions during the academic training program.
Comply with the progress of his thesis and the portfolio of evidence of progress in achieving competence, according to schedule and with the endorsement of its Committee of Grado.
Not be made available to the Technical Board of the Faculty for grounded reason and is the subject of a negative verdict.
REQUIREMENTS FOR OBTAINING THE GRADE
Meet the minimum number of credits specified by current regulations and the curriculum endorsed by the Committee of Grado.
Comply with Article 78 of Chapter XIV of the Rules of Graduate Studies.
Development and defense of a research work as a thesis.
It is published in full in memory of Congress or submitted for publication in journals supported by the CONACYT at least one scientific paper product of its activities in the program.
The deadline for submission of degree examination shall be one year from the date on which it is completed with the corresponding academic program. A reasoned request to the Academic Coordinator tutor, this period may be extended up to one year.
If a candidate exceeds the maximum time allotted for the exam, you must submit examine at least two disciplinary matters has already been completed and that the Committee Grade define, or take the corresponding subjects again before allowed his Grade test.
Accredit TOEFL 450 points or corresponding level Language Learning Center of the Autonomous University of Chihuahua.
successfully defend a thesis before an evaluation committee.
Meet the integration of portfolio of evidence on the achievement of the domains of competence, according to the Committee of Grado.
Last updated Mar 2020
About the School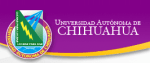 La UACH es una institución de educación pública y autónoma; tiene como misión generar, aplicar, difundir, transferir e integrar conocimientos; mediante programas universitarios de alta calidad, cuya a ... Read More
La UACH es una institución de educación pública y autónoma; tiene como misión generar, aplicar, difundir, transferir e integrar conocimientos; mediante programas universitarios de alta calidad, cuya aplicación sea útil a la sociedad y a ella misma. Mantiene su compromiso original de coadyuvar al desarrollo social, así como preservar, conservar y fomentar las diversas manifestaciones de la cultura, en favor de una mejor calidad de vida para los chihuahuenses en particular y de los mexicanos en general.
Read less