Program Description
Master of Urban Planning
Faculty of Planning – CEPT University

Master of Urban Planning (MUP) allows students' exposure to national and international best-practices in urban planning and equips them with knowledge and skills necessary for their professional careers in planning and managing growth and development of cities and urban areas.
During the course, students learn to understand and analyze a variety of factors influencing our cities and apply critical thinking in providing integrated, interdisciplinary solutions. Through hands-on studio exercises, theory courses, individual research projects and field visits within India and abroad, the course equips students with thorough knowledge of preparing statutory plans, and plans ranging from regional to city and local area levels. The members of the faculty include leading practitioners, academicians, and researchers, competent and proficient in their own fields, with national and global experience.
Note: Name of the program is subject to the approval of UGC.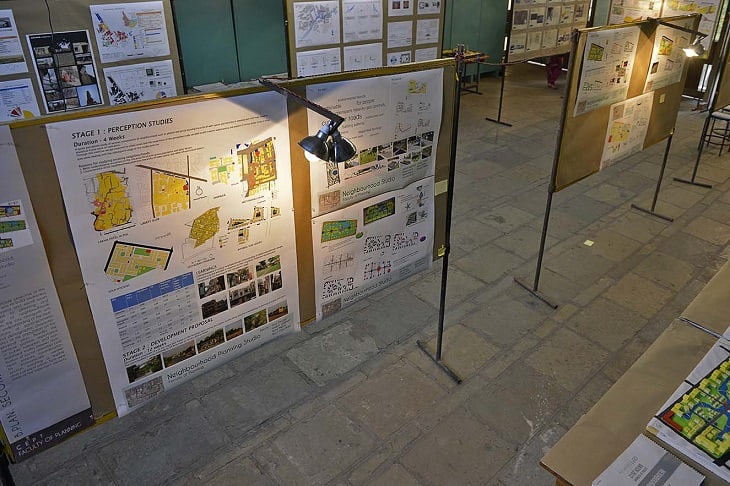 Eligibility

Minimum Qualifications & Eligibility Criteria
Bachelors Degree (or equivalent) in Architecture,
Bachelors Degree in Engineering/Technology (or equivalent) in Civil Engineering/ Environmental Engineering,
Bachelors Degree in Construction Technology,
Masters Degree in Science/Technology (or equivalent) in Geomatics/Geo-informatics/Geographical Information System,
Masters Degree (or equivalent) in Geography, Economics
Note: Minimum of 55% aggregate marks for General category candidates and 50% aggregate marks for reserved categories candidates.


Seats
Sanctioned Intake: : 48


Admission Procedure

Evaluation process
The applications received within the prescribed time limit will be evaluated in five stages as mentioned below:

Stage 1 - Scrutiny of Eligibility:
The applications will be scrutinized based on information provided/uploaded by the candidate in the application forms. This scrutiny is to check whether the applicant meets eligibility criteria mentioned above [section 2(C)] for the program for which application is submitted. Only those applicants who meet the eligibility criteria of at least one of the programs will be considered for stage 2.

Stage 2 - Short-listing for Group Discussion (GD) & Personal Interview (PI):
This stage of shortlisting of applicants is for Stage - 3 (Group Discussion and Personal Interview). The shortlisting will be based on a merit list prepared using the following criteria of academic performance in the qualifying degree and work experience:


| | | | | |
| --- | --- | --- | --- | --- |
| Process | Criterion Sr. No | Evaluation Criteria | Weightage | Total Cumulative Weightage |
| Shortlisting based on Academic Performance | 1 | Percentage of Marks obtained in the qualifying examination. (Average Cumulative Percentage of all semesters of Qualifying Degree - CGPA)* | 20% | 20% |
*Note: In case last semester results are pending then percentages – CGPA till the penultimate semester will be considered.
| | | | | |
| --- | --- | --- | --- | --- |
| Process | Criterion Sr. No | Evaluation Criteria | Weightage | Total Cumulative Weightage |
| Work Experience (Based on period) | 2 | Number of years of work experience (Marks will be given in proportion to the number of year of eligible work experience minimum of 6 six months). Work experience only after passing the qualifying examination and of full-time engagement will be considered. | 5% | 25% |
*Note: Only experience of full time nature after the qualifying degree and supported with certificate(s) will be considered for marks on a scale [for < six months = 0 marks; more than six months to 2 years = 1 mark; more than 2 years up to 3 year = 2 marks; more than 3 years up to 4 year = 3 marks; more than 4 years up to 5 year = 4 marks; and more than 5 year (any length) = 5 marks].
At the conclusion of Stage 2, a shortlist of applicants equal to three times the available seats will be prepared according to the order of merit. Please note that at this stage no cut-off is applied to the reserved category and therefore all the applicants of reserved category(ies) fulfilling the eligibility criteria shall be called for the Stage - 3 (GD and PI) process.
All shortlisted applicants above this cut-off will be called for the Stage-3 of group discussion and personal interview. The option of appearing for PI or appearing through skype is available for shortlisted applicants from outside Ahmedabad. In case of those opting for Skype, instead of GD, the applicant will be asked to speak on a given topic with cross-questioning and counter-arguments from the interview panel.

Stage 3 - Evaluation through GD & PI:
The group discussion and personal interview for all shortlisted applicants will be evaluated by a panel of faculty members using the below-given criteria and weightages:
Process
Criterion Sr. No
Evaluation Criteria
Weightage
Total Cumulative Weightage
GD/Topic Discussion
3
4
5
Ability to speak and present one's views on the selected topic
Use of logic to present one's viewpoints and in reacting to others viewpoints
Write - up on summary and compilation of ideas (in case of skype PI the screen share will be used to evaluate this part)
10%
10%
5%
50%
Personal Interview/SOP
6
7
8
Subject Knowledge with reference to one's disciplines/basic qualifying degree
Awareness & Sensitivity towards urban, planning and development issues
Assessment of SOP
15%
15%
5
85%
Work Experience
9
Will be evaluated only if the work experience is found relevant for program applied for.
15%
100%

Stage 4 – Preparation of Merit list:
A consolidated merit list will be prepared by adding the marks of stage 2 which include academic performance and works experience (length/period); and marks of stage 3 which includes group/topic discussion, personal interview and work experience (relevancy). This means that consolidated merit list will be based on marks obtained in all the nine criteria given in the tables of stage 2 and stage 3 above. The entire consolidated merit list of the applicants interviewed will be displayed on the CEPT website.

Stage 5- PG Program wise seat allotment
The allotment of seats will be done in presence of candidate (or a person authorized by the candidate) on a date (to be declared later) as described below:
FP admission committee will call candidates in order of their rank for taking admission in a PG program based on the number of available seats in the program. At the time of rank call (as per consolidated merit list) the candidate will be offered admission to a PG program of his/her choice subject to available seats. In case of non-availability of seats, candidates will have an option for choosing another program subject to satisfying eligibility for the chosen program.


Fees & Financial Aid

Fees for Academic Year 2018-19 will be updated soon.

Student Financial Aid
Please be informed that you can avail Pre Admission Scholarship (Means cum Merit) by filling up the scholarship form. Scholarships ranging from 25% to 75% of the annual tuition fee will be awarded to selected students from among the eligible applications.

Last date for submission of Scholarship is 20th April 2018

Eligibility for the Scholarship:
Students with family income less than Rs. 10 lacs per annum are eligible to apply for this scholarship.
Recipients of the scholarship will continue to receive the scholarship for the full duration of the program subject to maintaining a minimum 2.7 SGPA (the equivalent of B-) in every semester and completing all courses in the first attempt.

Important Instructions:
University holds the right to reject the scholarship application, in case of absence of any required supporting documents to be submitted by the applicant.
The award of the Scholarship will be announced along with your Admission Offer Letter, however, the amount will be disbursed after one month from the beginning of semester/lectures.

For any further clarification in this regard please contact Admissions Office in below mentioned contact details.
Admissions Office
Phone: 1800-270-4030
Email: admissions@cept.ac.in


Apply here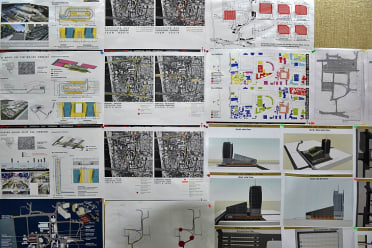 Last updated Sep 2018
About the School

CEPT University focuses on understanding, designing, planning, constructing and managing human habitats. Its teaching programs build thoughtful professionals and its research programs deepen understan ... Read More
CEPT University focuses on understanding, designing, planning, constructing and managing human habitats. Its teaching programs build thoughtful professionals and its research programs deepen understanding of human settlements. CEPT University also undertakes advisory projects to further the goal of making habitats more livable.
Read less