Master of Transportation Sciences
Program Description
FAST FACTS
High-quality international master program of 2-years or 120 ECTS, fully accredited
Multi-disciplinary take on transportation and traffic safety, including psychological, social, urban, environmental and infrastructural aspects
Students gain professional experience through an (international) înternship
Taught by renown professors from a leading university and Transportation Research Institute specialized in transportation and traffic safety
In the heart of Europe: in between Germany, the Netherlands, France, and the UK
Low tuition fees for Belgian, EU and international students
Transportation drives our society
A modern and international transport system is important for moving people, goods and information in a local, regional and (inter)national context. Moreover, it is connected to economic growth! A continuous increase in traffic volumes, for passenger transport as well as freight forwarding transport, leads to major challenges concerning land use, impact on urban areas, traffic safety issues, traffic flow, atmospheric pollution and travel behavior.
A unique and multidisciplinary master's program
The international master's program of Transportation Sciences of Hasselt University is a multidisciplinary master's program, which trains students to identify transportation and traffic safety issues and come up with solutions themselves, taking into account several parameters: economy, society, urban development, environment, and infrastructure. Several transports, and traffic safety issues are thus highlighted in an overall multidisciplinary manner.
A pronounced international orientation
Since transportation is a cross-border field, it is also important to focus on international aspects of this domain. As a Master in Transportation Sciences, we offer you an opportunity to regularly exchange views with experts from home and abroad. Teachers within the master's program are regarded as experts in their field - both home and abroad. Students can also exchange views and experiences with fellow international students in the program.
Specializations
Students can choose between a specialization in Traffic Safety or Mobility Management
Traffic Safety is a global - growing - problem. In their lifetime, 1 in 3 citizens is involved in a traffic accident with casualties. In the specialization Traffic Safety, students investigate which factors (infrastructure, vehicle, road user) cause traffic accidents and how these risks can be decreased. In this specialization, attention is paid to technological innovations with regard to infrastructure and vehicle, as well as to how to understand and influence human behavior through policy, education, and sensitization.
The program also has a driving simulator at its disposal. With the driving simulator, students can carry out experiments into the effects of physical, mental and visual limitations and the effects of road design and environment on driving behavior in a controlled environment.
In the specialization Mobility Management, students focus on how to influence modal choice and how to organize transport. If a certain traffic and transportation supply is created by means of road networks, public transport systems, bicycle networks … it is up to you as transportation expert to tackle the challenge of using this supply as efficiently (minimum of traffic jams) and sustainable as possible.
This requires a multidisciplinary approach. E.g. to influence the behavior of individuals in favor of sustainable transport modes (bus, train or bicycle), transportation managers have to develop a set of services or tools which complement infrastructural and pricing measures.
Career Prospects
As a Transportation Sciences master, you can work in a varied number of organizations or professions. After all, transport experts are needed both by governmental bodies, private companies and in the non-profit sector. Are you looking for an exciting job, offering many career opportunities, then a master's degree in Transportation Sciences is the right choice for you!
Some words from our former students:
"Railway traffic is interwoven with other forms of transport and depends on the choice behavior of the passengers. That complex interplay is the challenge in my job. The multi-disciplinary master program was the perfect preparation."
Pieter-Jan Lateur is Advisor Mobility - Strategical Researcher at a national public transportation company.
"My degree in Transporation Sciences gives me credibility and standing with local governments who lack expertise in the matter of traffic safety. I can make a difference." - Veva Daniels is the coordinator of the SAVE project, which sets up sensitization campaigns to increase traffic safety for young children. For this, she cooperates with governments of municipalities and cities.
"The mix between theory and practice in the program was the ideal preparation for the diverse projects for which I am now responsible." - Maarten De Schepper is Head of Transportation at the City of Hasselt. He is responsible for the city's progressive transportation policy.
"Teamwork and giving presentations were integrated with the whole of the program. Thanks to these skills I rapidly gained responsibilities in my current position." - Kristof Mollu is a consultant at an independent consulting engineering firm. He works on various projects with a focus on transportation planning and developing transportation models, e.g. mapping a freight transport network with the aim of identifying bottlenecks and reducing congestion.
"During my studies, I discovered my interest in research. I help to create new knowledge but I still have a "social" job. People are central to my research." - An Neven is a Ph.D. student at the Transportation Research Institute. She is researching the travel behavior of persons with disabilities (MS patients) and works on resolving the issues that they encounter for instance when using public transportation.
Last updated Apr 2018
About the School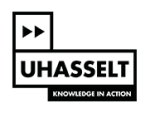 Hasselt University is a young, dynamic centre of expertise for teaching, research and service provision. It regards it as its social responsibility to contribute actively to a sustainable and innovati ... Read More
Hasselt University is a young, dynamic centre of expertise for teaching, research and service provision. It regards it as its social responsibility to contribute actively to a sustainable and innovative region. It aspires to be a hub in this innovation web.
Read less