Master of Strategic Studies
Program Description
The Master of Strategic Studies combines the theoretical and practical expertise of leading academics and policymakers to deliver Australia's foremost strategic studies program. This unique and highly regarded ANU graduate program opens the right doors for students seeking a successful career in strategic and security policy.
The program is designed for graduates who are seeking to launch or advance their careers in defence policy, foreign affairs, security, intelligence, academia and journalism. Graduates will develop skills relevant to organisations such as non-governmental organisations, think tanks, militaries and foreign ministries.
You will develop strong analytical frameworks and practical skills for understanding the leading challenges in strategy and security. These approaches are explored in the context of the Strategic & Defence Studies Centre's main research and teaching concentrations of Australian defence and security issues, Asia–Pacific security and global strategic issues.
Learning Outcomes
Upon successful completion of a Master of Strategic Studies, graduates will be able to:
Demonstrate in-depth knowledge and cognitive skills in strategic and defence studies.
Possess an integrated understanding of the conduct of strategy, military operations, and its relationship to policy.
Undertake strategic and policy analysis and be able to critically analyse, reflect on and synthesise complex information relating to the conduct of strategy and military operations.
Possess the technical skills needed to access the academic literature in the fields of study associated with strategic and defence studies.
Research and apply established theories and concepts and exercise expert judgement in military, defence or policy contexts as they apply to both Australian and international settings.
Apply strategic concepts and knowledge to practical, contemporary problems using case studies from a range of global environments and circumstances.
Conduct scholarly research, express ideas and construct evidence-based arguments in both written and oral form.
Cognate disciplines
International relations and diplomacy; public policy and administration; strategic and security studies; political science; history; sociology; economics and development; social science; law; and regional studies
Internships
Strategic studies internships are available to outstanding students, and offers the opportunity to undertake an internship with organisations such as the International Institute for Strategic Studies-Asia (Singapore); the Australian Strategic Policy Institute; the Chair of the Defence sub-committee for the Joint Standing Committee on Foreign Affairs, Defence and Trade, Senator David Fawcett; or the Shadow Assistant Minister for Defence, the Hon David Feeney MP.
Career Options
Graduates from ANU have been rated as Australia's most employable graduates and among the most sought after by employers worldwide.
The latest Global Employability University Ranking, published by the Times Higher Education, rated ANU as Australia's top university for getting a job for the fourth year in a row.
Admission Requirements
A Bachelor degree or international equivalent with a minimum GPA of 5/7.
Applicants with a Bachelor Degree or Graduate Certificate in a cognate discipline may be eligible for 24 units (one semester) of credit.
Applicants with a Graduate Diploma or Honours in a cognate discipline may be eligible for 48 units (one year) of credit.
All applicants must meet the University's English Language Admission Requirements for Students
Fees
Domestic Tuition Fees
Annual indicative fee for domestic students: $30,096.00
International Tuition Fees
Annual indicative fee for international students: $42,960.00
Scholarships
ANU offers a wide range of scholarships to students to assist with the cost of their studies.
Eligibility to apply for ANU scholarships varies depending on the specifics of the scholarship and can be categorised by the type of student you are. Specific scholarship application process information is included in the relevant scholarship listing.
Program Requirements
The Masters of Strategic Studies requires the completion of 96 units which must consist of:
12 units from completion of STST8001 Strategic Studies
6 units from completion of Australian strategic policy courses from the following list:
STST8004 Australian Strategic and Defence Policy
STST8051 Great and Powerful Friends: Strategic alliances and Australian security
6 units from completion of graduate strategy courses, listed below
18 units from completion of the following compulsory courses:
STST8002 The New Power Politics of Asia
STST8010 Strategic Studies Concepts and Methods
STST8052 Strategy in Action: Orchestrating the Elements of National Power
30 units from completion of graduate strategy courses from the following list:
INTR8053 Ethics of Peace and War
INTR8067 U.S. Security Policy in the Asia-Pacific
MEAS8112 Dynamics of Israeli-Palestinian Conflict
MEAS8113 The Gulf Strategic Environment
NSPO8010 Civil-Military Relations
NSPO8013 Disease, Security and Biological Weapons
NSPO8014 Ethics and Technologies of War
STST7003 Strategic Studies Internship
STST8004 Australian Strategic and Defence Policy
STST8013 China's Defence and Strategic Challenges
STST8017 Special Topics in Strategic Studies
STST8021 Intelligence and Security
STST8026 Nuclear Strategy in the Asian Century
STST8027 Insurgency & Counterinsurgency in an Age of Terror
STST8032 Why and How We Fight: Understanding War and Conflict
STST8033 Contemporary Issues in Australian Defence Policy
STST8051 Great and Powerful Friends: Strategic alliances and Australian security
24 units from completion of further graduate strategy courses listed above
Study Options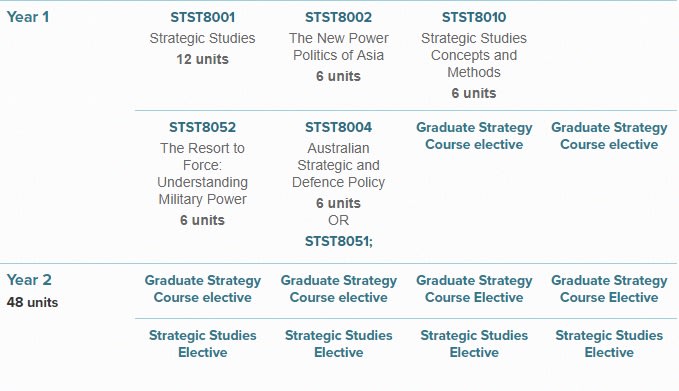 Last updated Feb 2018
About the School

In the Asian Century in which we're living, the ANU College of Asia and the Pacific is one of the world's leading centres for teaching and research on the region – a position we've been working on sin ... Read More
In the Asian Century in which we're living, the ANU College of Asia and the Pacific is one of the world's leading centres for teaching and research on the region – a position we've been working on since the century
Read less