Master of Science in Professional Studies
Home ›
MSc ›
Master of Science in Professional Studies
Read more about this program on the institution's website
Program Description

Read more about how RIT is tackling the coronavirus crisis here
Overview
The professional studies masters program enables students to create an individualized plan of study tailored to their personal and professional goals. The degree offers students the opportunity to draw on more than 50 of RIT's graduate programs to gain the advanced knowledge and skills necessary to respond successfully to new and emerging career opportunities.
For example, students interested in integrating sustainability into their career as a facilities manager might combine courses from the sustainability and facility management programs. Educators may be interested in combining courses from the school psychology and secondary education of students who are deaf or hard of hearing programs to improve their knowledge of special learning populations and the social issues students face in today's educational environments. There is a wide range of concentrations that can be created based on each student's professional career aspirations.
The degree also includes a capstone project. This applied, hands-on project is directly related to the student's individualized plan of study.
The professional studies degree can be completed on-campus or online.
Concentration areas
Students create two or three concentrations with courses selected from a wide range of graduate programs at RIT. Some common concentration areas include:
Applied and Computational Mathematics
Applied Statistics/Quality
Bioinformatics
Business (Marketing, Management, etc.)
Chemistry
Color Science
Communication and Media Technology
Computer Engineering
Computer Science
Criminal Justice
Electrical Engineering
Environmental, Health and Safety Management
Facilities Management
Health Systems Administration
Human Resource Development
Imaging Science
Industrial and Systems Engineering
Industrial Design
Information Sciences and Technologies
Microelectronics Manufacturing Engineering
Packaging Science
Product Development and Design
Project Management
Public Policy
School Psychology
Secondary Education of Students Who Are Deaf or Hard of Hearing
Service Management
Software Development
Software Engineering
Sustainability
Workplace Learning and Instruction
Visual Communication Design
Plan of study
The program requires the completion of 33 credit hours and can be completed through full- or part-time study. Students begin their studies with Contexts and Trends (PROF-705), the program's foundation course. Throughout this course, students explore their personal career objectives and research RIT's portfolio of graduate programs to identify courses that best match their professional and personal goals.
Students create two or three concentrations that make up their required course work for the degree program. Each concentration is a selection of courses drawn from existing RIT graduate programs and can range from 9 to 15 credit hours. Graduate credits earned in other programs may be used in completing a concentration, upon approval.
Credit hours not required to fulfill a concentration area may be used as electives. All elective and transferred graduate courses need to be integrated into the proposed plan of study. With certain concentrations, the degree may be completed entirely through online learning.
Industries
Advertising, PR, and Marketing
Higher Education
Internet and Software
Government (Local, State, Federal)
Automotive
Electronic and Computer Hardware
Hotels and Accommodation
Tourism
Curriculum
Professional Studies, MS degree, typical course sequence
First Year
PROF-705 Context and Trends
Concentration A courses
Concentration B courses
Second Year
PROF-770 Capstone Proposal Seminar
PROF-775 Capstone Project
Concentration A or elective course
Concentration B course
Concentration B or elective course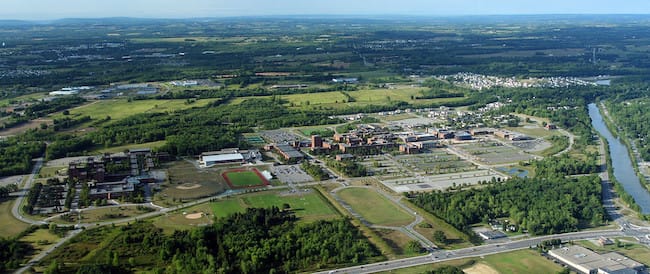 Admission Requirements
To be considered for the MS program in professional studies, candidates must fulfill the following requirements:
Complete a graduate application.
Hold a baccalaureate degree (or equivalent) from an accredited university or college.
Submit official transcripts (in English) of all previously completed undergraduate and graduate course work.
Have a minimum cumulative GPA of 3.0 (or equivalent), or superior endorsements.
Submit a personal statement of educational objectives and career objectives.
Submit a current resume or curriculum vitae.
Submit letters of recommendation from two recent instructors or supervisors.
International applicants whose native language is not English must submit scores from the TOEFL, IELTS, or PTE. A minimum TOEFL score of 79 (internet-based) is required. A minimum IELTS score of 6.5 is required. The English language test score requirement is waived for native speakers of English or for those submitting transcripts from degrees earned at American institutions.
All applicants are urged to discuss their course ideas with a professional studies graduate adviser before submitting a formal application.
Last updated May 2020
About the School
With more than 80 graduate programs in high-paying, in-demand fields and scholarships, assistantships and fellowships available, we invite you to take a closer look at RIT. Don't be fooled by the word ... Read More
With more than 80 graduate programs in high-paying, in-demand fields and scholarships, assistantships and fellowships available, we invite you to take a closer look at RIT. Don't be fooled by the word "technology" in our name. At RIT, you will discover a university of artists and designers on the one hand, and scientists, engineers, and business leaders on the other – a collision of the right brain and the left brain.
Read less