Master of Science in Photonics Engineering
Home ›
MSc ›
Master of Science in Photonics Engineering
Read more about this program on the institution's website
Program Description
DTU is following the COVID-19 situation and its impact closely, please consult our webpage dtu.dk to get the latest updates.
https://www.dtu.dk/english/Service/coronavirus
For more information from the Danish authorities about the impact in Denmark: https://politi.dk/en/coronavirus-in-denmark
Description
Photonics Engineering is a highly interdisciplinary MSc program concerned with fundamental physics of light and optical components as well as a wide range of applications that are essential to our high-tech society, for example, our ability to communicate using IT technology.
The field of photonics covers all technical applications of light over the entire spectrum from ultraviolet through visible to near, mid, and far-infrared light—and from lasers in CD players through the development of new, energy-saving light sources to integrated lightwave circuits and optical fibers. Moreover, photonics plays an increasing role in biology and medicine, for instance in connection with food control or medical therapy, measurement methods for efficiency improvement of wind farms, and technologies capable of measuring the efficiency of combustion processes or carbon dioxide levels in the atmosphere.
Study program focus
The MSc program in Photonics Engineering comprises a wide range of courses in, for instance, basic physics, enabling you to understand and describe light and optical phenomena, and in optical materials and structures used for optical signal processing.
The study program also places great emphasis on future applications of optics and photonics and is strongly related to the latest research in optical materials and structures, lasers and light sources, biophotonics and optical sensors, and components for optical communication. In addition, the Photonics Engineering program contains a separate course element focused on innovation.
During the course of study, you will thus gain knowledge of the basic physical principles that are crucial to understanding light—and how the various properties and applications of light can be used for developing technological solutions to the challenges the world will be facing in the future. This includes quantifying the consumption of carbon dioxide, improving the efficiency of combustion processes, securing future communication against acts of terrorism, measuring food quality, performing better medical procedures, and understanding and controlling diseases.
The teaching on the Photonics Engineering program alternates between lectures, classes, and independent study. Furthermore, you will have ample opportunity to carry out theoretical and experimental projects, possibly in collaboration with an external industrial partner.
Specializations
The MSc program in Photonics Engineering allows you to specialize in one of the four study lines:
Biophotonics and sensors

Components for optical communication

Lasers and light sources

Photonic materials and structures
You should be aware, however, that the study lines are not mandatory, and that your choice of courses in your individual study plan is subject to a high degree of flexibility. Therefore, you have every opportunity to design your own study program and career by choosing from the wide range of courses offered at DTU.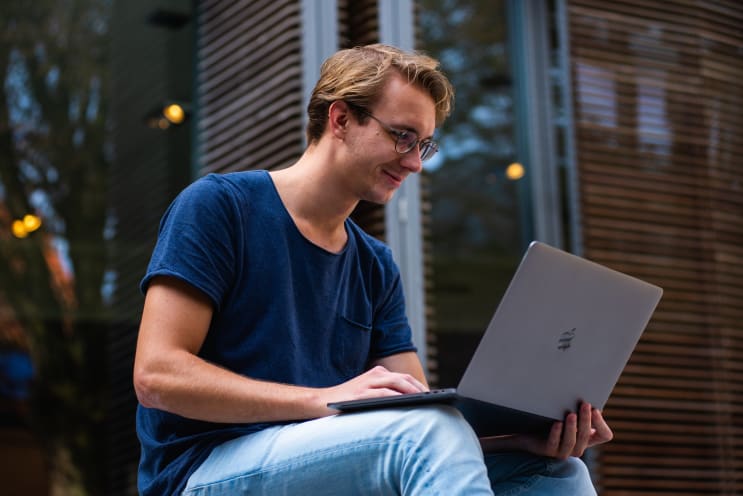 Career
Photonics Engineering is a comprehensive field of research seeing rapid growth and constantly generating new research results that are not only applicable to the industry but also hospital services and the healthcare sector.
Engineers with specialized knowledge in photonics are in great demand by established companies as well as start-ups and spin-offs. Some of these spin-offs originate from DTU Fotonik, making a DTU degree in Photonics Engineering a good starting point if you want to pursue your dream of starting your own business.
Typical fields of work
As an MSc in Photonics Engineering, you will typically be involved in research and development. However, a career related to process control and optimization or development and optimization of advanced technologies—photonics being either the end product or a state-of-the-art tool for producing other end products—is also an option.
Career opportunities
Both current and future applications of photonics require interdisciplinary knowledge—for instance to predict the optical properties of synthesized materials using advanced mathematics and physics, to optimize optical measurements of biochemical tests, or to interpret the reflected optical signal from a contaminated atmosphere. The many applications of photonics offer a wide range of career opportunities.
Pursue a PhD
Once you have an MSc in Engineering, you might get the opportunity to continue your studies and apply for admission to the three-year Ph.D. program. The DTU Ph.D. program is a research-based program ranking among the best in the world. You can do either a regular Ph.D., for instance at DTU or an industrial Ph.D., the latter performed in close collaboration with a company.
As a Ph.D. student, you will be part of a research group and will carry out an independent scientific project.
Approx. 400 new Ph.D. students are enrolled at the various departments at DTU every year. At DTU Fotonik alone, more than 30 Ph.D. projects are expected to be commenced per year, a number of which originate from two major Centres of Excellence: NATEC (NAnophotonics for TErabit Communications) and the future SPOC (Silicon Photonics for Optical Communications).
Academic requirements for this program
Students from DTU
The following bachelor program at DTU entitles students to admission to the MSc Eng program in Photonics Engineering:
Physics and Nanotechnology
Students from other bachelor programs at DTU for example
General engineering

Mathematics and Technology

Electrical Engineering

Medicine and Technology

Earth and Space Physics and Engineering

Network Technology and IT

Design and Innovation
have access to be admitted to the program subject to having completed one of the following courses:
34020

Optics and photonics

34021

Introduction to optics and photonics
Students with a Bachelor degree from other study lines at DTU may be accepted as an MSc student within MSc Photonics Engineering based upon individual evaluation of the applicant
Bachelor of Science students (BSc degree in Natural Sciences) from other universities
Bachelor of Science students from other universities in Denmark or abroad with relevant background for example within
Physics

Physics and Nanotechnology

Applied mathematics

Electromagnetism
may have access to the MSc Eng program in Photonics Engineering. However, the student must be able to document basic knowledge within optics and photonics corresponding to having completed the curriculum within one of the following DTU courses:
34020

Optics and photonics

34021

Introduction to optics and photonics
Students with a Bachelor degree from DTU or elsewhere may possibly be admitted to the study program based upon an evaluation of application from the respective student
Study program
The MSc is a two-year graduate program with a workload of 120 ECTS credit points.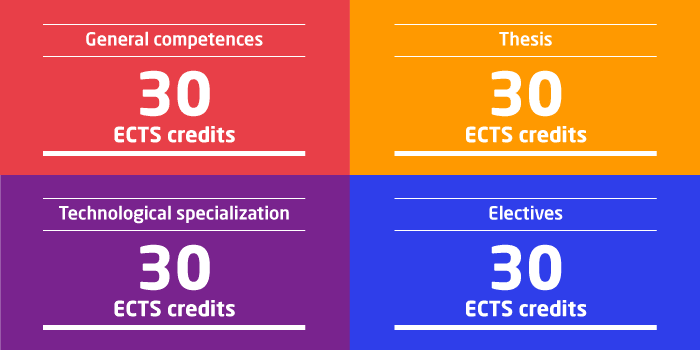 The MSc program provides you with a profound understanding and knowledge about your chosen subject. You also learn about teamwork and collaboration, preparing you for the form of work you are likely to meet in your subsequent career.
Curriculum
General competence courses
Students have to complete 30 ECTS within - general competence courses. In the study line: Photonics Engineering, the general competence courses are divided into three groups a), b) and c).
Group a) consists of two mandatory courses (equal to 10 ETCS)
22652

Experimental project in physics and nanotechnology

34046

Experimental methods in photonics
Note: Students enrolled in the MSc in Photonics Engineering program who wish to pursue a theoretical project rather than an experimental project in course #22652, may obtain approval to do so as a special course, after having consulted the head of the study and after being appointed a relevant supervisor.
Alternative versions to 22652 are (22653, 22654, 22655, 22656)
In addition, students who have taken the course: Experimental Optics and Photonics #34127 during their bachelor program will have to take 15 ECTS from General Competence courses in group c.
Group b) consists of the following two courses
34541

Entrepreneurship in photonics and communications

42430

Project Management
An alternative version of 42430 is 42429.
Group c). From this block of courses, students have to complete 10 ECTS. It is emphasized that students who would like to complete more than 10 ECTS from the courses listed in group c) can simply complete these courses among the 30 ECTS available as elective courses.
34034

Lasers and photonic systems

34041

Waveguide optics

34051

Nanophotonics

34052

Nonlinear optics
Technological specialization courses
Below is a complete list of technological specialization courses from which the students need to choose 30 ECTS credits. The descriptions of the topics and the course descriptions in the course catalog show how various courses are related.
10303

Condensed Matter Physics and Nanoscale Materials Physics

10305

Advanced Solid State Physics

10347

Introduction to Biophysics

10380

Quantum Optics

10850

Semiconductor technology

22052

Applied signal processing

22511

Biomedical optics

22512

Optical biosensors

22649

Microelectromechanical systems (MEMS)

22650

Nanolithography, June version

34032

Optical properties of solids

34042

Quantum photonic communication

34053

Numerical methods in photonics

34055

Fabrication of nanophotonic devices

34130

Introduction to optical communication

34153

Physical concepts in optical communication

34156

Advanced Optical Communication Systems

34430

Introduction to biophotonics

34440

Novel optical fibers in life sciences

34539

Design, fabrication and characterization of optical planar waveguide components

34540

Light-emitting diodes and photovoltaics for energy applications
The alternative version of 22650 is 22651
Elective courses
The students are required to complete a number of elective courses equivalent to 30 ECTS credits. Any course described as an MSc course in DTU's course base can be an elective course. This includes general competence and technological specialization courses in excess of the minimal requirements. MSc students are allowed to take DTU bachelor courses with the objective of obtaining basic skills not originally obtained during the qualifying bachelor degree (maximum 10 ECTS credits)
Student life
Facilities
DTU's learning, teaching and research facilities are state-of-the-art. The University has a wide variety of research facilities—from ultra-modern laboratories to large in-house test facilities where we can test full-scale constructions.
Students at DTU are allowed hands-on access to, and experience with, the University's world-class facilities.
Teaching methods
Lectures will provide you with a general overview of the course while the group instructions are based on general discussions as well as close collaboration between the professor/lecturer and the students. Compared to most other countries, the relationship between professor and student is quite informal.

One of the most characteristic features of the Danish educational system is the emphasis placed on student involvement. Students are expected to be capable of working independently as well as contributing actively to classroom discussions. And active student participation has a high priority at DTU.

An international environment
About 1/3 of all MSc students—as well as a large percentage of lecturers/professor—at DTU, are foreigners which contribute to the versatile and international learning environment.
Language
Most courses at MSc level are taught in English, and almost all Danes speak English, so you can get by without Danish—inside and outside of the classroom.
Study abroad
DTU encourages all its students to study at least one semester at a foreign university.
Plan ahead
You need to start planning your stay abroad at least 1 to 1½ years prior to departure, but DTU is very flexible about approving courses at other universities as being equivalent to required DTU courses.
This means that quite often it is possible to find courses at foreign universities that may be credited at DTU. Please discuss your plan with the Head of Studies to ensure that the courses are relevant—and if they can be characterized as either technological specialization or general competence courses.
Dual degree programs
Rather than studying for six months at a foreign university as part of an approved (bilateral) exchange program, you can enroll in one of our 1:1 MSc programs and obtain a dual degree.
Last updated Oct 2020
About the School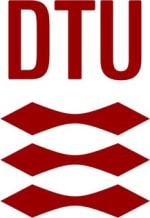 DTU is a vibrant elite technical university, recognized for its high level of international research and its sought-after graduates. Through collaboration, our staff and students reach out to the worl ... Read More
DTU is a vibrant elite technical university, recognized for its high level of international research and its sought-after graduates. Through collaboration, our staff and students reach out to the world and work across disciplines to create value, welfare, and growth by developing technologies that work in a globalized world, transcending social and cultural differences.
Read less