Master of Science in Microelectronic Engineering
Home ›
MSc ›
Master of Science in Microelectronic Engineering
Read more about this program on the school's website
Program Description

Read more about how RIT is tackling the coronavirus crisis here
Overview
Integrated microelectronic or nanoelectronic circuits and sensors drive our global economy, increase our productivity, and help improve our quality of life. Semiconductor and photonic devices impact virtually every aspect of human life, from communication, entertainment, and transportation to health, solid-state lighting, and solar cells. RIT's microelectronic engineering program is considered a world leader in the education of semiconductor process engineers.
The microelectronic engineering master provides a unique combination of physics, chemistry, and engineering in a state-of-the-art facility to prepare graduates for the real world. With internationally renowned professors with years of experience, courses are grounded in reality – practical skill and advanced theory, combine for comprehensive learning. Put your knowledge to work with a microelectronic engineering master from RIT.
The objective of the MS degree in microelectronic engineering is to provide an opportunity for students to perform graduate-level research as they prepare for entry into either the semiconductor industry or a doctoral program. The degree requires strong preparation in the area of microelectronics and requires a thesis.
Program outcomes
Understand the fundamental scientific principles governing solid-state devices and their incorporation into modern integrated circuits.
Understand the relevance of a process or device, either proposed or existing, to current manufacturing practices.
Develop in-depth knowledge in existing or emerging areas of the field of microelectronics such as device engineering, circuit design, lithography, materials and processes, yield, and manufacturing.
Apply microelectronic processing techniques to the creation/investigation of new process/device structures.
Communicate technical material effectively through oral presentations, written reports, and publications.
Plan of study
The MS degree is awarded upon the successful completion of a minimum of 32 semester credit hours, including a 6 credit hour thesis.
The program consists of six core courses, two graduate electives, 2 credits of graduate seminar, and a six-credit thesis. The curriculum is designed for students who do not have an undergraduate degree in microelectronic engineering. Students who have an undergraduate degree in microelectronic engineering develop a custom course of study with their graduate adviser.
Thesis
A thesis is undertaken once the student has completed approximately 20 semester credit hours of study. Planning for the thesis, however, should begin as early as possible. Generally, full-time students should complete their degree requirements, including thesis defense, within two years (four academic semesters and one summer term).
Industries
Electronic and Computer Hardware
Manufacturing
Automotive
Aerospace
Typical Job Titles
Process Engineer
Device Engineer
Development Engineer
Research Engineer
Equipment Engineer
Principle Engineer
Process Integration Engineer
Manufacturing Yield Engineer
Photolithography Engineer
Field Applications Engineer
Accreditation
The BS program in microelectronic engineering is accredited by the Engineering Accreditation Commission of ABET. Visit the college's accreditation page for information on enrollment and graduation data, program educational objectives, and student outcomes.
Curriculum
Microelectronic Engineering, MS degree, typical course sequence
First Year
MCEE-601 Microelectronic Fabrication
MCEE-602 Semiconductor Process Integration
MCEE-603 Thin Films
MCEE-605 Lithography Materials and Processes
MCEE-732 Microelectronics Manufacturing
MCEE-795Microelectronics Research Methods
Graduate Elective
Second Year
MCEE-704 Physical Modeling of Semiconductor Devices
MCEE-790 MS Thesis
Graduate Elective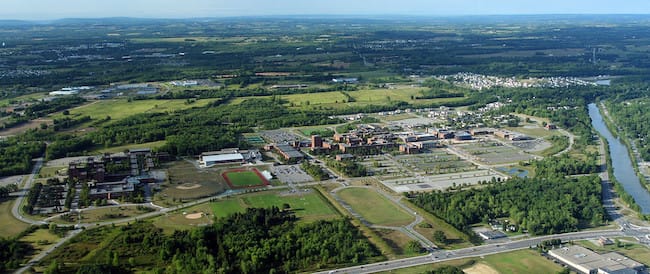 Admission Requirements
To be considered for admission to the MS program in microelectronic engineering, candidates must fulfill the following requirements:
Complete a graduate application.
Hold a baccalaureate degree (or equivalent) from an accredited university or college in engineering or a related field.
Submit official transcripts (in English) from all previously completed undergraduate and graduate course work.
Have a minimum cumulative GPA of 3.0 (or equivalent).
Submit scores from the GRE. (RIT graduates exempt.)
Submit two letters of recommendation from academic or professional sources.
International applicants whose native language is not English must submit scores from the TOEFL, IELTS, or PTE. A minimum TOEFL score of 79 (internet-based) is required. A minimum IELTS score of 6.5 is required. The English language test score requirement is waived for native speakers of English or for those submitting transcripts from degrees earned at American institutions.
Candidates applying with a bachelor's degree in fields outside of electrical and microelectronic engineering may be considered for admission; however, bridge courses may be required to ensure the student is adequately prepared for graduate study.
Last updated May 2020
About the School
With more than 80 graduate programs in high-paying, in-demand fields and scholarships, assistantships and fellowships available, we invite you to take a closer look at RIT. Don't be fooled by the word ... Read More
With more than 80 graduate programs in high-paying, in-demand fields and scholarships, assistantships and fellowships available, we invite you to take a closer look at RIT. Don't be fooled by the word "technology" in our name. At RIT, you will discover a university of artists and designers on the one hand, and scientists, engineers, and business leaders on the other – a collision of the right brain and the left brain.
Read less