Master of Science in Media Arts and Technology
Home ›
MSc ›
Media ›
Master of Science in Media Arts and Technology
Read more about this program on the school's website
Program Description

Read more about how RIT is tackling the coronavirus crisis here
Overview
All businesses and organizations rely on graphic communications to increase their effectiveness in communicating ideas, instructions, and concepts. A graduate with a media masters understands the value of information design and recognizes the many ways it can be used to positively impact the bottom line. In the media arts and technology program, you will learn to leverage emerging technologies to your advantage. With a management focus, technical expertise, and comprehensive knowledge of how to drive the graphics process from concept through completion, you will be an attractive prospect in a wide range of industries, including education, engineering, marketing, research science, human resources, public relations, and more.
This program is transitioning to the School of Photographic Arts and Sciences, in the College of Art and Design, effective July 1, 2019.
The MS degree in media arts and technology is a one-year program concluding with a capstone project. Students develop relevant knowledge and skills with a technical emphasis and business-oriented approach. Students recognize new ways for operating and identifying emerging technologies to meet and exceed evolving market demands, and for becoming leaders in the improvements of cross-media products and processes. The program provides students with the ability to create meaningful and measurable changes in graphic communications through applied cross-media initiatives. The required capstone project allows students to develop and demonstrate in-depth knowledge in a specific topic area. Led by senior faculty, the capstone project is designed to prepare students to be innovators in the rapidly evolving media landscape.
The curriculum concentrates on the latest technologies, processes, and strategies that allow students to employ knowledge of print, web, mobile, and social media workflows to solve communication problems. The diverse expertise of the faculty assures a breadth of relevant experience while educating students on issues and trends across the graphic communications field. The School of Media Sciences strives to be on the leading edge of graphic communications and give students the opportunity to address real-world problems within the industry. This program aims to create a collaborative environment where students combine course work with access to faculty expertise, staff support, and extensive facilities to extend their current knowledge base.
Plan of study
The program includes 30 credit hours of study and culminates in a capstone project.
Electives
Students may choose elective courses from a variety of courses offered in the School of Media Sciences or with other graduate departments and programs at RIT.
Capstone project
The capstone project requires students to develop and demonstrate extensive knowledge on a specific topic related to graphic communications. Students complete original work in the form of a number of methodologies, including experiments, comprehensive case studies, surveys, focus groups, and research analysis. Outcomes from this experience include innovation of a process, recognizing unmet customer needs, solving cross-media issues, or identifying resources required for business transformation or media solutions.
Industries
Advertising, PR, and Marketing
Consumer Packaged Goods
Design
Journalism, Media, and Publishing
Curriculum
Media arts and technology, MS degree, typical course sequence
PPRT-642 Industry Issues and Trends
PPRT-743 Perspectives on Contemporary Publishing
PPRT-731 Digital Content Management
PPRT-603 Operations Management in the Graphic Arts
PPRT-703 Cross Media Workflow
PPRT-721 Implementing Media Business Change
PPRT-746 Capstone I
PPRT-747 Capstone II
Free Electives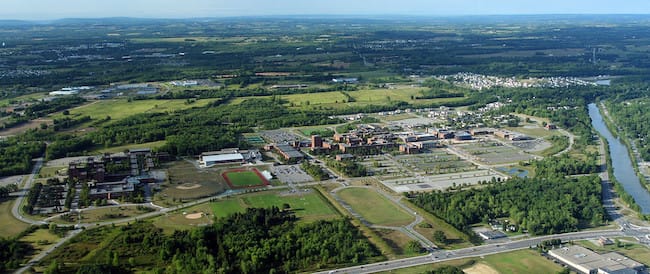 Admission Requirements
To be considered for admission to the MS program in media arts and technology, candidates must fulfill the following requirements:
Complete a graduate application.
Hold a baccalaureate degree (or equivalent) from an accredited university or college.
Submit official transcripts (in English) of all previously completed undergraduate and graduate course work.
Have a minimum cumulative GPA of 3.0 (or equivalent).
Submit a personal statement of educational objectives.
Submit a current resume or curriculum vitae.
Submit two letters of recommendation from academic or professional sources.
International applicants whose native language is not English must submit scores from the TOEFL, IELTS, or PTE. A minimum TOEFL score of 80 (internet-based) is required. A minimum IELTS score of 6.5 is required. The English language test score requirement is waived for native speakers of English or for those submitting transcripts from degrees earned at American institutions.
Last updated May 2020
About the School
With more than 80 graduate programs in high-paying, in-demand fields and scholarships, assistantships and fellowships available, we invite you to take a closer look at RIT. Don't be fooled by the word ... Read More
With more than 80 graduate programs in high-paying, in-demand fields and scholarships, assistantships and fellowships available, we invite you to take a closer look at RIT. Don't be fooled by the word "technology" in our name. At RIT, you will discover a university of artists and designers on the one hand, and scientists, engineers, and business leaders on the other – a collision of the right brain and the left brain.
Read less