Master of Science in Mechanical Engineering
Home ›
MSc ›
Master of Science in Mechanical Engineering
Program Description
Overview
Master the mechanics of artificial and natural engineering processes, and learn to guide a product from an idea to the marketplace in the Mechanical Engineering Master of Science in the College of Engineering. Gain an advanced understanding of engineering concepts from mechanics to alternative and renewable energy to materials engineering. You'll also develop a working knowledge of materials and technology used in mechanical engineering.
The Department of Mechanical Engineering is small, offering you a concentrated master's program in an intimate environment that fosters interaction with faculty with expertise in biomedical engineering, material science and engineering, mechanics, robotics, and other areas. Work closely with a faculty advisor who will help you chart a course for your studies to achieve your academic and professional goals. You'll also graduate with the professional preparation and leadership abilities to become more competitive in the marketplace and move your career to the next level.
The Mechanical Engineering master's degree is aimed at students with undergraduate degrees in the field who want to pursue careers in industrial research and development.
Credit Requirements
The Mechanical Engineering MS requires a minimum of 30 credit hours.
Classes & Curriculum
The flexible program allows you to choose to study on a part- or full-time basis. Courses are offered in the evening to accommodate the schedules of working professionals.
Choose to complete your degree with a thesis, project or advanced coursework.
You'll choose one of three tracks.
Thesis
24 credits of course work
six credits of thesis work
Project
27 credits of didactic course work
three credits of project work
Course work
30 credits of didactic course work
Student Diversity
The College of Engineering reflects the diversity that has always been a hallmark of life at Temple. With students from all 50 states, 129 countries and with cultural backgrounds of all kinds, Temple's classrooms are enriched with countless perspectives, giving students a global point of view across disciplines and fields, and strengthening bonds that encourage success among students.
As a community, Temple's shared responsibility is to enhance the quality of life for all members of the Temple community, providing a safe, supportive and welcoming environment in which to learn, work and grow.
Tuition & Fees
In keeping with Temple's commitment to access and affordability, this Master of Science in Mechanical Engineering offers a competitive level of tuition with multiple opportunities for financial support.
Tuition rates are set annually by the university and are affected by multiple factors, including program degree level (undergraduate or graduate), course load (full- or part-time), in-state or out-of-state residency, and more. These tuition costs apply to the 2018–2019 academic year.
Pennsylvania resident: $1,135.00 per credit
Out-of-state: $1490.00 per credit
Our Advisors
A faculty advisor will guide you in navigating the curriculum and selecting the appropriate coursework to achieve your academic and professional goals. A graduate student advisor will also be available to help you with scheduling, policies, and procedures to assure your smooth passage through the program.
Admissions Information
You'll need to complete an application online. There is a $60 application fee.
To apply you should have a bachelor's degree in engineering and a 3.0 GPA or higher.
Students with degrees in other related disciplines may be considered but may need to take preparatory courses before applying. The department identifies the need for prerequisite coursework on an individual basis.
APPLICATION REQUIREMENTS
References: You'll need three letters of recommendation. If sending by email, these should come directly from your reference writer's personal email address.
Goals statement: In one to two pages, describe your relevant technical experiences and career goals.
GRE score: The test must have been taken within five years of the application date. Minimum scores for the College of Engineering: Verbal: 150, Quantitative: 151, Analytical Writing: 4.5. Your official scores should be sent directly from the Educational Testing Agency. The institutional code for Temple is 2906.
Current professional résumé
Transcripts: Official transcripts should be sent directly from the institution.
Last updated Oct 2019
About the School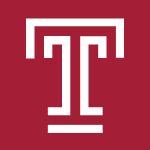 Temple Engineering is undergoing big changes. At 12th and Norris, we have been evolving for quite some time. As a college, we have grown to more than 2,100 students and are always undergoing changes t ... Read More
Temple Engineering is undergoing big changes. At 12th and Norris, we have been evolving for quite some time. As a college, we have grown to more than 2,100 students and are always undergoing changes to modernize our curriculum. Our facilities also continue to evolve in order to deliver modern, efficient and collaborative spaces designed specifically for engineers.
Read less