Program Description
The Department of Mathematics and Computer Science offers a program of study that leads to a Master of Science degree in Mathematics. The program is specially designed to meet the needs of the busy professional. With evening courses, research seminars, and interdisciplinary studies in physical and life sciences, the program offers opportunities for enrichment and professional growth.
The department is especially proud of its record of providing access to students with strong academic potential. Students can learn in a supportive environment and engage in scholarly activities outside the classroom setting. They can participate in research seminars and colloquia or graduate students' seminars. Each year, the department offers a major lecture series in the spring semester. The program keeps abreast of the needs of potential employers with an advisory board consisting of representatives from industry, City Colleges of Chicago, and Chicago Board of Education.
A limited number of graduate assistantships are offered, subject to the availability of funds. Graduate assistants may teach under the mentorship of a regular faculty member and attend case studies workshops on various teaching scenarios to gain teaching experience.
The Graduate Students' Handbook describes departmental policies in detail and has other useful information such as links to useful websites. Policies for graduate assistants are in the booklet Procedures for Graduate Assistants. Both publications are available from the department.
General Requirements
Fulfillment of the general requirements for admission to the School of Graduate and Professional Studies.
A bachelor's degree from an accredited institution with an undergraduate concentration in mathematics and a B average or better (3.0 or higher from a 4.0 scale) in advanced undergraduate mathematics courses. An undergraduate concentration in mathematics is defined as successful completion of at least four advanced mathematics courses.
Applicants without the above-mentioned requisite concentration or average may gain conditional admission.
Any international student who wishes to apply to the Masters of Science in Mathematics program must, in addition to fulfilling all other requirements, submit an official copy of scores received on the mathematics subject test of the Graduate Records Examination (GRE).
To gain full admission, students with conditional admission status are required to complete four approved graduate courses (which could be credited to the degree) with a B average or better and, if needed, their prerequisite courses.
Completion of at least 33 graduate credit hours.
A maximum of 12 credit hours of approved 4000-level courses completed in graduate student status may be applied towards the degree provided a grade of B or better is earned in each. Two of these 4000-level courses (maximum of six hours) may be chosen, with the consent of the graduate adviser, from interdisciplinary courses in mathematical biology, mathematical physics, or computer science.
Admissions Application Deadlines
The Graduate School accepts applications on a continuous basis for most graduate programs; students interested in obtaining admission to a specific term should complete the admission process by these deadlines:
Fall Term - March 15th (March 1st for all Counseling applicants).
Spring Term - October 15th (one month earlier for international applicants).
Total Tuition and Fees
$3,926.00 - $6,248.00
Last updated Jan 2018
About the School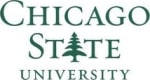 Chicago State University will celebrate its sesquicentennial in 2017. Chicago State University opened its doors as a teacher training school in a leaky railroad freight car in Blue Island, Illinois on ... Read More
Chicago State University will celebrate its sesquicentennial in 2017. Chicago State University opened its doors as a teacher training school in a leaky railroad freight car in Blue Island, Illinois on September 2, 1867. Today, in contrast, the university is a fully accredited public, urban institution located on 161-picturesque acres in a residential community on the Southside of Chicago. During the first year of its founding, CSU enrolled 62 students. The current student enrollment is nearly 7,200.
Read less