Program Description
Overview
Our specialised Master programme at The University of Hong Kong will give you the edge to stay ahead of the competition and rise to the challenges in today's fast-changing economy as a professional marketer.
The HKU Master of Science in Marketing programme is designed for young professionals who seek to acquire the latest knowledge, managerial insights and best industry practices to craft winning strategies and excel in the marketing and related professions.
Our Programme
The HKU Master of Science in Marketing is a one-year full-time programme which offers a rigorous and cutting-edge learning experience, with a focus on best marketing practices and strategies in today's fast-changing economy.
The programme is composed of three groups of modules on (1) marketing insights, (2) analytical tools, and (3) decisions framework for marketing professionals. It is designed to be strategy-oriented with an all-rounded training to sharpen your analytical, communication and intellectual skills. Ethics and sustainability issues with a corporate profit-making orientation are also embedded in the programme.
Upon completing the programme, you will be able to:
Stay ahead of key marketing developments in the face of millennial consumers, emerging markets, internet plus, etc.
Understand market trends and assess consumer insights when formulating marketing strategies
Transform innovation and insights into managerial actions to fuel business growth
The programme requires a total of ten courses (60 credits), including five core courses (30 credits) and five elective courses (30 credits). Classes will generally be conducted during weekdays at the HKU Cyberport Campus. In addition to our faculty members, experienced industry professionals will be involved in the teaching. All courses are taught in English.
The curriculum structure is illustrated as follows:
Career Prospects
From Apple to Louis Vuitton, Nike to Starbucks, many of today's top brands and companies would never have achieved their level of success without brilliant marketing innovations and sound strategies. With the rise of digital media and globalization of economies, it is paramount for marketing professionals to delve into the latest trends and know-how to navigate through a changing business landscape.
Industry Demand
The marketing industry has undergone tremendous transformations in recent years driven by these dynamic factors:
Technology breakthroughs that have contributed to numerous product innovations in various industries
The digital era and increasing salience of social media
Market shifts due to the rise of the millennial consumers and ageing population
These changes are putting many formerly proven marketing strategies into doubt. The life cycle of applied knowledge in marketing has also been greatly shortened as a result. While prior education and experience in the area can serve as a good foundation, marketers need to update and upgrade their knowledge every few years to stay at the forefront of the industry.
According to recent job market reports from Hays, a global professional recruiting group, sales and marketing have consistently been ranked as a highly sought-after skill across different Asia markets. In Hong Kong, severe skill shortages, especially in digital marketing, are evident. Due to fierce competition for talents, those with the right skill set and training can ask for increased pay and packages.
Your Career Development
The HKU Master of Science in Marketing programme covers the latest marketing insights and trends, analytical frameworks and strategies in Hong Kong, Mainland China and Asia within the shifting global context.
A range of career activities and resources will be offered to prepare you for career advancement. You will come up with an ideal career strategy with professional advice from experienced coaches, improve your job hunting skills and professional image to land the job, and get invaluable industry insights from seasoned business professionals.
Career workshops on the strategic interview, resume writing, personal branding, etc.
Industry talks by senior business professionals
Individual career coaching sessions
HKU Internal Job Board
HKU Career Fair
Admissions Schedule
Application for Intake 2020 is about to begin (the application system will open in early September 2019).
Application Deadlines:
Round 1: 12:00 noon (HKT), October 22, 2019
Round 2: 12:00 noon (HKT), December 30, 2019
Round 3: 12:00 noon (HKT), February 13, 2020
Admission Requirements
To be eligible for admission to the Master of Science in Marketing programme, you need to fulfil these requirements:
Hold a recognised Bachelor's degree or equivalent;
Obtain statements from two referees, regarding your suitability for the programme;
Obtain a TOEFL/IELTS* score if you are not from an English-medium university; and,
*GMAT/GRE scores are not required, but a good GMAT/GRE score will be favourably considered and may be helpful for marginal cases.
School codes for test score reports:
TOEFL: 9671 | GRE: 2482 | GMAT: FS2-WL-12
TOEFL and IELTS score reports are valid for two years only. GMAT score reports are valid for five years. For example, if you submit your application form on Oct 2, 2019, then only the report of TOEFL/IELTS test taken after Oct 1, 2017, is considered valid. Also, please make sure you can arrange the official test report to us in time as the test authorities may not issue your report when the test result has expired.
Last updated Sep 2019
About the School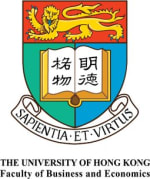 Tracing its roots back over a century, the University of Hong Kong (HKU) today proudly stands as one of the leading institutions of higher education in Asia. And with it, the Faculty of Business and E ... Read More
Tracing its roots back over a century, the University of Hong Kong (HKU) today proudly stands as one of the leading institutions of higher education in Asia. And with it, the Faculty of Business and Economics (FBE) has grown to become a widely recognised and respected business school in the region.
Read less