Master of Science in Marine Biotechnology
Home ›
MSc ›
Master of Science in Marine Biotechnology
Program Description
The aim is to educate candidates in biotechnological skills in general, thus qualifying them for careers in a range of organisations including those whose focus is on innovation, commercial development and value creation of marine resources in processes and industry.
We are preoccupied with exploiting the advantage we enjoy as a nation in the form of access to enormous marine resources. Most of the organisms that comprise the marine biodiversity are still little researched. These bio-resources can be the source of unique biomolecules (enzymes, secondary metabolites, proteins/peptides, marine fats and carbohydrates) and the associated genetic codes.
Good relationships with the biotechnological industry are exploited to adapt the teaching and ensure that it is relevant for commercial development and innovation. Many newly established businesses in the region have their origins in the biotechnological community in Tromsø and the sector is expanding. The programme will give you much sought-after expertise.
Programme description
Objectives, content and organization
The purpose is to educate candidates in modern biotechnological expertise, with particular emphasis on marine resources. You will qualify for careers in fields such as marine value creation, innovation and research.
A good marine biotechnologist must have a broad base of knowledge and skills in basic molecular biology, chemistry and techniques and processes that use marine micro-organisms, plant and animal cells, or parts of these, to manufacture, develop or modify commercially useful products. On successful completion of the programme, the degree of MSc in Marine Biotechnology is awarded.
The first semester consists of compulsory subjects. In marine bioprospecting, the emphasis is on the inherent potential in marine bio-resources. In industrial biotechnology, scaling up from a pilot project to industrial production is prioritised. Basic and applied microalgae are about microalgae taxonomy and biochemistry, physiology, growth-regulating stressors and applied microalgae science (bioprospecting, mass cultivation, CO2 and NOx sequestration, products, biorefinery, process modeling)
In the second semester, the student has various subject choices. Alternatively, this semester may be used for an exchange visit.
The master's thesis (60 credits/ECTS) is written during the third and fourth semesters and is based on supervised experimental work. it is also possible to start the Master's thesis in the second semester (10 STP) and combine it with one elective course (10 STP) in the third semester.
HMS-0500, the compulsory safety course for laboratory work, must be taken by all students who carry out lab work. The compulsory parts of this multi-module course are taken online. The first aid part requires physical attendance. Students must fulfill the compulsory online modules before the semester starts to have access to the laboratory wings. There are no credits for this course.
Learning outcomes
On completion of the course, the candidate is expected to have achieved the following learning outcomes:
Knowledge:
advanced knowledge about processes for use of molecules with unique characteristics
the knowledge that can be applied to solve specific tasks in industry and public administration
understanding our ethical responsibility for sustainable resource utilization, industrial practice and innovation
knowledge of scientific theory and experience in applying scientific methodology
Skills:
advanced skills in genetic, biotechnological and molecular biological techniques
multidisciplinary skills that enable students to combine different disciplines so that they can analyse and solve a wide range of technical problems
proficiency in working individually and as a member of a team
a completed research project in marine biotechnology
General competence:
a general understanding of the importance of natural resource-based industries and the challenges and opportunities involved
qualifications for admission to Ph.D. programmes in biotechnology and related specialist fields
advanced knowledge of current R&D issues and the related commercial potential, especially in marine biotechnology
in-depth awareness of the biochemical, cellular and genetic basis of life
a thorough understanding of natural marine resources as the basis for developing food, biochemicals and bioactive and medicinal components
Teaching and assessment
The study programme is delivered using a variety of teaching methods, depending on the subject. The teaching plan may include lectures, seminars, laboratory work, working in teams, fieldwork and industrial visits - or preferably a combination.
For some of the subjects, specific work requirements may have to be met prior to exam entry. There may be compulsory requirements to submit reports and assignments and attend teaching seminars.
Some subjects in the study programme are marked on a pass/fail basis, while for others the graded scale of marks from A to E (passed) and F (failed) may be used. The individual course description specifies the marking system used. Individual tutoring is provided for the master's thesis by the department's scientific staff.
Language of instruction
The language of instruction is in English and all of the syllabus material is in English. Examination questions will be given in English but may be answered either in English or a Scandinavian language.
Job prospectives
The job opportunities are many and varied. With skills and qualifications in marine biotechnology, you will be sought after locally, nationally and internationally. The Norwegian Government's High North strategy highlights marine biotechnology as one of the most important disciplines for the future of the economy. The field is growing rapidly and highly qualified candidates are in demand.
Your Master degree has equipped you with sound expertise in biology and chemistry, which will provide you with opportunities in biotechnological industries, in fields such as the production of seafood and other foodstuffs, and laboratory-based specialisations.
With an MSc in Marine Biotechnology, you can also become a product developer, principal engineer, researcher, company manager, entrepreneur or a public administrator. The course qualifies students for management-level jobs in the expanding and innovative commercial biotechnology sector.
Our graduate students work as Ph.D.'s at the university, teachers, and in different companies like Colifast, Marine Harvest, Nofima, Ayanda, GenØk, Nordic Pharma Inc, Akvaplan-Niva, TosLab and ArcticZymes.
Last updated Aug 2019
About the School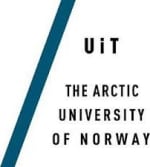 UIT The Arctic University of Norway is the northernmost university of the world. Its location on the edge of the Arctic implies a mission. The Arctic is of increasing global importance. Climate change ... Read More
UIT The Arctic University of Norway is the northernmost university of the world. Its location on the edge of the Arctic implies a mission. The Arctic is of increasing global importance. Climate change, the exploitation of Arctic resources and environmental threats are topics of great public concern, and which the University of Tromsø takes special interest in. At UiT The Arctic University of Norway you can explore global issues from a close-up perspective.
Read less