Program Description
You have a vision for a different tomorrow. We want to help you create it. The Master of Science in Management degree is a specialized STEM program designed for current and future leaders to manage organizations of all kinds by skillfully leading individuals, teams, and corporations to success.
Students are equipped with a complete set of managerial competencies from faculty who have extensive experience in the field and blend academic rigor with real-world practicality. Innovation, analytics, operations, vision casting, and strategy are taught through an experiential approach to preparing graduates for modern management challenges.
More than an Education
In the age of the information explosion, technology revolution, and an ever-changing globalized economy, the business landscape is more complicated than ever. Our MS in Management degree empowers leaders with creative problem-solving skills that push the envelope of innovation to stay ahead of the curve in today's multidimensional business environment. Students participate in real-world consulting projects that stretch their abilities and grow their competencies as impactful leaders and complete managers. A master's degree in management empowers graduates with the flexibility to impact multiple industries. Our graduates are distinctively prepared to integrate faith in business management practice through our unique approach to developing managers as servant leaders.
Marked by Service
DBU is a Christ-centered launching point where leaders are equipped to excel as business professionals who impact their environments through their respective callings. Current and future business leaders are equipped as servant leaders who have the skills needed to influence their fields while simultaneously stimulating personal growth for a lasting impact.
Countless organizations have failed because of leaders who lacked the competence and character to lead. The business world yearns for managers who lead courageously without compromising integrity. Our master's degree in management equips leaders to influence modern organizations. Our graduates lead top companies and serve in ministries. They are CEOs, pastors, mayors, and managers of all kinds. Often, our MS in Management degree leads to promotions and/or positions of influence that can increase impact. If you want to advance your career and better utilize your giftings for eternal purposes, consider our MS in Management which empowers you professionally and personally to make a lasting impact.
Program Details
Concentrations
General Management
Supply Chain Management
Helloquence / Unsplash
M.S. in Management Degree Plan
Program Prerequisites
The courses listed below are prerequisites and may be satisfied through undergraduate credit. Courses in brackets are the undergraduate equivalent classes:
FINA 51.521 Foundations of Finance [Corporate Financial Management]
MANA 6303 Research and Statistics
Required Core Curriculum 18 Credit Hours
FINA 6301 Corporate Finance
MANA 6357 Decision Making
MANA 6358 Business Negotiation and Conflict Resolution
MANA 6372 Managing Organizations and Teams (S-L)
MANA 6373 Business Strategy and Planning
MISM 6315 Technology Fundamentals
Concentration 18 Credit Hours
Select one concentration from the following:
General Management

MANA 6311 Global Initiatives in Management
MANA 6323 Human Resource Strategy (S-L)
MANA 6371 Motivating and Vision Casting
PROJ 6301 Project Overview, Strategic Process, and Project Initiative

Supply Chain Management

SCM 6301 Global Supply Chain Management
SCM 6320 Logistics Management
SCM 6330 Supply Chain Operations
SCM 6350 Supply Chain Capstone
Total Credit Hours Required 36 Credit Hours
Note: Refer to course descriptions for course prerequisites.
(S-L) = Course(s) with field-based service-learning component.
Admission Requirements for the M.S. in Management
3.4 GPA or higher: no entrance exam required.
5+ years of managerial work experience: 3.0 GPA or higher, no entrance exam required.
450 on the GMAT or 50% on the Miller Analogies Test (MAT).
A bachelor's degree from a regionally accredited institution.
Evidence of sound moral character and compatibility with DBU's mission.
The admission requirements listed above are specific to this degree program and are supplemental to the Graduate School's requirements for Full Admission. Admission to one graduate program does not guarantee admission to another. Applicants who show potential for graduate study, but do not meet the criteria for Full Admission, may be admitted for up to 12 hours under provisional status. Students admitted under Provisional Admission will be granted Full Admission upon successful completion of 12 credit hours and fulfillment of the conditions of their admission as determined by the Master's Degrees Admission Committee.
Last updated Nov 2019
About the School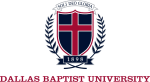 Founded in 1898, DBU has one mission—to transform the lives of students who will transform the world, all for the glory of God.
Founded in 1898, DBU has one mission—to transform the lives of students who will transform the world, all for the glory of God.
Read less