Master of Science in Management (MSM)
Home ›
MSc ›
Master of Science in Management (MSM)
Program Description
Overview
*Online and Hybrid (mixture of in-person and face-to-face) options are currently being offered due to COVID-19.
This one-year program will provide you with the knowledge required to effectively lead people, projects and organizations. You'll gain crucial business skills that will increase your professional marketability and allow you to excel in today's business environment.
Our M.S. in Management program has been specifically designed for liberal arts, STEM and other graduates working in a wide range of fields. If you want to take your education and career to the next level, this is the program for you.
Quick Facts
Professional Tracks
You can work toward an MBA in a general track or you can choose to earn an MBA with a specialization in one of these areas:
Enterprise Innovation and Entrepreneurship
Learn how to use your company's size, speed, and flexibility to successfully compete
Finance
Apply financial strategy to contribute to your company's long term success
Human Capital Management
Learn about talent management, compensation, training, and employee relations
International Business
Be prepared for a career in a borderless world economy
IT Management
Take on data management, software planning, security, and IT strategy
Marketing
Understand the principal tools of marketing and sales management
Cal Lutheran's International Business program and the chance to study abroad were very attractive, and led directly to my promotion to the position I'm in now.
Jay Bradshaw, Senior Program Manager, Disney Technology Solutions and Services
Program Highlights
The M.S. in Management offers a solid foundation in management theory and practice with an emphasis on operational leadership and interpersonal communication. As with all Cal Lutheran programs, you'll receive individualized support to help you reach your academic goal as well as resources and networking opportunities for career advancement.
Students in our School of Management have many opportunities to engage with business and community leaders and attend a variety of networking events. As with all Cal Lutheran programs, you'll receive individualized attention and support to help you reach your academic goal.
Flexibility
Our M.S. in Management program is designed to be flexible for the convenience of full-time students and working professionals to fit your education into your busy lifestyle.
Flexible class schedules, including online, evenings, and weekend intensive
Program offered year-round in four 11-week terms or five 8-week terms
Attend full or part time
Locations in Thousand Oaks, Oxnard, Westlake Village, and Woodland Hills
Curriculum
Uniquely designed to provide a solid foundation in management for advancement in non-traditional business careers, you'll acquire business knowledge and leadership skills to succeed in a competitive job market.
Foundation Courses
10 credits
MSM 501 Foundations of Accounting (Financial & Managerial) (4)
MSM 502 Foundations of Economics (3)
MSM 503 Foundations of Business Statistics (3)
Core Courses
18 credits
MSM 505 Enterprise Management, Organization and Strategy (3)
MSM 506 Information Technology Management (3)
MSM 507 Organizational Behavior (3)
MSM 508 Business Ethics and Law (3)
MSM 509 Marketing Management (3)
MSM 513 Financial Principles & Policies (3)
Capstone
3 credits
MSM 590 Internship (3)
or MSM594 International Travel (3)
Careers & Networking
The School of Management at California Lutheran University is committed to helping our students discover and strengthen their sense of purpose while preparing them to bring what they do best to the world.
We cultivate that spirit in each student, in each class, and in the extended family of our community by building a powerful support system — relationships with mentors and peers, institutions and civic leaders — that extend beyond the school itself, and into the larger realm of California and the world.
Build your Network
Throughout the year, the School of Management sponsors and engages in many unique events that create opportunities to learn about new ideas and forge new relationships within a powerful and lively business community.
The Entrepreneur Speaker Series offers cutting edge ideas, inspiring stories, and networking at Cal Lutheran's Westlake Center.
Molecules and Markets features guest speakers and Q&As in the field of science based start-ups.
Our New Venture Competition offers students the opportunity to pitch their business ideas to a panel of local entrepreneur judges.
Leadership Essentials is a forum for alumni and students to hear about new directions in leadership.
The School also fosters and maintains collaborative relations with many local associations. These include the Association for Corporate Growth (a hub for the city's business community), the LA Venture Association (Southern California's premier forum for entrepreneurs, venture capitalists, angel investors, and professional advisors), the Economic Development Corporation of Ventura County, and a center for entrepreneurial business incubation and collaboration hosted at our Westlake Center.
Employers
Graduates of our business programs work for some of the area's leading employers:
Amgen
Bank of America
Anthem, Inc.
Wells Fargo
Baxter International Inc.
Northrop Grumman
Verizon
Kaiser Permanente
J.D. Power
The Walt Disney Company
Jet Propulsion Laboratory (JPL)
County of Ventura
Merrill Lynch
Farmers Insurance
Ameriprise Financial Services
PenyMac Loan Services
US Navy
General Motors
Raytheon
Blue Shield of California
and many, many more.
Last updated Jul 2020
About the School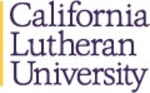 California Lutheran University is a selective, comprehensive institution offering undergraduate and graduate degrees in the liberal arts and sciences and professional fields. Rooted in the Lutheran tr ... Read More
California Lutheran University is a selective, comprehensive institution offering undergraduate and graduate degrees in the liberal arts and sciences and professional fields. Rooted in the Lutheran tradition, Cal Lutheran encourages critical inquiry into matters of faith and reason. Mentored by dedicated and accomplished faculty members, students pursue their passion and discover their purpose as they seek to grow as individuals. California Lutheran College was founded in 1959 on a ranch donated by Richard Pederson, the son of Norwegian immigrants. The college opened its doors to 330 students in September 1961 and held its first Commencement in May 1964.
Read less