Master of Science in Library & Information Sciences
Home ›
MSc ›
Master of Science in Library & Information Sciences
Program Description
With an MS in Library and Information Science (LIS) from the Syracuse University iSchool, you'll learn the broad reach of librarianship, and what it means to be a librarian today. Students from the sciences and humanities are drawn to the iSchool's LIS program to achieve one goal: to change how communities and organizations use library and information resources for the better.
Our guiding council carefully reviews competencies and course offerings to ensure that the iSchool is a leader in library and information science education, and you can find more information on the guiding council in its bylaws.
Our LIS program has been accredited by the American Library Association (ALA) since 1928 and received continued accreditation in 2016 after its last review.
What you will learn
Whether you're hoping to work in a library setting or you hope to apply your newfound skills as a librarian in an innovative way, our LIS curriculum provides two things: a foundational core that provides the skills all librarians should have, and elective credits so you can find your niche as a librarian.
Curriculum
Our LIS degree program is 36 credits and is typically completed within 2 years. The program prepares you for a career in a broad range of organizations, including academic institutions, public libraries, corporations, government agencies or cultural institutions.
The 36 credits are distributed as follows:
18 credits in Core Knowledge and Skills

3 credits in Introductory Core
9 credits in Information Resources Core
6 credits in Management and Policy Core

15 credits in electives

Can be used toward a CAS in Data Science, a Focus Area, or however you wish.
Goals and outcomes
Here at the iSchool, our vision is to provide quality professional education for library and information science professionals. Our goals and outcomes guide our direction, provide a framework for assessing our achievement, and most importantly, communicate our beliefs in the foundational skills that modern library professionals must have.
Graduates of the iSchool's Library and Information Science program:
Apply the skills and attitudes of visioning, entrepreneurship, advocacy, planning, and management to leadership in the information field.
Manage information resources and the information life-cycle through the processes of collection development, representation, organization, preservation, curation, access, and dissemination in accordance with physical, virtual, and technical infrastructure and needs.
Apply appropriate pedagogical and learning theory principles in the design, development, implementation, and assessment of library instruction and learning that contribute towards an information and technology literate society.
Design and employ policies essential for creating and providing information services and resources guided by the values of patron privacy, equitable access, intellectual freedom, and ethical use of information.
Possess the skills to respect, engage, and collaborate with a diverse community in order to advocate for and construct inclusive, meaningful, and participatory library services, programs and resources.
Perform and assess research-based practices through the application of information literacy, inquiry, and research methods including data discovery, analytics, and qualitative measures.
Certificates of Advanced Study
Certificates of Advanced Study (CAS) give you the opportunity to specialize further in your graduate studies. By incorporating data science classes into your LIS studies, you can graduate with a certificate that solidifies your expertise as a data-driven librarian.
With the CAS in Data Science, learn the data lifecycle from beginning to end. You will learn to create, manipulate, analyze, and archive data – and discover how data science is integral to libraries everywhere.
Career outlook
When it comes to careers and alumni, the Syracuse University iSchool has an incredible professional network. We have a dedicated Career Center that specifically serves the needs of iSchool students.
LISSA, the Library and Information Science Student Association, serves as the ALA (American Library Association), SLA (Special Libraries Association), and NYLA (New York Library Association) student chapters, and helps iSchool LIS students connect with alumni and professional development opportunities.
While some library science graduates become librarians, others find non-traditional librarian jobs. Some become data scientists, while others become archivists. Some go on to pursue doctorates, and others become project managers. You'll find that the skills of a librarian are in high demand in unexpected places, like museums, non-profits, and even wineries.
Information Management Online
Online iSchool students have access to the same faculty and degree as our campus students - it's just in a different delivery mode.
The online format of the program combines live weekly classes, multimedia coursework, and collaborative group learning exercises. The innovative learning technology platform helps students cultivate lifelong professional relationships and personally interact with a worldwide community of students and alumni—all while having the flexibility to continue working full time.
Courses are led by professors who bring a wealth of experience from the field directly to the classroom, helping students learn skills that are immediately applicable to their day-to-day work environments.
Last updated Jul 2018
About the School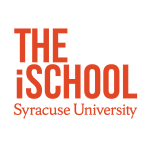 The iSchool is a close community of students, faculty and staff nestled into the larger Syracuse University campus. In addition, more than 10,000 alumni around the world engage with current campus an ... Read More
The iSchool is a close community of students, faculty and staff nestled into the larger Syracuse University campus. In addition, more than 10,000 alumni around the world engage with current campus and online students through innovative programs and networking events.
Read less