Master of Science in Information Management
Home ›
MSc ›
Master of Science in Information Management
Program Description
The MS in Information Management (IM) from the iSchool uses an interdisciplinary approach to learning and understanding information technology. Here at the Syracuse University iSchool, we believe that information management means using your unique professional and academic background to develop an approach to information systems that will benefit people and organizations alike.
Our curriculum combines management and STEM (science, technology, engineering, and math) courses to deliver a balanced education and prepare graduates for a wide range of positions in the information field. Our interdisciplinary philosophy means that students from any academic or professional background have the opportunity to thrive in our program.
Our faculty includes professors who are top researchers in their field and professors of practice who bring a wealth of knowledge from practical experience in the field of IT. Graduates of our program have gone on to become consultants and analysts, work for technology giants and the U.S. Government, and work for exciting startup companies – or found their own.
What you will learn
As an IM student, you will learn how to collaborate and communicate as an IT professional, design and analyze solutions to IT problems, and improve business processes through IT implementation. Throughout your graduate studies, you will learn to approach challenges strategically, while making sure that technology solutions integrate with the goals of your organization.
Curriculum
Our IM degree program is 42 credits and is typically completed within 2 years. The curriculum combines core classes with electives to give you a strong foundation along with the freedom to pursue the courses that interest you.
The 42 credits are distributed as follows:
Primary Core – 9 credits
Secondary Core – 15 credits

Management Approaches and Strategies Track – 6 credits
Technological Infrastructure Track – 6 credits
User Information Needs Track – 3 credits

Electives – 9 to 12 credits

Can be used toward a CAS in Data Science, a CAS in Information Security Management, a Focus Area, or however you wish.

Exit Requirement – 3 to 9 credits

Capstone Course
Internship
Focus areas
Within the IM program, we offer focus areas: groups of classes that work together to give you an informal specialization. We offer focus areas in the subject areas below.
If you'd like a more in-depth look into a focus area with the latest information on the classes you can take, get in touch with us.
Database Management
Global Enterprise Technology
Government Regulation and Policy
Human-Computer Interaction (HCI)
Information Security
IT Consultation
IT in Social Enterprises and Smaller/Medium Enterprises (SMEs)
Mobile/Wireless Technology
Network Design and Administration
Project Management
Risk Management
Social Media, Technology, and Society
Structured Data Analytics and Visualization
Systems Analysis and Design
Textual Data Management and Analytics
Certificates of Advanced Study
Certificates of Advanced Study (CAS) give you the opportunity to specialize further in your graduate studies. You can incorporate CAS classes into your Information Management curriculum, which means you can graduate with a certified and highly marketable skill set without taking extra classes.
CAS in Data Science
Learn the data lifecycle from beginning to end. With this CAS, you will learn to create, analyze, visualize, and archive data – and discover how data science is integral to every industry.
CAS in Information Security Management
Information security is critical but complex. With this CAS, you can get a strong foundation: from using technology to government policy.
Career outlook
Syracuse University is known for its strong alumni network, and the iSchool is no exception. Graduates of the MS in Information Management program are in high demand because our curriculum incorporates hands-on, experiential learning along with the classroom learning environment.
Information Management alumni achieve consistently high placement rates and are working all over the world. Whether you want to work in a big city or in your hometown, the MS in Information Management can help get you there.
Information Management Online
Online iSchool students have access to the same faculty and degree as our campus students - it's just in a different delivery mode.
The online format of the program combines live weekly classes, multimedia coursework, and collaborative group learning exercises. The innovative learning technology platform helps students cultivate lifelong professional relationships and personally interact with a worldwide community of students and alumni—all while having the flexibility to continue working full time.
Courses are led by professors who bring a wealth of experience from the field directly to the classroom, helping students learn skills that are immediately applicable to their day-to-day work environments.
Last updated Jul 2018
About the School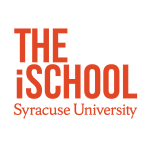 The iSchool is a close community of students, faculty and staff nestled into the larger Syracuse University campus. In addition, more than 10,000 alumni around the world engage with current campus an ... Read More
The iSchool is a close community of students, faculty and staff nestled into the larger Syracuse University campus. In addition, more than 10,000 alumni around the world engage with current campus and online students through innovative programs and networking events.
Read less