Master of Science in Geology
Program Description
Geologists map the long, amazing history of the Earth. Geology is for everyone who wants to find out more about the planet we live on and combine creativity with an understanding of exciting phenomena in our nature. Geology gives an understanding of earthquakes, volcanoes, slides and other natural hazards, climate and greenhouse effect. You can study tectonics and volcanoes, climate change or specialize yourself into the interpretation of seismic or sediments which tell a story of how the environment was millions of years ago.
Programme description
The study consists of a Master's Thesis (60 ECTS) and mandatory and optional subjects (60 ECTS). The number of optional subjects varies between the areas of study concentration. One has the option to follow subjects at the University Centre of Svalbard (UNIS) or abroad.
There are four lines of study:
Structural Geology, Petrology and Ore Geology
Marine Geology and Geophysics
Sedimentology and Quaternary Geology
Petroleum Geoscience
The research undertaken in geology at UiT Arctic University of Norway focuses mainly on fieldwork in Northern Norway, in climate and marine geology with research cruises in the polar areas. We have unique geology right on our doorstep, which offers a special understanding of the processes that continue to shape the earth. Close cooperation with the oil industry ensures relevant Master's projects for the market are produced.
Learning outcomes
In addition to a solid competence in a specialized field of geology, students will have acquired the following after completing the Master of Science in Geology:
Knowledge
Advanced knowledge within one of the specializations; marine geology and geophysics, structural geology, sedimentology and Quaternary geology, petroleum geoscience
Knowledge within scientific theory and methods
The ability to apply knowledge in new technological or scientific areas
Skills
Analyze geological problems within the methods and results from the international research
Use existing theories, methods and interpretations and work individually with applied and theoretical problem solving
Use relevant methods for research and professional development individually
Analyze and withhold a critical approach to different sources of information and use these for professional argumentation
Complete an individual, defined research project under guidance and in accordance with current ethical standards
General competence
Analyze relevant problems within geology
Apply his or her knowledge and skills in new areas for completing advanced tasks and projects
Communicate comprehensive individual work and master the discipline¿s expressions
Communicate problems, analyses and conclusions within the discipline, both with specialists and with the public
Contribute to innovation within geology
Teaching and assessment
Teaching methods consist of lectures in classrooms, laboratory work in modern lab facilities, fieldwork and cruises to interesting areas, mainly in Northern Norway.
Examinations will be given as written exams, oral exams and reports, depending on the individual course description.
Language of instruction
The language of instruction is English and all syllabus material is in English. Examination questions will be given in English, but may be answered in either English or a Scandinavian language.
The Master's Thesis may be written in either English or a Scandinavian language.
Job prospectives
A master's degree in geology leads to exciting and well-paid jobs in the oil industry, mineral recovery, science, engineering, management or public administration. The Department of Geosciences in Tromsø cooperates with Statoil and other industrial partners as well as institutions like NGU (Geological Survey of Norway) in the fields of research and education.
Access to further studies
Successful completion of a master's degree in geology qualifies a candidate for admission to PhD studies, depending on satisfactory marks in the master's and bachelor's degree.
PhD studies in geology are offered at UiT Arctic University of Norway.
Exchange possibilities
Students have the opportunity to take courses at institutions abroad or at The University Centre in Svalbard.
Last updated Oct 2018
About the School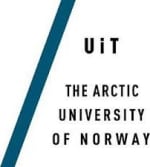 UIT The Arctic University of Norway is the northernmost university of the world. Its location on the edge of the Arctic implies a mission. The Arctic is of increasing global importance. Climate change ... Read More
UIT The Arctic University of Norway is the northernmost university of the world. Its location on the edge of the Arctic implies a mission. The Arctic is of increasing global importance. Climate change, the exploitation of Arctic resources and environmental threats are topics of great public concern, and which the University of Tromsø takes special interest in. At UiT The Arctic University of Norway you can explore global issues from a close-up perspective.
Read less