Master of Science in Entrepreneurship, Innovation and Creativity
Home ›
MSc ›
Master of Science in Entrepreneurship, Innovation and Creativity
Program Description
This is a very practical program aimed at producing entrepreneurially-minded graduates who will appreciate the vital role that innovative and creative entrepreneurs play in today's society and economy. The aim of the program is to prepare students to develop insights that will help them discover and create entrepreneurial opportunities and the expertise to successfully initiate, launch, manage, and grow their own ventures through start-up entrepreneurial projects, which may be helpful to our competitive and dynamic African and global economies.


Entry Requirements
Candidates applying for admission in the MSc in Entrepreneurship, Innovation and Creativity degree program must have:
a Second Class Honours degree from Africa University OR
a qualification from another institution of higher learning deemed by the GSC to be equivalent to a Second Class Honours degree from Africa University.
A candidate with a Pass in an Honours degree will be considered for admission if his/her undergraduate performance in the proposed area of study was a B (3.0) grade average or above, AND s/he has satisfied the GSC through the relevant Faculty/Institute that s/he has exhibited academic potential by conducting fieldwork, subsequent research experience and/or additional training in the academic discipline of the intended Masters degree.
A candidate who holds a general degree should at least have a lower second class with an average of B (3.0) or higher in the academic discipline of the intended Master's degree.
Upon recommendation to the GSC by the Dean/Director of the respective Faculty/Institute, a candidate whose first degree is considered deficient may be required to take one or more undergraduate courses in addition to the minimum graduation requirements.
The Faculty may impose special conditions for admission as required by the degree program.


Program Structure

SPECIALISATION:

The MSc degree in Entrepreneurship, Innovation, and Creativity offers electives in three areas:
Entrepreneurship Development
Innovation and Creativity
Peace and Entrepreneurship
For the purposes of specialization, students are required to take FOUR elective courses. Electives will be offered in the second semester will be dependent on the availability of staff and approved the number of class sizes, in accordance with University regulations.


Year One Semester One
EIC500: Entrepreneurship: Theory and Practice
EIC501: New Venture Creation
EIC502: Innovation, Creativity and Technological Change
EIC503: Managing Entrepreneurial Ventures
EIC504: Entrepreneurial Finance
REM500: Research Methods and Statistics (with a focus on business)


Year One Semester Two
EIC510 Research Proposal Writing and Defense
EIC511 Entrepreneurship Capstone Project
Four Electives


Year Two Semester One
EIC530 Dissertation


ELECTIVES
Entrepreneurship Development (EED)
EED510: Future Scenarios Planning
EED511: Corporate Governance and Entrepreneurial Ethics
EED512: Business/Project Decision Management
EED513: Lean Management: Theory and Practice
EED514: Corporate Entrepreneurship
EED515: Contemporary Issues in Entrepreneurship
EED516: Business and the Legal Environment
EED517: Judgment and Decision Making
EED518: Procurement and Logistics
EED519: Rural Entrepreneurship
EED520: Youth Entrepreneurship
EED521: Agro-based Entrepreneurship (crop, livestock, horticulture)
EED522: Formalization of Informal Businesses
EED523: Entrepreneurial Management
Innovation and Creativity (EIC)
EIC510 New Product Design and Commercialization
EIC511 Design Thinking for Market-Driven Innovation
EIC512 Innovation for Social Change
EIC513 E-Commerce Strategies for Entrepreneurs
EIC514 Digital Product Development
EIC515 Prototyping & New Product Development
EIC516 Business Modeling for Entrepreneurs
EIC517 Design and Brand Management
EIC518 Managing and Understanding Creativity
EIC519 Intellectual Property, Creativity and Traditional Knowledge Systems
EIC520: Protecting Business Ideas in Entrepreneurial Firms
EIC521: Micro-finance: Fostering Entrepreneurship in Developing World
Peace and Entrepreneurship (EPE)
EPE 510 Peace, Social Entrepreneurship, and Innovation
EPE 511 Peace and Entrepreneurship Leadership
EPE 512 Peace, Gender, and Entrepreneurship
EPE513 Gender and Corporate Governance
EPE514 Private-Public Partnerships and Entrepreneurship
EPE515 Women in Entrepreneurship
EPE 516 Peace through Entrepreneurship and Global Business
EPE517 Entrepreneurship Policy and Governance
EPE518 Managing Conflict and Disputes in Business
EPE519 Interpersonal Dynamics and Conflict Resolution
EPE520 African Perspectives on Peace and Entrepreneurship


Financial Assistance

Africa University, in its bid to make higher education accessible to youths in Africa, and being aware of the low-income status of the average African family, offers funding to deserving students to assist with payment of their University fees. The University's Financial Aid Committee is responsible for awarding this assistance. The assistance is awarded on the basis of merit, need and character and it falls into two categories: Financial Aid and Scholarships.


Financial Aid
This is normally meant for assistance with payment of tuition fees and it is available to students from second year onwards. The need of the student is assessed based on their application, supporting documents and information from any referees. The student's academic performance as indicated by his/her C.G.P.A is also used to determine the level of assistance. Those students performing very well are awarded more than their counterparts as a way of rewarding their efforts and motivating them to continue aiming for higher academic excellence. Students who get onto the Dean's list will also be assisted with payment of tuition and those whose performance falls below the C.G.P.A. required to graduate will not receive assistance.


Scholarships
Students must apply for scholarships through the Financial Aid Office. Different organizations, churches, and individuals set up scholarships which are awarded to deserving applicants, who must also satisfy any special criteria that may be set by the benefactor.(e.g. it may be required that the recipient is of a specified gender or in a specified Faculty or from a specified country.) Scholarships awarded may cover full fees for the recipient or may be partial, covering only specified fees. Where a student receives awards from more than one source and the total amount of the awards exceeds the total fees payable no refunds will be made, to the beneficiary. Any such excess is recovered from Financial Aid and awarded to another needy student.


Work Study
All students receiving financial assistance are expected to work in any of the University's units for a specified number of hours a week as a token of appreciation for the award. Currently, those working outdoors are expected to work for two hours a week and those working indoors work for four hours a week.
Last updated Jul 2018
About the School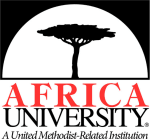 Africa University is the first and only fully-accredited institution of higher learning established on the African continent by the action of the General Conference of The United Methodist Church. Thi ... Read More
Africa University is the first and only fully-accredited institution of higher learning established on the African continent by the action of the General Conference of The United Methodist Church. This amazing institution was founded in response to the call by African Bishops for a university for the whole of Africa to foster intellectual, moral, ethical and spiritual growth in its students.
Read less