Master of Science in Enterprise Data Systems
Home ›
MSc ›
Master of Science in Enterprise Data Systems
Program Description
The MS in Enterprise Data Systems (EDS) from the iSchool is designed for students who want to prepare professionals to manage, design, support and optimize the infrastructure that supports the digital enterprise. EDS teaches both conventional and future network infrastructures, along with the devices, services, protocols, standards, and applications that are transforming the enterprise.
The Gartner Organization predicts that by 2018, growth and use of mobile, social media, sensors and big data will have resulted in an Internet of Things (IoT) that connects billions of devices through networks throughout the world. This level of connectivity has created a demand for skilled professionals who understand cloud computing and have the ability to design, configure, and manage modern digital enterprise cloud environments.
Enterprise Data Systems at the iSchool is a unique program that provides a wide variety of opportunities in IT and data-centric organizations in sectors such as finance, consulting, health, and more.
What you will learn
The EDS curriculum is built around the core concepts and procedures required to understand the technical, security, policy, and management principles of current and future information network infrastructures and systems. Students can choose from focus areas that include cloud and virtualized information systems, and infrastructure and applications related to data science, enterprise IT infrastructure management, information security, and mobile services and applications.
Curriculum
The EDS degree program is 36 credits and is typically completed within 2 years. The curriculum combines core classes with electives to give you a strong foundation in data systems, along with the freedom to pursue the courses that interest you. You can also view the recommended EDS course sequence for fall and spring start students.
The 36 credits are distributed as follows:
Primary Core - 21 credits
Secondary Focus Area - 12 credits

Focus area credits can also be used toward a Certificate of Advanced Study (CAS) in Data Science or Information Security Management.

Graduate Residency Milestone - non-credit, required

This 2 or 3-day workshop presents emerging topics in the fields of information systems, technology, or services. Two residencies are offered each academic year.

Exit Requirement - Capstone

Capstone Project in Enterprise Data Systems
Goals and outcomes
After completing this program, graduates of the MS in Enterprise Data Systems will be able to:
Apply management techniques, policies, technologies, and methods to integrate data-intensive processes with the data processing and communication infrastructure that can support them.
Plan, configure and manage information services which support the operation and scalability of secure enterprise information environments.
Design, configure and manage cloud, hybrid, and on-premises based information services in digital enterprise environments.
Plan, configure and manage interconnected, virtual, and software-defined networked environments.
Evaluate solutions and systems for the analysis and management of data within an enterprise environment.
Create integrated solutions for the support of data collection, analysis, modeling and reporting tasks in digital enterprise data environments.
Demonstrate in-depth competence in at least one chosen focus area where knowledge and skills are applied to a particular domain of enterprise data systems.
Certificates of Advanced Study
Certificates of Advanced Study (CAS) give you the opportunity to specialize further in your graduate studies. You can incorporate CAS classes into your Enterprise Data Systems curriculum, which means you can graduate with a certified and highly marketable skill set without taking extra classes.
CAS in Data Science
Learn the data lifecycle from beginning to end. With this CAS, you will learn to create, analyze, visualize, and archive data. Discover how data science is integral to every industry.
CAS in Information Security Management
Information security is critical and complex. With this CAS, you can get a strong foundation in information security: from using technology to government policy.
Career outlook
Employers are seeking people who not only have technical expertise but can communicate with the boardroom in everyday language. As an EDS graduate, you will be able to create systems that deliver data to key parts of an organization driven or reliant on data and IT infrastructure. You'll also understand what drives business, and be able to articulate your recommendations, solutions, and strategies to both technical and non-technical stakeholders.
This skillset is missing from the modern workforce and is in high demand. According to Indeed.com, starting salaries for those who can fill this need range from $75k to $125k.* In addition, many employers use the products that IBM and VMWare provide for our labs, so you will have hands-on experience with the exact technology you'll use as a full-fledged professional.
*According to Indeed.com listings for "Enterprise Cloud Computing"
Last updated Jul 2018
About the School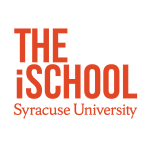 The iSchool is a close community of students, faculty and staff nestled into the larger Syracuse University campus. In addition, more than 10,000 alumni around the world engage with current campus an ... Read More
The iSchool is a close community of students, faculty and staff nestled into the larger Syracuse University campus. In addition, more than 10,000 alumni around the world engage with current campus and online students through innovative programs and networking events.
Read less