Master of Science in Electrical Engineering
Home ›
MSc ›
Master of Science in Electrical Engineering
Program Description
Where would you like your graduate degree to take you? Will you develop a trailblazing, intelligent wireless sensor network that can detect biological or chemical agents? A new way to manage acoustic signals in speech, ultrasound, hearing aids or music? Or something entirely new?
To earn a Master's degree in Electrical Engineering, you will choose one of the following.
Thesis option
24 credit hours of required electrical engineering courses
6 credit hours of a master's thesis course
Non-thesis option
33 credit hours of required electrical engineering courses
3 credit hours of a directed study course
Graduate Opportunities
The Department of Electrical Engineering at the University of North Texas offers coursework leading to a Master of Science degree in Electrical Engineering. With this degree, you'll be well-positioned for an accomplished career in tomorrow's tech-driven world.
With small class sizes, you'll work closely with distinguished faculty members to solve complex problems faced by government, businesses, and consumers. You also can take advantage of the invaluable contacts we've developed with leading companies and corporate partners.
Our cutting-edge courses and research areas range from artificial intelligence and coding theory to speech-driven facial animation and very-large-scale integration design.
You can engage in advanced high-tech collaborative research supported by grants from the National Science Foundation, NASA, the U.S. Army Research Laboratory and others in the industry.
Engineering classes and research are conducted at Discovery Park, a 300-acre research facility located five miles north of the main campus and served by a free shuttle. It brings together laboratories, offices, and classrooms to maximize the potential for creativity, collaboration, and technological innovation.
Research and Laboratories
We're committed to excellence in teaching and the discovery and application of knowledge through research and creative activities. The department houses several state-of-the-art instructional and research laboratories that provide practical and advanced hands-on experiences. Some laboratories and instruments from other departments also are available for interdisciplinary work.
The Analog, RF and Mixed-Signal Design Laboratory features advanced electronic instrumentation and facilities for simulations, prototyping, and measuring of RF/microwave components and systems.
The Autonomous Systems Laboratory focuses on decision-making and inference aspects in autonomous systems such as unmanned aerial and ground vehicles with applications in search and rescue and other emergency missions.
The Communications and Signal Processing Laboratory researchers coding, information theory, encryption, wireless networking and software-defined radio for applications in the industry, defense and space sectors.
The Computer-Aided Design Laboratory provides infrastructure for CAD, including several workstations with the latest CAD software. Research involves the design, testing, and simulation of analog, digital and mixed-signal semiconductor chip designs.
The Speech, Music and Digital Signal Processing Laboratory studies speech, ultrasound, hearing prosthetics, music (analysis, synthesis, and transcription) and acoustic signals management.
The Texas Environmental Observatory provides near real-time data on environmental conditions in Texas using a ground-based network of observatories. It also offers cyberinfrastructure to make data available to the public and amenable to modeling, analysis, and synthesis.
The Vision, Robotics, and Control Systems Laboratory researches large-scale dynamical networks, decentralized control, pattern recognition, image processing, computer vision, computational intelligence, robotics, and allied areas.
The Wireless Systems and Sensor Networks Laboratory focuses on system-level assurance and integration issues critical for the design of high-performance wireless networks and intelligent sensor networks.
Admission Requirements
To be eligible for admission into the Biomedical Engineering Master's program, students should meet the following requirements.
Bachelor's degree in a related field.
Minimum 3.0 GPA in undergraduate coursework.
GRE scores. Successful applicants will typically present scores of 155 or higher on the Quantitative section and 146 or higher on the Verbal section.
Most international students need proof of English proficiency of 79+ on TOEFL or 6.0+ on IELTS.
Students who do not have a background in Computer Engineering may take leveling courses to qualify for admission to the program as determined by the department.
Last updated May 2019
About the School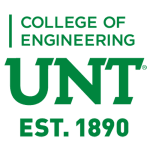 Welcome to the UNT College of Engineering, a young and vibrant college at a top tier (R1) university. The college is going through a phase of transformation, adding nine tenured/tenure-track and two n ... Read More
Welcome to the UNT College of Engineering, a young and vibrant college at a top tier (R1) university. The college is going through a phase of transformation, adding nine tenured/tenure-track and two non-tenure-track faculty members in 2019, with plans to continue expanding over the next 4-5 years.
Read less