Program Description
The MSc in Economics trains students in rigorous methods of analysis, preparing them for successful careers in the public or private sector.
Outline
The MSc in Economics allows you to deepen your knowledge of economics, providing you with the quantitative and conceptual skills that will enable you to start an impactful career, whether you plan to go straight to the job market or to pursue an academic career.
Key Features
Entry-level:

BSc in Economics

Duration:

3 or 4 semesters full-time

International Exposure:

Possibility of getting double/joint degree or exchange semester

Profile:

Recent graduates up to 2 years of professional experience

Program language:

Fully taught in English

Specializations:

4 majors available

Faculty: Ph.D. from the top US and European Schools
Immersion: Close links with economic institutions
Overview
The program follows rigorous international standards. Classes are small, taught by internationally recognized professors and industry experts, and focused on advanced economic knowledge and applied techniques. The program is suited to students with both applied interests and more research-oriented profiles.
You will need to take the mandatory courses, as well as a major of your choice. We offer three applied majors (Macroeconomic Policy, Public Policy and Regulation, and Finance and Banking) and one more theoretical major (General Economics). At the same time, you will be prepared for the workplace with Career Accelerator Lab activities and internship opportunities. Finally, you will work on your thesis project and be ready to launch your professional career. The program offers opportunities for immersion in top economic institutions, in either internships or thesis development.
The program usually lasts three semesters, with the first two devoted to coursework (60 ECTS) and the third to the development of a master thesis (30 ECTS). For students wishing to do an internship or an exchange semester, they should do so in their third semester, and spend the fourth semester on their thesis.
The MSc in Economics also gives you also the opportunity to pursue a Double Degree or a Joint Degree at a top international school, or an exchange semester.
Program Structure
1st Semester | 2nd Semester
Foundation Courses

Major in Macroeconomic Policy

Major in Public Policy and Regulation

Major in Finance and Banking

Major in General Economics
Thesis semester
Católica-Lisbon MSc Class 2018
400 Students per year
48% of Female students
23 Average age
35+ Nationalities
50% of International Students in the class
6 Months average professional experience
Admissions requirements
Ideally, candidates should have an undergraduate degree in Economics, including mathematical and statistical training, as well as intermediate microeconomics.

Outstanding candidates from other quantitative areas will also be considered, but may be asked to do some background study before joining the program (for the major in Finance and Banking only candidates with an Economics background will be considered).
Double Degree: your passport for an international career
Spend one year at CATÓLICA-LISBON followed by a second year at the partner school of your choice, and get two diplomas.
Double Degree programs offer you the opportunity to gain a deep international experience and to challenge yourself by experiencing two distinctive academic cultures and approaches.
At the end of the program, you will be granted two diplomas – one from CATÓLICA-LISBON and one from our partner school.
A joint degree is a program that has been jointly developed by two international universities and cumulates in a Joint diploma which is officially recognized by all degree-awarding partner universities.
Above all, the cross-cultural awareness gained through this experience is highly valued by recruiters and likely to increase your potential for an international career.
Application process
How to apply
Start your application online, provide us with your personal information, upload the mandatory documents and pay the application fee. The Admissions Jury will review your application and make a decision.
Tuition Fees
3-semester track €11.700

4-semester track (with optional exchange

semester) €13.700
Please note that the application and enrollment fee are non-refundable.
Scholarships
Católica Top+ Scholarship
Católica Top+ is a scholarship program meant for students with an outstanding academic record.
Implemented by Católica-Lisbon, this program allows high-potential students to complete their MSc with a partial waiver of tuition fees for the regular track of the program (3 semesters at our School; exchange semester excluded).
We encourage outstanding students to apply for this scholarship during the admission.
Note: Double Degree and Joint Degree students can only be granted a scholarship in the 1st year.
Careers: Immersion in the Corporate World
From day one, Católica-Lisbon supports you throughout your academic journey, preparing you for the challenges of the job market by providing you with the skills to open the path to a successful professional career.
93% Employed within 3 months of graduation
71% Employed before concluding the MSc Program
In the MSc in Economics, we have consistently placed our students in leading institutions in Economics (such as the European Central Bank, Regulation Agencies, McKinsey & Company, Bank of Portugal) as well as top Ph.D. programs (such as Northwestern, London School of Economics, MIT, Chicago, Berkeley).
Why Católica-Lisbon Masters?
TOP 10 Worldwide in Career Progress (FT ranking)

A TOP 10 most vibrant entrepreneurial ecosystem hub in Europe

Lisbon hosts the Web Summit since 2016 and is ranked 5th best European city to launch your start-up. (according to Startup Heatmap Europe survey 2016)
Which makes it an extraordinary combination between: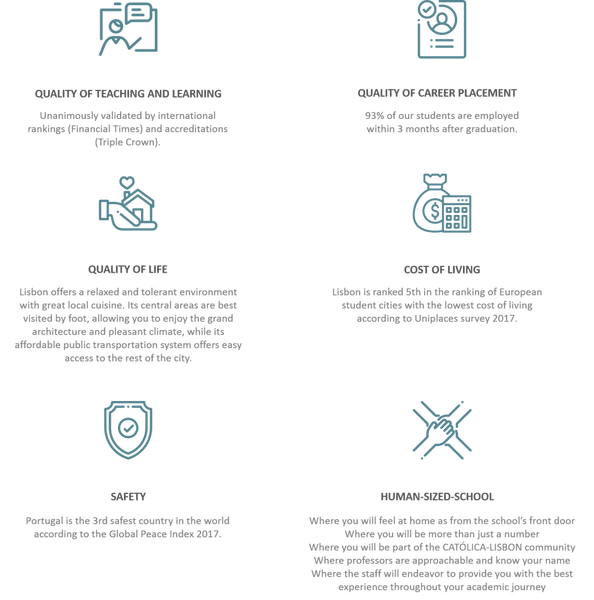 Why Lisbon?
Lisbon, the "city of the seven hills", is the political and economic capital of Portugal. It stretches along the north bank of the River Tagus in the westernmost country of mainland Europe.
Also known as the "white city", the almost constant presence of sunshine and the River Tagus transforms Lisbon into a mirror of a thousand colors, highlighting the city's unique architecture and beauty.
Lisbon offers all the delights you'd expect of Portugal's star attraction, yet with half the fuss of other European capitals. Gothic cathedrals, majestic monasteries, quaint museums, great cuisine and the best sandy beaches in Europe are some of the features that make Lisbon one of the best cities to study and live.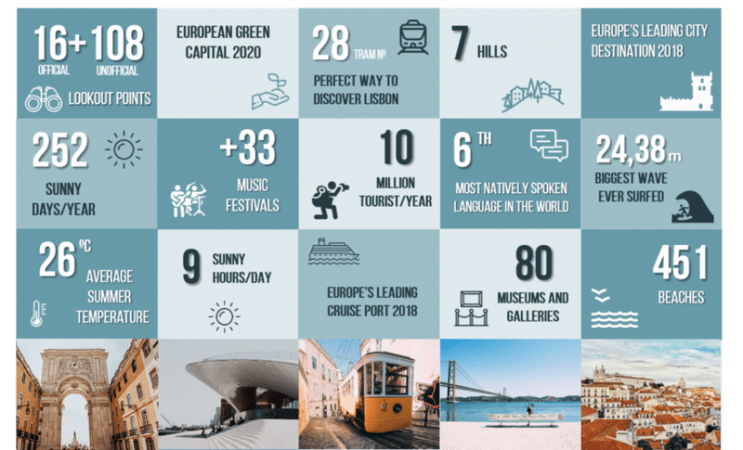 Meet Our Students
"This step implies efforts to keep us on the right track." Ruben Vaz
"The MSc in Economics is an incredible learning opportunity." Joana Garcia
"Católica-Lisbon is exceptionally rigorous and well structured, and is extremely useful to understand and apply concepts from Economics." Pedro Gardete
"There are few schools in Europe that will give you better preparation for the job market." Miguel Castel Branco
Last updated Jan 2020
About the School

Founded more than 40 years ago, Católica-Lisbon is a leading School of Economics and Management in Portugal. Located in the heart of Lisbon, Católica-Lisbon has a long-standing reputation for innovati ... Read More
Founded more than 40 years ago, Católica-Lisbon is a leading School of Economics and Management in Portugal. Located in the heart of Lisbon, Católica-Lisbon has a long-standing reputation for innovative teaching and rigorous academic research. The school is strongly committed to intellectual rigor, critical thinking, and academic excellence.
Read less