Master of Science in Cybersecurity Management
Home ›
MSc ›
Master of Science in Cybersecurity Management
Program Description
The Master of Science in Cybersecurity Management is a 30 credit-hour program at Nova Southeastern University's College of Computing and Engineering. Offered online and on-campus in South Florida, the Master of Science in Cybersecurity Management degree program is designed for individuals who want to focus on Security Policy Development and Compliance by obtaining the necessary skills and abilities for the development of organizational policies related to information assurance/cyber defense and the analysis of operational systems for compliance with applicable IA/CD-related laws and policies.
The National Security Agency (NSA) and the Department of Homeland Security (DHS) has certified that NSU's curriculum in information security meets or exceeds the requirements and standards expected of a leader in cybersecurity research and education. In particular, NSA and DHS recognized that NSU's graduate curriculum met the additional requirements for educational specializations in Network Security Engineering and Security Policy Development and Compliance. As a result of this recognition, federal agencies may sponsor civilian and military personnel to take the school's certified graduate courses. Individuals may apply to take one or more certified information security courses as non-degree students. NSU is designated as a National Center of Academic Excellence in Cyber Defense (CAE/CD) education, and NSU's CCE is hosting the Center for Information Protection, Education, and Research (CIPhER). NSU first received this designation in March 2005 amongst the first in the State of Florida.
Program Format
Students can select to take online or on-campus classes. Online classes can be taken from anywhere in the world where Internet access is available. NSU utilizes Canvas as the learning management system to deliver online course content. On-campus classes are held on the main campus in Fort Lauderdale. Each on-campus class meets once a week from 6:00 p.m. to 8:00 p.m. All M.S. programs employ a three-term format: Fall (16-week term starting in August), Winter (17-week term starting in January) and Summer (12-week term starting in May).
Learning Outcomes
A graduate with an M.S. in Cybersecurity Management will have the ability to (1) communicate cybersecurity management concepts professionally, (2) develop of organizational policies related to cybersecurity for effective solutions, (3) apply knowledge of information security compliance with applicable policies to perform cyber risk management analysis using recognized cybersecurity standards; (4) demonstrate knowledge, skills, and abilities (KSAs) to apply security control measures to mitigate cyber risks.
Admissions
The Master of Science in Cybersecurity Management degree is designed for students with undergraduate majors in computer science, information systems, information technology, engineering, mathematics, or physics. Applicants must have knowledge of data structures and algorithms and structured programming in a modern high-level language. Applicants who do not have an adequate background may be required to take the following 500-level graduate course during the first term of the program:
MSIT 501 Foundations of Programming, Data Structures, and Algorithms
This course is in addition to the required credit hours at the 600 level. Courses at the 500 level, when required, must be completed prior to taking courses at the 600 level. All 500-level courses must be completed with a grade of 'B' or higher to continue in the program.
Curriculum
The required courses are listed below. Students must take all 10 required courses. Students who wish to take an elective (above the 10 required courses) must request approval from the program office prior to registration. Students who opt to do a thesis must take the first nine (9) required courses (not including ISEC 695), and take 6 thesis credits (total 33 credits). Plans for the thesis option must be made in conjunction with and approved by, the program office.
Core Courses (three credits each)
MMIS 621 Information Systems Project Management
MMIS 623 Ethics in Computing
MMIS 630 Database Management and Applications
MMIS 653 Telecommunications and Computer Networking
MMIS 680 Human-Computer Interaction
ISEC 615 Fundamentals of Cybersecurity
ISEC 635 Information Security Operations Management
ISEC 655 Information Security Governance
ISEC 675 Information System Auditing
ISEC 695 Information Security Management Project
Admissions Requirements
Online application.
$50 application fee (nonrefundable).
An earned bachelor's degree with a GPA of at least 2.5 from a regionally accredited institution and with an appropriate major.
Sealed official transcripts from all institutions attended.
A résumé.
Career Opportunities
Chief information security officer.
Cybersecurity program manager.
Information systems security manager.
IT program manager.
Vulnerability assessment analyst.
Last updated Dec 2019
About the School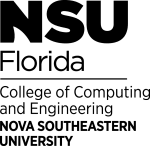 NSU's College of Computing and Engineering supports niche specializations and enjoys a stellar national reputation.
NSU's College of Computing and Engineering supports niche specializations and enjoys a stellar national reputation.
Read less