Master of Science in Cyber Security
Home ›
MSc ›
Master of Science in Cyber Security
Program Description
This programme is specifically designed to provide:
Opportunity for professional development at an advanced level within the area of Cyber Security.
Enhancement of skills and knowledge in Cyber Security for practising IT professionals.
Ability to further develop specialisation gained in taught modules through an extensive research-based and/or technical-based dissertation, to prepare the student to be a subject matter expert in the field.
Furthermore, APU is also poised to become a frontrunner in cyber security research through the establishment of the Forensics and Cyber Security (FSEC) Research Centre, through which research activities will be undertaken to challenge boundaries in the application of cyber security.
Who Should Attend:
This programme is geared towards practicing IT/Computing professionals within industry who seek further formal qualifications in Cyber Security. In addition, professionals and managers who wish to enhance themselves with Cyber Security knowledge and skills to postgraduate level will find this programme attractive. Fresh undergraduate students from Cyber Security / Digital Forensics background will also find this programme worthwhile as a path to further enhance their academic qualifications.
The Benefits of The Programme:
On successful completion of this programme, you will be able to :
The curriculum covers a wide range of industry relevant subject areas in Security Operations Centre (SOC) and Incident Response, Security Auditing and Assessment, Advanced Ethical Hacking, E-Investigation, Data Analytics in Cyber Security etc.
External reviews conducted by Cyber Security Malaysia (CSM), KPMG and F-Secure during the development of the programme curriculum.
Programme Support by an Industry Advisory Panel involving cyber security experts from Cyber Intelligence, Cyber Test Systems, Akati Consulting Group and Cyber Security Malaysia (CSM).
A fully-functional Security Operations Centre (SOC) that allows students to have hands-on cybersecurity operations platform to monitor live data which allows them to perform real-time cyber security monitoring to fortify network defense with global threat intelligence and launching faster response on cyber security incidents
A full-fledged Cyber Threats Simulation and Response Centre – Cyber Range is also included within the Cyber Security Talent Zone in APU. Cyber Range incorporates latest technologies and a military grade cyber-defence system, enabling students to understand and formulate defence strategies, and practice the entire chain of cyber defence, while preparing them to deal with real cyber threat attack when it happens.
A technical project related to Cyber Security as dissertation in the final semester.
Research opportunities for students via APU's Forensic and Cyber Security Research Centre - FSEC.
Career Options:
Cyber Security Analyst / Consultant
Information Security Analyst / Consultant
Cyber Security Incident Response Consultant
Digital Forensic Investigator
Cyber Security Engineer
Information Security Engineer
Cyber Security Manager
Information Security Manager
Admission Requirements:
Bachelor's degree with minimum CGPA of 2.75 out of 4.00, or its equivalent qualification as acceptable by the Senate.
Bachelor's degree with CGPA 2.50 out of 4.00, but below CGPA 2.75; can be accepted with rigorous assessment (include test, interview or portfolio).
Bachelor's degree with CGPA below 2.50 out of 4.00, or qualification which is equivalent can be accepted with minimum 5 years relevant working experience in related field.
English Requirements: IELTS 5.
* Applicants without a Bachelor's degree or equivalent in Cyber Security or Forensic Computing must pass the perquisite modules in Cyber Security and Digital Forensics to continue with the Master's degree.
* Applicants without a Computing-related Bachelor's degree must pass the pre-requisite modules to continue with the Master's Degree.
English Requirements
(only applicable to International Student)
Please note that under Ministry of Education regulations, only students who have achieved the minimum requirement in the English Language proficiency assessment as indicated above will be allowed to continue their studies in the main study programme. Students who do not have the required English Language achievement may apply for a student visa on conditional basis and are allowed to enrol in an English Language Certification programme at APU upon arrival in Malaysia and, subsequently, appear for the IELTS/TOEFL/PTE/MUET assessment. Students who are unable to obtain the required level of English Competency during the maximum 12 months' period, will not be allowed to pursue their studies in the main programme and will have to return to their home country. Students from English speaking countries and those with qualifications taught in English (previous Bachelor's/Master's Degree taught in English) are exempted from English requirements. Applications for exemption must be accompanied by supporting documents.
Last updated Oct 2019
About the School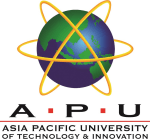 The Asia Pacific University of Technology & Innovation (APU) is amongst Malaysia's Premier Private Universities and is where a unique fusion of technology, innovation, and creativity works effecti ... Read More
The Asia Pacific University of Technology & Innovation (APU) is amongst Malaysia's Premier Private Universities and is where a unique fusion of technology, innovation, and creativity works effectively towards preparing graduates for significant roles in business and society globally. APU has earned an enviable reputation as an award-winning University through its achievements in winning a host of prestigious awards at national and international levels.
Read less