Master of Science in Computer Science (MSc) - Computer Security
Home ›
MSc ›
Master of Science in Computer Science (MSc) - Computer Security
Program Description
Overview
EPITA's Master of Science in Computer Science - Computer Security program spans 18 months and is taught 100% in English in Paris. Accredited by the CGE (Conférence des Grandes Ecoles), the program consists of 3 semester's on-campus classes and 1 semester of internship. To obtain their degree, students must acquire 120 ECTS (European Credits Transfer Systems) and a B1 level of French.
Program objectives
The aim of the program is to enable students to master cybersecurity issues and deal with cyber threats. Its curriculum combines the learning system (design to administration), networks (existing and new generations), and cybersecurity (organization and technical).
Graduates of this program will possess the skills crucial to become an information system security manager. They will also be capable to understand company risks and governance as well as identifying areas of progress.
Program structure

Internship
The last semester is a compulsory 6-month internship, which is the capstone of the program. Students will acquire technical business experience by working in a real environment, which prepares themselves for the job market. They are paid between €1,200 and €1,500 per month during their internships.
Careers
Information Systems Security Officer
Intrusion Testing
Security Consultant
Digital Forensics & Operations Manager
Integrator, architect of cybersecurity solutions
System Administrator
The annual average gross salary of the program's graduates is €40,000.
Testimony
Jad KARAKI - Lebanon - Class of 2018
"In the age of cyber trust, robust cybersecurity is more important than ever and institutions face the crucial task of using the latest technologies & solutions to protect critical assets.
After finishing my Masters Security at EPITA, I joined Avanade as an intern in the Security division in February 2018 then signed my full-time contract in August 2018 and been working as a Cloud & Security Consultant since then.
What I like most about this field is the many subfields that it offers. So far, I've had the chance to work on various security missions and projects such as Penetration testing, Microsoft Azure Cloud Security, Identity and Access Management & DevSecOps. Cybersecurity professionals enjoy solving complex problems and expect nothing to be as it first appears."
Admissions
This program is open to candidates holding a 4-year Bachelor's degree (or higher) or a 3-year Bachelor's degree with significant work experience in Computer Science, Computer Engineering, Electrical Engineering, or related fields. Candidates must also have strong analytical and problem-solving capabilities.
The admission process is fully automated. Candidates should submit their application and upload the following documents translated into English or French in digital format to our online application platform.
Résumé
Passport
Official university transcripts
Certified copy of the Bachelor's degree certificate
Certified copy of the high school certificate
2 letters of recommendation
TOEFL 80, TOEIC 800, IELTS 6.0
Statement of purpose
The application will undergo three phases:
Validation of your candidacy
Online interview
Admission results
Candidates will be informed of the status of their application by email during each phase of the process.
Last updated Nov 2020
About the School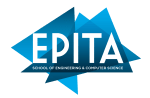 Born in 1984, EPITA (from the French Ecole pour l'Informatique et les Techniques Avancées : School of Computer Science & Advanced Techniques) has been steadily gaining a reputation of excellence a ... Read More
Born in 1984, EPITA (from the French Ecole pour l'Informatique et les Techniques Avancées : School of Computer Science & Advanced Techniques) has been steadily gaining a reputation of excellence among multinational companies, which often recruit our students before the end of their studies. At EPITA, computing and information technologies are considered fundamental subjects and are always placed in the context of students' future managerial role and within the perspective of their position of responsibility. Scientific studies complement this training to broaden and complete the scientific culture vital to the future engineer.
Read less