Master of Science in Composites - Focus Aviation
Home ›
MSc ›
Master of Science in Composites - Focus Aviation
Read more about this program on the institution's website
Program Description
Your Benefits
Study program unique in the whole of Europe
Best possible career prospects in aircraft construction, automotive engineering, machine construction, wind turbine construction and many other industries
Professional development study program in block and weekend courses
Up-to-date content provided by professors with practical experience
Collaborative partners like Airbus, DLR and Fraunhofer Institute in the immediate neighborhood of the campus
Selected management content in the study program
Individual supervision in small learning groups
M.Sc. in Composites - with focus on aviation
The Master's degree in Composites is intended for engineers and graduates of mathematics and natural sciences with professional experience, who would like to gain a qualification in the area of composites via the professional development route. The particular focus of the study program is on both carbon fiber-reinforced plastics (CFRP, colloquially known as "carbon") and glass fiber-reinforced plastics (GFRP). The course is structured as a total of four block units, each of 17 days' duration, and a weekend course.
You can complete the study program either in German or in English. A Master's qualification will open up the best possible career prospects, with the CFRP branch of the economy alone being forecast to grow by 10 percent a year. The high demand for specialists in composites is therefore bound to continue to increase in future.
NEW! Full-Time Triple Award Option
The MSc in Composites is now going to be offered within the scope of a full-time, triple-award program. Upon successful completion, students will be awarded a fully accredited and state-recognized Master of Science degree in Composites, a Management Certificate, and a German Language Certificate.
This three-semester (18 months) program has been developed with international engineering graduates in mind who are seeking to gain expertise in the exciting field of composites and who have an affinity towards Germany. Its full-time nature and its inclusion of management courses and German language training are designed to make it easier for candidates to obtain a student visa and to improve their chances of gaining work experience in Germany. The heart of the MSc program consists of four 16-day blocks of lectures and workshop/lab sessions, between which students take intensive German language and Management courses. The final semester is dedicated to the master's thesis.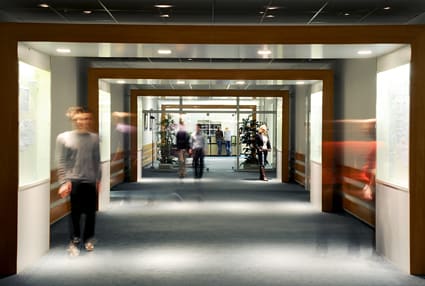 Professional Development Specialisation in the Key Technology Field of CFRP
The University offers the professional development engineering program, leading to a Master of Science (M.Sc.), in "Verbundwerkstoffe/Composites" at PFH Hansecampus Stade. It is accredited by the Accreditation Agency ASIIN and state-recognized. The study program extends over three semesters, is worth a total of 60 ECTS and contains seven modules that have been coordinated in terms of content.
In the first and second semester of the study program taught in German, you will attend one two-week and one one-week block of courses as well as five-weekend courses. In the study variant taught in English, you will complete a total of four block units, each of 17 days' duration, and a weekend course. In addition, blended-learning aspects accompany the study program. The third semester in both study variants is reserved for the Master's thesis and oral defense. This split ensures that you can coordinate a study program and simultaneous professional activity optimally.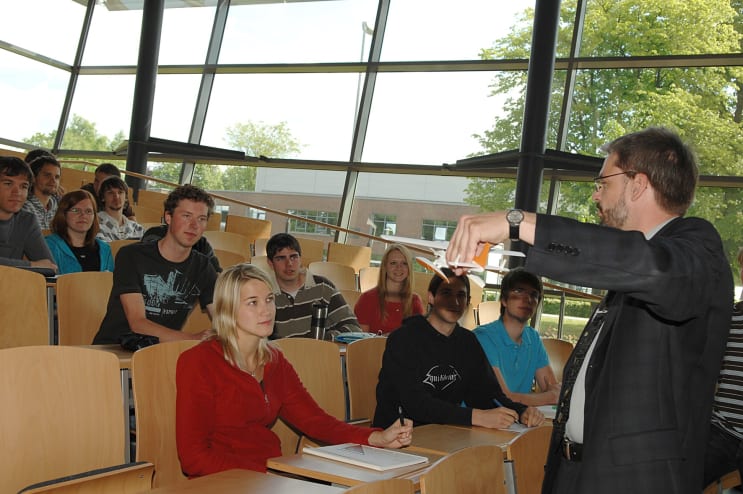 Study Content
The first two semesters are given over to a theoretical consolidation of the engineering science content, focusing particularly on the conceptual and structural design of fiber composites, partially/fully automated manufacturing processes and process optimization. You will also obtain extensive knowledge about designing multi-functional composites and implementing intelligent fiber composite structures. Business Administration content, such as Internal Accounting & Controlling (in the context of a business simulation game), Innovation and Strategic Management, are also integrated into the first semester. Finally, in the third semester, you will work on your Master's thesis, with the oral defense of which you will complete the study program leading to a Master of Science.
Career Prospects
The Master of Science in Verbundwerkstoffe/Composites will give you a cross-industry qualification enabling you to undertake management tasks in activities related to fiber composites. It will, for example, open up excellent career prospects in aircraft construction, automotive engineering, machine construction, ship and yacht building, railway vehicle and wind turbine construction.
Entry requirement
Completed higher education course of study in engineering sciences or an above-average higher education qualification in natural sciences and at least one year's professional experience.
Application procedure
Written or online application
Personal interview, where applicable
Application deadline
Possible to apply at any time
Application documents
Letter of application, cover letter, tabular curriculum vitae, copies of all official graduation certificates from all higher education institutions and training centers, a letter of recommendation from the higher education, research or corporate sphere, application form specific to PFH
Tuition fees
5,940 euro per semester for part-time students; €7,200 for full-time triple award students
520 euro admin fee (waived for EU citizens)
420 euro enrolment fee (non-recurring)
1,000 euro examination fees (once per study program)
Last updated Nov 2019
About the School
PFH Private University of Applied Sciences, established in 1995, is a state-recognized university that focuses on training and educating future managers and specialists in key technologies. Employabil ... Read More
PFH Private University of Applied Sciences, established in 1995, is a state-recognized university that focuses on training and educating future managers and specialists in key technologies. Employability is at the center of all its endeavors. The university's philosophy is that personal mastery, academic excellence, and practical knowledge and experience are essential to becoming a responsibly-acting professional. This may only be achieved through individual attention combined with theoretically founded and practice-oriented teaching. With career and coaching services as well as individual mentoring embedded into the university's structure, all study programs are characterized by their practical and economic relevance, their internationality and a pronounced orientation towards careers.
Read less