Master of Science in Business Intelligence & Analytics
Home ›
MSc ›
Master of Science in Business Intelligence & Analytics
Program Description
A Master's degree in the data-driven professional
For over a decade, Saint Joseph's Master of Science in Business Intelligence & Analytics program has met the demand for professionals who can leverage organizational knowledge and find success in their data.
This STEM designated program prepares 21st-century professionals to drive organizational performance in all functional areas by using data to develop new opportunities, gain competitive advantage, identify effective strategies and improve decision making.
Graduates of the M.S. in Business Intelligence & Analytics program are equipped with advanced business credentials, a SAS-endorsed certificate, and solid skills that allow them to become leaders within their teams, departments, and organizations.
Why earn your Master's in Business Intelligence & Analytics from the Haub School of Business?
- Relevant and applicable academics
By integrating technology, quantitative skills, and analytics into a relevant business context, this program provides the foundation you need to effectively extract and evaluate data for decision-making purposes. This expertise allows you to distinguish yourself in the evolving field of business analytics and develop in-depth knowledge, as well as critical business skills.
- Accelerate your professional growth
The knowledge gained from one of the few business intelligence and analytics programs taught within a business context sets Saint Joseph's University students apart from their peers, as they develop the skills most sought by senior leadership in this data-driven environment.
- Professional development
Saint Joseph's University's alumni network is especially strong with over 67,000 Hawks across the globe. All students and alumni have lifetime access to the Career Development Center.
REQUIREMENTS FOR ADMISSION
Please take the following steps to complete your application: - A completed online application form - $35.00 non-refundable application fee - Two letters of recommendation - Personal Statement - Resume - Official transcripts of all coursework from each undergraduate and graduate school attended. Applicants must possess a baccalaureate degree from an accredited college or university. - Official test scores. The MSBIA requires a GRE or GMAT score program; however, applicants with a Masters Degree in business or a quantitative field may waive this requirement. Also, certain Professional Certifications are eligible for a GRE/GMAT waiver. GRE code is 2801 and GMAT code is WL8-WS-66. Applicants with a graduate degree in business or engineering from an accredited university are eligible to waive the GMAT or GRE.
International Students
This program is designated as STEM. International students who wish to enter Saint Joseph's University should apply by October 15 for Spring Admission and June 15 for Fall admission. In addition to the items listed above, international applicants must also: - Provide official scores of the Test of English as a Foreign Language (TOEFL). Saint Joseph's University TOEFL code is 2801. This requirement is waived for applicants who graduated from an undergraduate or graduate school within the United States or have worked in the United States for at least five years. IELTS and Pearson's Test for English are also accepted. - Provide proof of ability to pay educational expenses from a bank and an affidavit of financial support
Further Information
Please contact our Admissions Manager, Christine Anderson, at sjums@sju.edu or 610-660-1690 for further details about the application process and program.
Last updated Feb 2018
About the School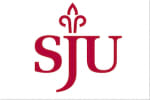 For 160 years, Saint Joseph's University has advanced the professional and personal ambitions of men and women by providing a rigorous Jesuit education – one that demands high achievement, expands kno ... Read More
For 160 years, Saint Joseph's University has advanced the professional and personal ambitions of men and women by providing a rigorous Jesuit education – one that demands high achievement, expands knowledge, deepens understanding, stresses effective reasoning and communication, develops moral and spiritual character, and imparts enduring pride.
Read less
Accreditations