Master of Science in Business Analytics
Program Description
Overview
Meet the growing demand for professionals with joint expertise in business and analytics through our Master of Science in Business Analytics programme at The University of Hong Kong.
Offered in full-time mode, the HKU MSc in Business Analytics programme aims to train students in the use of essential quantitative techniques and tools when applying big data analytics in strategic decision making for business and management.
Our programme delivers a rigorous learning experience across a wide spectrum of fields, including big data techniques, business statistics, simulation and forecasting models, operations and supply chain management, and financial and marketing analytics. The curriculum is structured as follows:
Information Analytics to understand the basis of data
General Analytics to transform data into information
Operations Analytics to convert information into executable actions
Capstone Course to tie the above three areas together through real-world business projects
You will gain an in-depth knowledge of tools such as R and Python in applying data science and analytics in the business context. In addition to individual assignments and exams, some courses also require students to work on project presentations in a team setting. Case studies will be used to illustrate the application of business analytics skills in real-world situations as well.
To graduate from our programme, you need to complete a total of ten 6-credit courses (60 credits), including five core courses (30 credits) and five elective courses (30 credits). Up to two courses may be taken in each module. All courses are taught in English.
Curriculum Structure
Career Prospects
With the rapid advances in information technologies, the volume of data generated has tremendously increased in recent years. These data are generated from various sources such as business transactions, healthcare, mobile applications, sensor networks, video-capturing systems, and social media, and are arriving at a scale of terabytes or even petabytes.
The Rise of Business Analytics
The "Big Data" phenomenon has already drawn a lot of attention and actions in both the academia and industry. There is an unprecedented demand for business professionals who are knowledgeable in applying the right quantitative analysis and computing techniques to gather and make sense of voluminous data and use them for strategic decision making in business and management.
Your Career Development
At HKU MSc in Business Analytics, you will gain the core analytics and quantitative competencies required to succeed in modern business and fill the booming demand of business analytics specialists. To prepare you for your future career, we offer:
Practical and well-rounded training in the use of business analytics techniques in statistics, operations management, forecasting, data mining, social media, supply chains, marketing, and finance
Real-world business projects with companies at Cyberport Hong Kong, an innovation and technology hub and digital community that consists of over 800 startups and organizations
Industry seminar series, career workshops, and career coaching sessions for you to connect with senior professionals and gain the necessary professional skills and industry insights for your dream job
Admissions Schedule
Application for Intake 2020 is about to begin (the application system will open in early September 2019).
Application Deadlines:
Round 1: 12:00 noon (HKT), October 22, 2019
Round 2: 12:00 noon (HKT), December 30, 2019
Round 3: 12:00 noon (HKT), February 13, 2020
Admissions Requirements
To be eligible for admission to the Master of Science in Business Analytics programme, you must:
Hold a recognized Bachelor's degree (business or non-business);
Obtain statements from two referees, regarding suitability for the programme; and
Obtain a TOEFL/IELTS* score if you are not from an English-medium university.
Minimum score requirement: TOEFL: 85 | IELTS: 6.5 (with no subtest below 6)
GMAT/GRE scores are not required, but a good GMAT/GRE score will be favourably considered.
*School codes for test score reports:
TOEFL: 9671 | GRE: 2482 | GMAT: FS2-WL-82
TOEFL and IELTS score reports are valid for two years only. GMAT score reports are valid for five years. For example, if you submit your application form on Feb 2, 2017, then only the report of TOEFL/IELTS test taken after Feb 1, 2015, is considered valid. Also, please make sure you can arrange the official test report to us in time as the test authorities may not issue your report when the test result has expired.
Last updated Sep 2019
About the School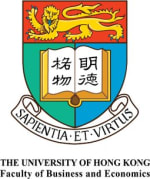 Tracing its roots back over a century, the University of Hong Kong (HKU) today proudly stands as one of the leading institutions of higher education in Asia. And with it, the Faculty of Business and E ... Read More
Tracing its roots back over a century, the University of Hong Kong (HKU) today proudly stands as one of the leading institutions of higher education in Asia. And with it, the Faculty of Business and Economics (FBE) has grown to become a widely recognised and respected business school in the region.
Read less