Program Description
Our accelerated full-time Master of Science in Biotechnology program will provide you with excellent training for your future career in biomedical or medical sciences. The biotechnology courses in this nine-month program are designed for discovery. They range from core biomedical science classes, laboratory practice, and experimental design to communications and biomedical research strategies. Biotechnology program students also participate in Interprofessional Education through a University course. The work is translational and hands-on and relevant to this growing field, giving you the knowledge and the skill set to be competitive and successful after graduation in entering doctoral programs in research or health care or to secure a job in private industry or academia.
Quick Facts
Program Type: Full-Time
Location: On-Campus
Length: 2 Semesters
Class size: 34
Biotechnology program highlights
Our program helps you to develop a wide range of knowledge and skills:
Study comprehensive course work in the life sciences, including biochemistry, molecular genetics, cell and tissue biology, systems physiology and pharmacology
Learn basic research skills including research design, data management, scientific writing and application of the latest techniques and methods to research
Gain certification in Good Laboratory Practices, which involves setting up, maintaining and working in a laboratory under federal regulations
Develop communication and management skills in the laboratory environment
Participate in interprofessional teams to learn the skills to be a valuable member of these teams
Prepare for additional studies in science or medicine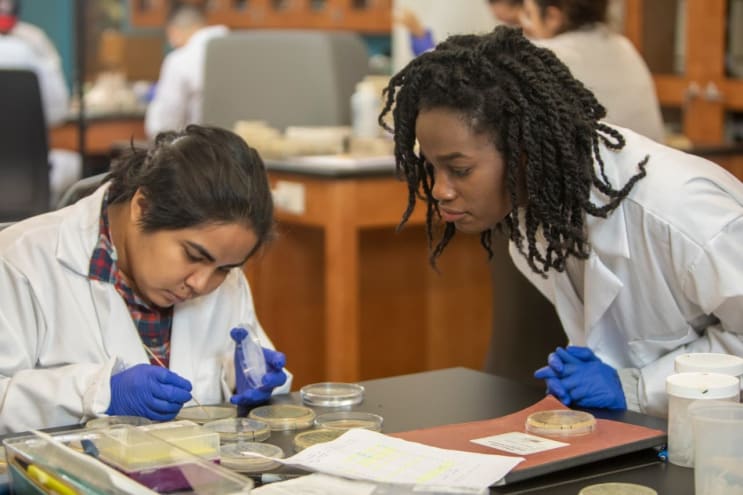 Biotechnology graduate career options
Employment opportunities for scientists are expected to increase for the next several years, according to the U.S. Department of Labor.
Ninety-five percent of our graduates find work at university laboratories and biotechnology or pharmaceutical organizations or pursue advanced degrees in science (Ph.D.) or medicine (MD, DDS, DO, or PharmD).
About 60 percent of our graduates go on to medical or dental school.
About 20 percent of our graduates go on to a Ph.D. program.
Graduates can become laboratory instructors or managers, and they may also pursue further education to become high school or college science teachers.
Where alumni work
Biomedical research is rewarding and exciting because scientists significantly contribute to the wide-ranging and influential field of biomedical sciences. Whether you ultimately decide to pursue an advanced degree in science or medicine, join a university laboratory, or become employed in a pharmaceutical or biotechnology organization, you will have the opportunity to play an integral role in this growing and expansive field. Many students utilize this program to earn a master's degree while also learning about their future career options.
Last updated May 2020
About the School

The mission of the Graduate College at Rush University is to enhance the intellectual life of Rush University by providing students with expertise in their chosen fields, creativity to cross disciplin ... Read More
The mission of the Graduate College at Rush University is to enhance the intellectual life of Rush University by providing students with expertise in their chosen fields, creativity to cross disciplinary boundaries, courage to challenge convention and confidence to ask unexpected questions and articulate new perspectives. The Graduate College provides a fertile environment where trainees refine their critical and analytical thinking and problem-solving skills, embrace a collaborative approach to problem solving, address critical biomedical problems strategically and advance medical science. To this end, the Graduate College will: 1) collaborate with our partners at other Rush colleges to provide broadly based graduate education that supports the research and scholarship of students, faculty and the University as a whole; 2) foster an inclusive environment to ensure the educational benefit that can only come from diversity across the academic community; 3) emphasize the critical role of graduate education to the mission of the research university; 4) prepare our graduates for success in competitive national and global economies by providing contemporary professional development and career planning resources.
Read less