Program Description
The MSc in Banking and Finance is a high-quality master's course with both a strong practical and academic orientation. It prepares you for a successful career working for banks, FinTechs, funds, wealth managers, consulting companies, or in the finance departments of many industries.
Visit www.hslu.ch/msc-bf-eng and apply now!
What you will learn
The programme consists of the following modules:
Trends and Innovations in Banking (FinTech, Data Analytics, Blockchain)
Macroeconomics and Financial Markets
Risk Management (Credit Risk, Market Risk, Risk Management in Banking)
Corporate Finance (Electives: Advanced Corporate Finance, Family Business Finance, Corporate Financial Management, Mergers and Acquisitions, Real Estate Investment Banking)
Leadership and Ethics
Investments (Electives: Behavioural Finance, Fixed Income, Equities, Sustainable Investments, Agent-Based Modelling of Financial Markets)
Alternative Investments (Electives: Hedge Funds, Private Equity, Commodities, Crowd and Crypto-Based Markets, ABS & ILS, Real Estate)
Bank Management
Quantitative Methods (Econometrics, VBA programming, use of statistical softwares such as SPSS and R)
Why choose the Master of Science in Banking and Finance?
Personal atmosphere: We teach in small groups and have an excellent student-faculty ratio.
Cutting-edge and well connected: The Institute of Financial Services at the Lucerne School of Business is the leading research institute in Banking and Finance among Switzerland's universities of applied sciences and arts. The content of the master`s programme in Banking and Finance is cutting-edge, due to our own research and publication activities.
Dual Degrees options: We offer a dual degree programme with Edinburgh Napier University and Lingnan University in Hong Kong, which means that you can obtain two master degrees at the same time.
Location: Our campus can be reached from Zurich in 35 minutes and from Lucerne in 15 minutes. While Zurich is an international financial center, Lucerne is a national hub for the insurance sector and one of the major regions for tourism in Switzerland. The Canton of Zug is a renowned and important location for commodity trading, private equity, home to many international companies, and has a strong industrial sector. Moreover, the region has attracted many blockchain companies and is known as "crypto valley".
Testimonials
"It is thanks to the well-connected top lecturers of the programme that our start-up found its first investor."
Phil Lojacono, Founder and CEO of Advanon

"Thanks to its broad theoretical focus and its strong practical orientation, the MSc in Banking & Finance offers very good preconditions for motivated students to quickly gain a foothold in the labour market."
Xuewei Xie, Private Equity Analyst, SUVA

"The systematic link-up between scientific know-how and practice-oriented topics has helped me to understand complex issues better in practice, too, and to analyse problems more efficiently."
Pascal Schuler, Head Direct Investments and Financial Products, Credit Suisse SUB
Our graduates...
...work in the following areas: Banking, financial services companies, FinTechs, private equity, mergers & acquisitions, investment funds, pension funds, asset management providers, consulting, auditing, finance departments of companies across all sectors.
Admission
Admission to the Master of Science in Banking and Finance is subject to the following conditions:
Bachelor's degree in Business Administration or a related discipline with a specialization in Banking and Finance (minimum 24 ECTS credits). Online courses available for students not meeting the 24 ECTS requirement.
An ability to follow tuition in English at the university level (level C1)
A high level of motivation and readiness to work hard.
A positive outcome of the admission interview.
Facts and figures
The average age of our students is 27.
80% of our students work part-time during their studies.
95% of our students are emplyed within one year after graduation.
The average salary of our graduates six months after graduation is CHF 102'017.-
33% of our graduates hold a management position six months after graduation.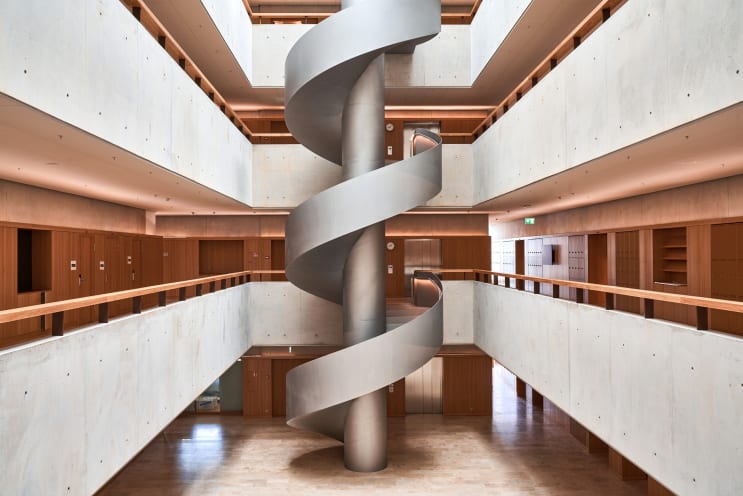 Last updated May 2020
About the School
The Lucerne University of Applied Sciences and Arts is a university of applied sciences that is supported by the six cantons of Central Switzerland. With 6,500 students attending bachelor's and master ... Read More
The Lucerne University of Applied Sciences and Arts is a university of applied sciences that is supported by the six cantons of Central Switzerland. With 6,500 students attending bachelor's and master's degree programmes, almost 4,400 students attending continuing and executive education programmes, and 459 new projects in research and development, it is the largest educational institution in this region, the heart of Switzerland.
Read less