Master of Science in Athletic Training
Home ›
MSc ›
Master of Science in Athletic Training
Program Description
Erskine's MSAT Program
If you plan to pursue a career in athletic training, the time is right. The current average income for Athletic Trainers nationally is $54,832, and the profession is expected to grow 21% by 2024.
Erskine's Master of Science in Athletic Training equips you through hands-on experience and a holistic approach to evaluation, diagnosis, and treatment. You will learn the fundamentals of athletic training research and the principles of administration in the field. Your coursework will help prepare you for the BOC exam, and with a variety of clinical sites, you will gain practical experience.
How long will it take to complete the MSAT?
Erskine offers multiple paths to an MSAT degree. If you hold a bachelor's degree, you can complete the MSAT in two years. If you do not, you can earn a bachelor's and a master's in six years—or take Erskine's 3+2 fast track, which allows you to earn both degrees in five years. In the fast track, you will complete your undergraduate studies during your first three years and enter the master's program at the start of your fourth year. Erskine's fast track also saves you money, up to $47,500.
What are the degree requirements?
To graduate from the MSAT program, you will complete 65 credit hours, usually over the course of two years. You will complete clinical hours under the supervision of a certified athletic trainer, along with two intensive clinical rotations.
What clinical opportunities are available?
The two-year master's program is divided into eight blocks, each consisting of nine-week courses. For each block, you will be assigned a new clinical setting and preceptor, allowing you to gain experience in a wide variety of work environments, including collegiate, high school, and physician's office settings. In your clinical, you will apply the knowledge gained in the classroom to real-world situations.
You will also complete two off-site intensive clinical rotations. These rotations will give you the opportunity to choose a clinical site that aligns with your career goals. While working on your clinical rotations, you will continue your academic pursuits through online courses.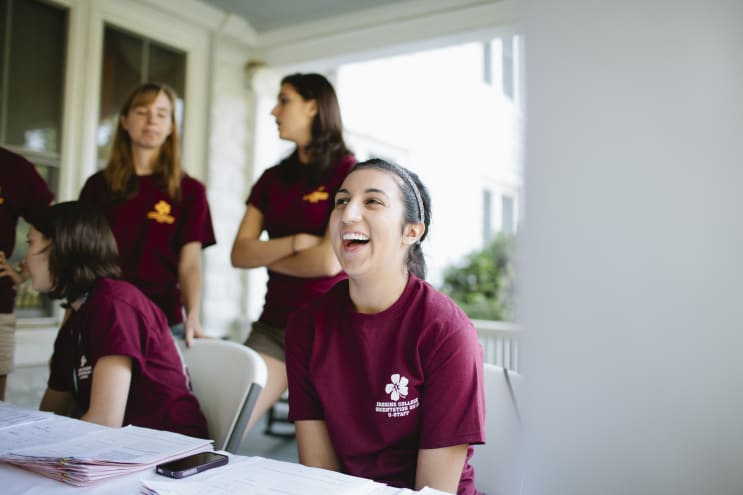 How is the program structured?
Erskine's nine-week block schedule has several benefits:
You will not have a full-length summer term;
You will be in session for 72 weeks, which allows for more clinical practice time during the fall and spring semesters;
You will benefit from a more focused study in each course.
With two blocks per semester, the course schedule will be structured as follows:
Term 1: Aug. – Oct.
Term 2: Oct. – Dec.
Term 3: Jan. – Mar.
Term 4: Mar. – Jun.
How do I qualify for the program?
To apply for the master's program, you must take the GRE and hold a bachelor's degree with a cumulative GPA of 3.0 or higher. You must also complete an application packet and meet the following prerequisites:
50 hours of observation under the direct supervision of a BOC certified athletic trainer or physician;
Completion of the following classes within the last seven years, earning a B- or higher:

Biology with lab
Chemistry with lab
Physics with lab
General or Health-Related Psychology
Anatomy with lab
Physiology with lab
Exercise Physiology
Biomechanics or related course with lab
Nutrition
Public Health or related course
Statistics

Current certification in either American Red Cross Professional Rescuer CPR or American Heart Association Basic Life Support for Health Care Providers
Two letters of recommendation that address your ability to succeed in graduate school, one of which must be from a BOC certified athletic trainer or physician who has directly supervised you;
An interview, on-campus or via Skype, as required at the discretion of the MSAT admissions committee.
What scholarships are offered?
Awards of up to $2,000 will be granted to as many as five students. To apply for an award, you must hold a 3.5 GPA, submit letters of recommendation indicating a strong clinical practice work ethic, and complete an additional scholarship process.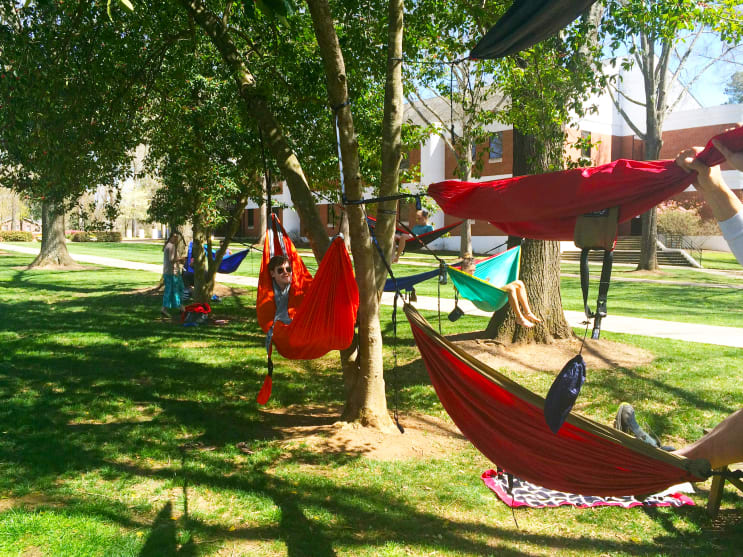 Why Erskine?
Erskine's welcoming community and strong academics will give you the preparation and support you need to succeed. Through our partnerships, you will gain practical experience in athletic training in a variety of settings. Our course schedule gives you the opportunity for focused study, hands-on training, and summer flexibility. At Erskine, you have the advantage: dedicated mentors, hands-on clinical training, and rigorous academics.
Last updated Apr 2020
About the School
As one of the oldest and most prestigious church-related liberal arts college in the South, Erskine prizes academic rigor and Christian authenticity. Our graduates lead companies, influence profession ... Read More
As one of the oldest and most prestigious church-related liberal arts college in the South, Erskine prizes academic rigor and Christian authenticity. Our graduates lead companies, influence professional fields, and make their mark on our culture in many other ways.
Read less