Master of Science in Applied Technology
Home ›
Master ›
Master of Science in Applied Technology
Program Description
The Master of Science in Applied Technology (MSAT) is an innovative program intended to address the technological needs of the workforce. It is designed to help candidates bridge the technological gap in organizations by providing the necessary knowledge, skills, and dispositions needed by technology managers.
MSAT Program Objectives
Provide advanced coursework and independent research opportunities in the theory and application of applied technology to a broad range of current issues in environmental, urban, economic, business, and social fields.
Develop advanced critical thinking abilities and combine these with a problem-solving proficiency through the application of technology tools and methods.
Prepare candidates for private industry, government, health, and education careers which have been identified by the US Department of Labor as some of the major growth industries for the twenty-first century.
MSAT Learning Outcomes
Apply technical and pedagogical knowledge and skills, reflect on and refine practices, and identify and solve problems in an increasingly diverse, dynamic, and complex technological society.
Model high ethical standards within their personal and professional communities.
Recognize the need for and engage in continuing professional development in technology.
Connect theoretical knowledge, practical applications, and entrepreneurial leadership.
The program prepares candidates to design, implement, and/or manage technology in varied environments such as education, business, health, etc.Topics include instructional design, distance learning, graphic design, information technology, database management, assistive technology, cybersecurity, legal issues, and networking. Students will complete a total of 33 hours of graduate credit. Courses are offered through traditional face-to-face venues as well as online/eLearning distance education methodologies.
Curriculum
(33 Credit Hours)
Core
Course
Hours
APT 501 Instructional Design Systems
3
APT 503 Graphic Design Principles
3
APT 505 Organization & Administration of Information Technology
3
APT 508 Networking Administration & Maintenance
3
APT 509 Management Information Systems
3
APT 591 Practicum in Applied Technology
3
APT 592 Research & Development in Applied Technology
3
Candidates must select either the Business OR General Track below:
Business Track
Course
Hours
CIS 521 Advanced Database Management
3
CIS 522 Information Assurance and Cyber Security
3
CIS 523 Advanced Systems Analysis and Design Project
3
General Track
Course
Hours
APT 502 Distance Technologies
3
APT 504 Production of Digital Media
3
APT 507 Assistive Technology
3
APT 510 Legal Issues in Applied Technology
3
Admission
Admission into MSAT must meet the general requirements for admission into graduate studies at Alabama State University as described in the University's current Graduate Studies Catalog, http://www.alasu.edu/academics/graduate-school/index.asp. In addition to these requirements for admission to graduate studies, admission to MSAT also requires the following minimum requirements.


Applicants must hold a bachelor's or higher degree in an appropriate field of study from an accredited institution or complete coursework that will meet this requirement as determined by the Graduate Admissions Committee.
A minimum of 2.5 Grade Point Average on a 4.0 scale undergraduate work
Submission of satisfactory scores on the Graduate Record Exam (GRE) or Miller's Analogy Test (MAT), which shall consist of a combined score of at least Graduate Studies Requirements on the verbal section and either the analytical or quantitative section
Three letters of recommendation from academic or professional sources are required.
A departmental Graduate Admission Committee will review each application and make all admission decisions. All applications and supporting documents must be submitted to the Graduate Studies of the university in accordance with submission deadlines established by that office.

A student may be conditionally admitted to the M.S. in Applied Technology program if his/her GRE or MAT scores have not yet been obtained or if the Graduate Admissions Committee deems the undergraduate coursework insufficient. A student without sufficient prior coursework in the field may be required to enroll in undergraduate courses to meet prerequisites for graduate level work. The student must submit satisfactory test scores or complete remedial coursework prior to progressing beyond 12 credit hours in the program. Applicants not meeting requirements #2 and #3 above may still be considered if other evidence (Graduate Writing Competency Test -GWCT) is presented of potential academic achievement.

Transfer credits will be accepted in accordance with the policy of the University as described in the Alabama State University Graduate Studies Catalog. Generally, the University will accept up to nine hours of transfer credit.
Graduate Fees
Below are estimated tuition and costs for full-time graduate students residing on-campus during the 2017-18 academic year. Actual costs and fees may vary depending on enrollment and lifestyle decisions. You also may wish to review estimated tuition and costs for part-time graduate enrollment on our complete budget worksheet.

For a breakdown of fees by credit hour and by semester, download the 2017-18 Schedule of Student Tuition and Fees.


In-State
Out-of-State
Billed Expenses
Tuition/Fees
$10,156
$17,572
Room/Board
$5,422
$5,422
Subtotal
$15,578
$22,994
Other Estimated Expenses
Books
$1,000
$1,000
Transportation
$1,552
$1,552
Miscellaneous/Personal
$1,840
$1,840
Subtotal
$4,392
$4,392
Estimated Total
$19,970
$27,386
Last updated Oct 2018
About the School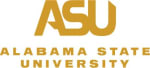 The fundamental mission of The Murphy Graduate School is to (1) provide leadership for the University's doctorate, educational specialist, master's and certificate level, post-baccalaureate degree pro ... Read More
The fundamental mission of The Murphy Graduate School is to (1) provide leadership for the University's doctorate, educational specialist, master's and certificate level, post-baccalaureate degree programs; (2) serve as the campus-wide advocate for the advancement of graduate education; and (3) provide oversight for standards of excellence, fairness and equity in all graduate programs.
Read less