Master of Science in Applied Data Science
Home ›
MSc ›
Master of Science in Applied Data Science
Program Description
The MS in Applied Data Science prepares students with the practical analytical and technical skills to apply analytical concepts to gain insight from small and large datasets. The curriculum offers an innovative blend of information science and management principles. While the overall program focuses on applications of data science to enterprise operations and processes, individual courses tackle data handling issues such as data capture, management, analysis, and communication for decision-making.
Ranked as Glassdoor's No. 1 best job of 2016 and 2017, data scientists are critical to the success of any organization. As the data science field evolves, the demand for analytics skills continues to grow. Employers are actively seeking candidates with the advanced technical expertise to make data-driven decisions.
The MS in Applied Data Science is a fully interdisciplinary degree and is offered in collaboration with Syracuse University's Whitman School of Management. This degree is built for those who have either a strong background or a strong interest in the applications of data science to solve problems for organizations.
What you will learn
As an ADS student, you will learn and experience the direct application of data science practices and principles. As you advance through the ADS program, you'll graduate with a complete professional portfolio that demonstrates your ability to solve real-life business and scientific problems using data science.
Curriculum
The ADS degree program is 36 credits and is typically completed within 2 years. The curriculum combines a primary core, analytics application core, and electives to give students a strong data science and analytics foundation with a secondary focus of their choosing.
The 36 credits are distributed as follows:
Primary Core - 18 credits
Analytics Application Core - 3 to 6 credits
Elective Courses - 12 to 15 credits

Some elective credits can also be used toward a CAS in Information Security Management.

Exit Requirement - Portfolio Milestone

In their final term, students will be required to submit a personal portfolio of projects which demonstrate full competency of the learning outcomes to a panel of program faculty.
Goals and outcomes
As an interdisciplinary program, the MS in Applied Data Science provides students the opportunity to learn in a broad range of areas related to data science. Successful students in our program will be able to:
Describe a broad overview of the major practice areas of data science.
Collect and organize data.
Identify patterns in data via visualization, statistical analysis, and data mining.
Develop alternative strategies based on the data.
Develop a plan of action to implement the business decisions derived from the analyses.
Demonstrate communication skills regarding data and its analysis for managers, IT professionals, programmers, statisticians, and other relevant professionals in their organization.
Synthesize the ethical dimensions of data science practice (e.g., privacy).
Applied Data Science Online
Online iSchool students have access to the same faculty and degree as our campus students - it's just in a different delivery mode.
The online format of the program combines live weekly classes, multimedia coursework, and collaborative group learning exercises. The innovative learning technology platform helps students cultivate lifelong professional relationships and personally interact with a worldwide community of students and alumni—all while having the flexibility to continue working full time.
Courses are led by professors who bring a wealth of experience from the field directly to the classroom, helping students learn skills that are immediately applicable to their day-to-day work environments.
Last updated Jul 2018
About the School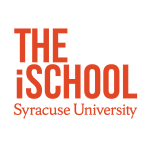 The iSchool is a close community of students, faculty and staff nestled into the larger Syracuse University campus. In addition, more than 10,000 alumni around the world engage with current campus an ... Read More
The iSchool is a close community of students, faculty and staff nestled into the larger Syracuse University campus. In addition, more than 10,000 alumni around the world engage with current campus and online students through innovative programs and networking events.
Read less